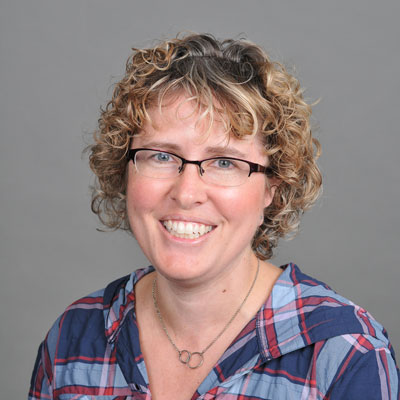 Laura Allison
Romano
Associate Professor, Developmental Biologist
Biography
The favorite part of my job is teaching, whether as a mentor, academic advisor, research advisor, or course instructor. I enjoy the constant flow of students in and out of my office or lab as they stop by for advice on a range of issues, both academic and personal. Consistent with this, I am eager to participate in activities that afford me the opportunity for extensive interactions with students (e.g. maintaining a team of research assistants, leading Advising Circles, serving as a Posse Mentor). In addition, I volunteer for committees that are most related to their needs (e.g. Campus Affairs Council, the Committee on Residential Life, and the Student Enrollment and Retention Committee) and engage in large-scale efforts on their behalf (e.g. organizing the Denison-Columbus Alliance). It is worth noting that I consistently make a big effort to engage students from underrepresented groups in various activities including my research program (for which I am the only female faculty member at the institution to have received funding from NIH).
While helping students, I try to demonstrate how they can make their own contributions to the campus community and beyond. For example, I frequently ask students in my classes to apply knowledge and skills in ways that might benefit society. I also incorporate service and/or experiential learning projects into my upper level courses, and I recruit students to engage with the local community by participating in STEM activities that I help to organize in Licking County. In fact, I am deeply engaged in a lot of service work, both on and off campus. For example, I represent the Division of Natural Sciences on the Departmental Report Review Committee at Denison, and I serve as the President of a local non-profit, the Granville Education Foundation. My "service" has become increasingly intertwined with my teaching and research, and takes advantage of my quiet but focused, organized, and positive approach to getting things accomplished. I hope that my efforts, besides serving to inspire and educate, also fosters unlimited compassion for others, in keeping with the mission of Denison.
Degree(s)
B.S., College of William and Mary; Ph.D., University of Arizona
Learning & Teaching
Courses
Multicellular Life (BIOL 220)
Developmental Biology (BIOL 324)
Invertebrate Zoology (BIOL 336)
Directed Study (BIOL 361, 362)
Senior Research (BIOL 451, 452)
Academic Positions
Associate Professor
Department of Biology, Denison University
2010 - present

Assistant Professor
Department of Biology, Denison University
2003-2010

Postdoctoral Research Associate
Department of Biology, Duke University
2000-2003
Research
My research is focused on understanding the evolution of diversity. That is, I am interested in the molecular basis of anatomical, physiological, and behavioral differences that exist among organisms. I address the question of "how the zebra got its stripes" from the perspective of developmental biology. This discipline focuses on how the genetic material (i.e. DNA) regulates the transition of a fertilized egg into an adult. Many developmental biologists, including myself, are specifically focused on understanding the functional consequence of changes in genes and/or their transcriptional regulation (i.e. how they are turned ON and OFF); such changes can alter the outcome of embryonic development, including disease susceptibility in humans. I use a marine invertebrate, the sea urchin, as a model system. Over the past few years, I have been analyzing genes that regulate formation of the larval skeleton in the "primitive" pencil urchin. Since publishing a major paper in 2016 (the culmination of a grant from the NIH), I have specifically focused on two genes that allow the skeletogenic cells to migrate to their appropriate destinations within the embryo; these same genes are associated with metastasis in humans. As always, undergraduate students are involved in my research program, often accompanying me to professional conferences held throughout the US.
Details
Transcription is regulated by non-coding sequences known as cis-regulatory elements that are usually located upstream of the protein-coding sequence but may be located downstream of the protein-coding sequence or even within an intron. Proteins known as transcription factors interact with these cis-regulatory elements to specify the level, timing, and spatial expression of genes. Changes in the sequence of cis-regulatory elements, or the activity of transcription factors that interact with them, can have functional consequences during development. In fact, such changes are hypothesized to be the primary basis for differences in the anatomy, physiology, and behavior of organisms (including disease susceptibility in humans).
My research utilizes the sea urchin as a model system to explore the functional consequence of changes in genes and their cis-regulatory elements with regard to protein-binding affinity, patterns of gene expression in the embryo, and/or phenotype. In particular, I am interested in genes associated with skeletogenesis given key differences between derived species and the "primitive" pencil urchin. My students and I have recently characterized the expression of several genes in the pencil urchin and gained critical insight into the evolution of the larval skeleton, in collaboration with biologists at Caltech (Erkenbrack et al., 2016). I am now focused specifically on genes associated with epithelial-mesenchymal transition (EMT). The skeletogenic cells make this transition before migrating to their final location; there has been a shift in the timing of their migration during sea urchin evolution. Thus, our efforts to characterize these genes and their transcriptional regulation in several species including the pencil urchin will provide insight into this heterochronic shift, as well as the process by which cancer cells become metastatic through EMT.
Many undergraduate students have worked in my laboratory including Courtney Broady '19, Moe Madar '19, Mikayla Sharp '18, Na'il Scoggins '17, Kate Benson '16, Wendy Geslewitz '16, Andrew Groff '16, Andrew Palmquist '14, Maddie Paule '14, Michelle Clark '13, Efua Thompson '13, Kayla Ako-Asare '12, Emily Miller '12, Saira Tekelenburg '12, Donyea Moore '11, Kelsey Wehrenberg '10, Cecilia Murch '09, Sadie Orlowski '09, Carolyn Simpson '09, Ashley Dunkle '08, Katie Merva '08, Kyle Thaman '08, Elaine Binkley '07, Jenna Walters '07, Laura Cannon '05, Nik Kiehl '05, and Megan Neff '05. They have been supported by the Anderson Endowment, the Bowen Endowment, the Laura C. Harris Fund, the Howard Hughes Medical Institute, the Office of Provost, and the NIH.
Works
Publications
Peer-Reviewed Publications
Clark, M.*, Thompson, E.*, and Romano, L. (2019) A novel approach to deliver morpholino oligonucleotides into sea urchin eggs using a reagent that induces endocytosis, EndoPorter. Academic Leadership Journal in Student Research. Manuscript in revision.
Romano, L., Byrum, C., Lee, P-Y., Morris, B. (2019) Echinoderms: Experimental Approaches. Chapter 19: Exploring the sea urchin genome with undergraduates using bioinformatic tools. Methods in Cell Biology. 150, pp. 449-469.
Erkenbrack, E., Ako-Asare, K., Miller, E., Tekelenburg, S., Jeffrey Thompson, and Romano, L. (2016) Ancestral state reconstruction by comparative analysis of a GRN kernel operating in echinoderms. Development, Genes, and Evolution. 226, 37-45.
Romano, L. Discussing the Human Life Cycle with Senior Citizens as a Service-Learning Project in an Undergraduate Developmental Biology Course. (2014) Science Education and Civic Engagement. 6(2), 26-29.
Walters, J.L., Binkley, E.M., Haygood, R. and Romano, L.A. (2008) Evolutionary analysis of the cis-regulatory region of SM50 in strongylocentrotid sea urchins. Developmental Biology 315, 567-578.
Romano, L.A. and Wray, G.A. (2006) Endo16 is required for gastrulation in the sea urchin Lytechinus variegatus. Development Growth and Differentiation 48, 487 – 497.
Romano, L.A., and Wray, G.A. (2003) Conservation of endo16 expression in sea urchins despite evolutionary divergence in both cis and trans-acting components of transcriptional regulation. Development 130, 4187 – 4199.
Wray, G.A., Hahn, M., Abouheif, E., Balhoff, J., Pizer, M., Rockman, M.V., and Romano, L.A. (2003) Evolution of eukaryotic transcription. Molecular Biology and Evolution 20, 1377 – 1419.
Romano, L.A., and Runyan, R.B. (2000) Slug is an essential target of TGFβ2 signaling in the developing chicken heart. Developmental Biology 223, 91 – 102.
Romano, L.A., and Runyan, R.B. (1999) Slug is a mediator of epithelial-mesenchymal cell transformation in the developing chicken heart. Developmental Biology. 212, 243 – 254.
Runyan, R.B., Wendler, C.C., Romano, L.A., Boyer, A.S., Dagle, J.M., and Weeks, D.L. (1999) Utilization of antisense oligodeoxynucleotides with embryonic tissues in culture. Methods, 18(3), 316 – 321.