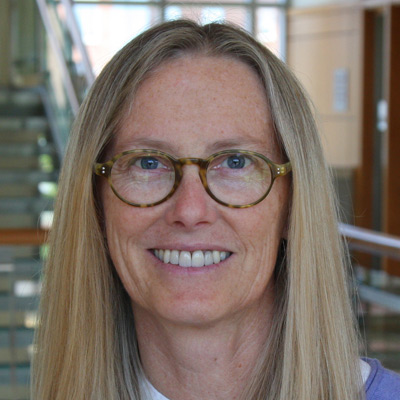 Gill Wright Miller

'74
Overview
Biography
Dr. Gill Wright Miller, Professor of Dance and Women's and Gender Studies, has been at Denison full-time since 1981. Dr. Miller earned her PhD from New York University in Dance and Women's Studies, her MA from Wesleyan University in Movement Studies, and her BFA in Performance from Denison University.
Dr. Miller's written research concerns public constructions of the pregnant body, healing from a developmental movement base, and body politics in general. She is highly involved in the world of experiential anatomy, most specifically Body-Mind Centering. She has received several grants for her work, including a major grant from the University of Minnesota, in "Embodied Research." She accepted the coveted Arnold Professorship at Whitman College in Washington for Spring 2009. Her most recent book, Exploring Body-Mind Centering: An Anthology in Experience and Method, was published in 2011, and she is the author of many essays, including the 2011 publications of "Women in Dance" in The Encyclopedia of Women in Today's World and "Creativity and Mothering" in The Encyclopedia of Motherhood." This past year, Dr. Miller published a chapter called "The Transmission of African-American Concert and American Jazz Dance" in Jazz Dance: Roots and Branches (Oliver and Guarino, 2013.) She is also compiling an anthology on African dance. Dr. Miller is currently working on an essay on research and methodology in dance studies and a second book on Somatics and the Body Movement in the United States, tentatively titled Pedagogies of the Body.
Dr. Miller teaches coursework in somatics, movement analysis, and cultural studies. Besides teaching somatics (including work from Ideokinesis, Bartenieff Fundamentals and Basic Neurocellular Patterns from Body-Mind Centering) and movement analysis (including reconstructing sections of works by Humphrey, Weidman, Limon, Cunningham, and others) every year, her recent courses include topics in dance's cultural studies, such "Modernism ReComposed," "Postmodernism in Dance," and "African-American Concert Dance," and "The Body in Performance."
Degree(s)
B.F.A., Denison University; M.A., Wesleyan University; Ph.D., New York University