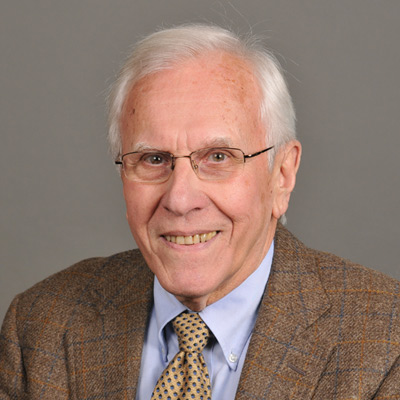 Dave O. Woodyard

'54
Biography
David Woodyard's personal and professional interests focus on the intersection of religion and society. As a theologian he is interested in developing—and helping students to develop—a public theology. He aspires to explore the Christian tradition as it addresses the personal sphere but also as it makes claims upon the social realm. Authentic faith leads to civic responsibility as well as spiritual fulfillment. In the classroom Woodyard is interested in enabling students both to come to a clearer understanding of their identity and to challenge the ways in which they have understood the world. As an academic advisor, he is committed to creating an environment for students in which they can explore why they are in a liberal arts institution and how they may relate that to a vocation and a meaningful life. Woodyard's scholarly interests in recent decades have been in collaborative work with a colleague in economics. Their most recent book relates religion and economics to ecological issues.
Degree(s)
B.A., Denison University; M.Div., Union Theological Seminary; D.Min., Vanderbilt University
Works
Publications
Books Published
"Liberation Privilege: The Breakthrough of God and the Persistence of Normality", Circle Books (U.K.), 2016.
The Church in the Time of Empire. Circle Books (U.K), 2011.
Liberating Nature: Theology and Economics in the New Order. With Paul King. Pilgrim Press, 1999.
Risking Liberation: Middle Class Powerlessness and Social Heroism. With Paul King and Kent Maynard. John Knox Press, 1988.
Journey Toward Freedom: Economic Structures and Theological Perspectives. With Paul King. Fairleigh Dickinson University Press, 1982.
Strangers and Exiles: Living By Promises. Westminster Press, 1974.
Beyond Cynicism: The Practice of Hope. Westminster Press, 1972.
The Opaqueness of God. Westminster Press, 1970.
To Be Human Now. Westminster Press, 1969.
Living Without God-Before God. Westminster Press, 1968.
Discography
Board of Directors, Union Theological Seminary, New York City
President, Hospice Services of Licking County
President, Planned Parenthood of East Central Ohio
Advisory Committee, Battered Women's Shelter
Habitat for Humanity
President, Partners United (Youth at Risk)
Service
Professional Service (includes Denison Service)
Director of Freshman Studies
Chair, Department of Religion
Advisory Committee on Presidential Selection
President's Advisory Board
Chair of Faculty (three times)
General Education Revision Committee
Committee on Sexual Harassment
North Central Review Committee
Committee on Re-establishing the Honors Program
Latin American Studies Committee
Classics Committee
Committee on the Status of Women
Chair, Dunbar Humanities Scholarship
Chair, Goodspeed Lecture Series
Women's Studies Committee
Faculty Appeals Committee
Queer Studies Committee
C-Smart Committee
Faculty Advisor for fraternities
Community Service
Board of Directors, Union Theological Seminary, New York City
President, Hospice Services of Licking County
President, Planned Parenthood of East Central Ohio
Advisory Committee, Battered Women's Shelter
Habitat for Humanity
President, Partners United (Youth at Risk)
Other
Honors & Awards
Denison Alumni Chair (2009-2014)
Charles and Nancy Brickman Distinguished Service Chair (1998-2003)
Denison, Teaching Excellence Award
National Center for Study of Freshman Year, Outstanding Freshman Advocate
Crossed Keys, Teacher of the Year
Mortar Board, Faculty Service Award
Delta Gamma, Teacher of the Year
Delta Chi, Teacher of the Year
Student Collaborations
During the first decade of the twenty-first century, Dave Woodyard supervised thirty-three senior research projects. Topics selected by students include the following:
"Helping or Hurting: Exploring the Role of the Virgin Mary in the Catholic Church"
"A Theology of Culture: An Examination of the Relationship Between the Demonic, the Kairos, and Religious Socialism in Paul Tillich's Theology"
"Desmond M. Tutu and James H. Cone: Theological Standpoints on Racial Injustice"
"From a Wealth of Gospel to a Gospel of Wealth: Poverty to Prosperity"
"How Does Religion Affect the Social Order? A Study of the Impact of Liberation Theology on the Catholic Church in El Salvador"
"Secular Messages in Religious Settings: A Theological Critique of Rod Parsley's Political Agenda"
"Building a Relationship with the Earth"
"Hijacking the Holy: Reclaiming the Female Voice in Christianity"
"Claiming a Space of Empowerment"
"Beyond Pacifism: A Theological Debate Between Reinhold Niebuhr, Karl Barth, and Dietrich Bonhoeffer"
"The Many Faces of Hagar"
"Walter Brueggemann and the Prophetic Tradition: The Prophet on the College Campus"
"Cultivating Contemporary Spiritual Awareness and the Theology of Paul Tillich"
"Spousal Abuse in the Church? Religious Ideologies, Biblical Interpretations, and Their Implications for Marriage"