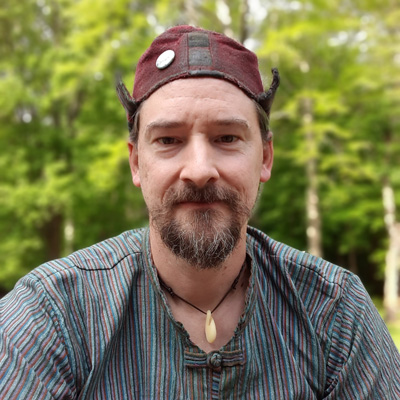 Chris
Crews
Visiting Assistant Professor
Biography
I have a PhD in Politics from the New School for Social Research in New York City. My dissertation research focused on the intersections of social and environmental justice and Indigenous rights through the lens of the Anthropocene, with special attention to issues of land and agrarian struggles (Nepal in particular). In it I developed an innovative social history of the Anthropocene in Nepal and a theoretical argument about a new social movement formation I refer to as the Earthbound people.
Degree(s)
PhD, New School for Social Research; MA, New School for Social Research; MA, Ohio University
Learning & Teaching
Courses
Introduction to International Studies (INTL 100)
Themes and Approaches in International Studies (INTL 200)
Red, Black & Green: Indigenous Rights, Black Liberation, and Eco Justice (INTL 250 - cross-listed with BLST & ENVS)
Academic Positions
Prior to joining Denison I was a Lecturer in Comparative Religion and Humanities at CSU, Chico in California, and before that I was a Visiting Assistant Professor at Grand Valley State University (GVSU) in Area and Global Studies.
Research
My current research is focused on a few different areas: social movements & Indigenous rights; Religious nationalism & white supremacy; Intersections of religion and ecology and questions of climate justice
Details
I worked for many years at the India China Institute in New York before that, where I coordinating international research programs with scholars, activists, and practitioners from India, China, Nepal, Tibet and the US. These projects ranged from work on sacred landscapes, everyday lived religion and cultural change in mountain communities to developing mentoring and academic support for emerging scholars working on issues of prosperity and inequality in India and China. I also led a digital mapping project on sacred landscapes, with a focus on Mount Kailash in western Tibet, and helped with the publication of a series of folk story collections from the Himalayas.
I've been involved with social movement since the mid 1990s, and I bring a passion for social justice work into my teaching and research. I've served on university social justice committees, investment advisory committees, community public access media boards, and several national activist or student organizing groups over the years. I've learned a great deal in the process of doing all this, and apparently enjoy politics enough to study it for a living! Most recently I've been exploring the world of podcasting with my End of the World podcast show.
Works
Publications
(2019) Earthbound Social Movements and the Anthropocene. Journal for the Study of Religion, Nature, and Culture, 13:3.
(2010) And Say the Bakemono Responded: Animism, Derrida and the Question of the Animal in Hayao Miyazaki's Princess Mononoke. The Journal for Critical Animal Studies, 8:4.
Service
Professional Memberships
Co-Chair, Climate Action Committee - Western Political Science Association
Co-Editor, JSRNC Special Issue on Religion and the Coronavirus Pandemic