Denison's donors turn ambition into outcomes
---
---
Participation matters
---
A message from Denison Board Chairman Lewis "Lee" Sachs '85
---
Building on our past success
The Unlocking Potential campaign enriched student lives, fostered academic innovation, and reshaped Denison's campus. Take a look at what you made possible!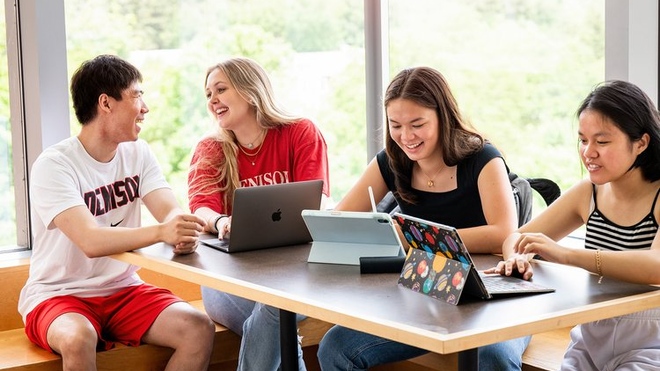 Need-Based Financial Aid
Generous support doubled need-based financial aid, putting Denison in the top two percent of colleges nationwide to meet the full, demonstrated need of all students.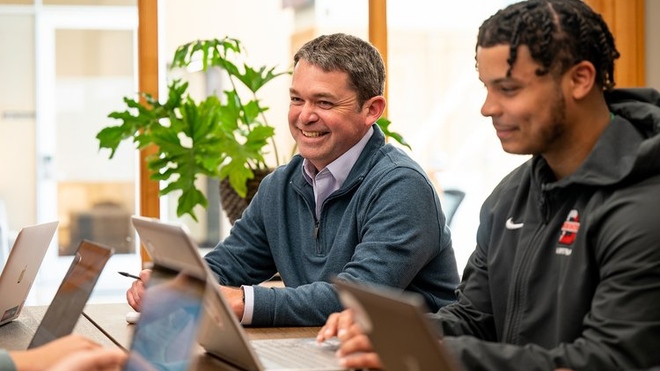 Austin E. Knowlton Center for Career Exploration and Red Frame Lab
Denison's new career hub and programs leverage entrepreneurship, technology, experiential learning, and mentorship to help students quickly and successfully launch into their lives and careers.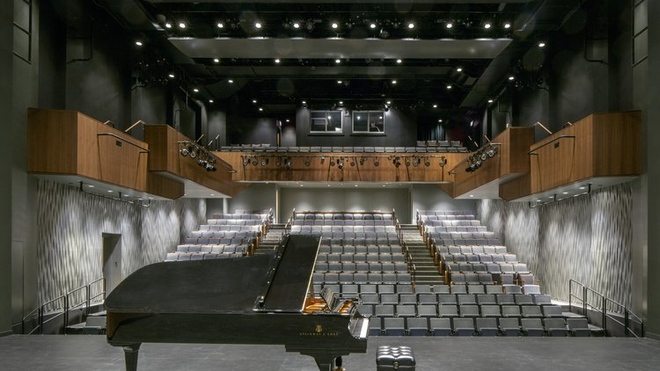 Michael D. Eisner Center for the Performing Arts
This state-of-the-art performance venue is a catalyst in positioning Denison as a top college for fine arts students who want a conservatory experience and a liberal arts education.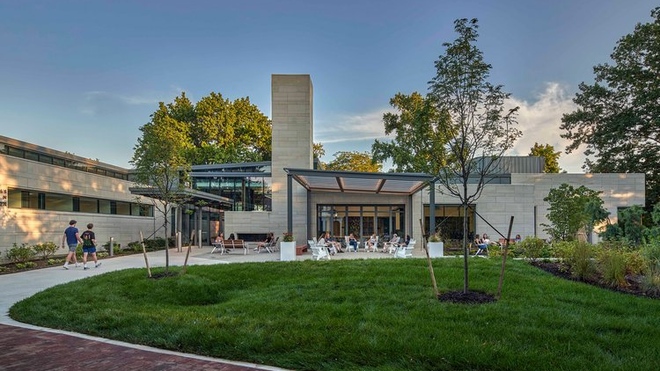 Ann and Thomas Hoaglin Wellness Center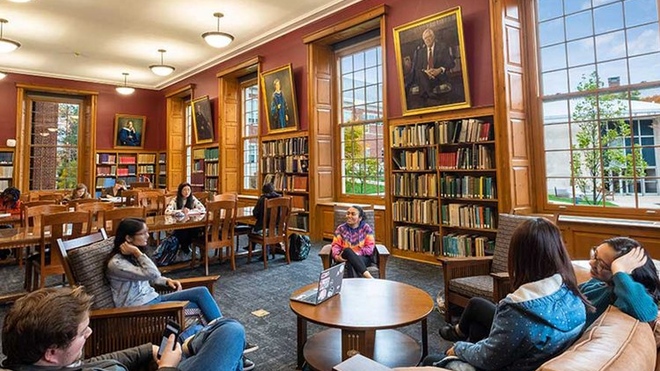 William Howard Doane Library Renovation
Thanks to a generous donation from Sue Douthit O'Donnell '67, the academic heart of campus – the Doane Library – had its original 1936 entrance restored and gained new lobby and reception spaces.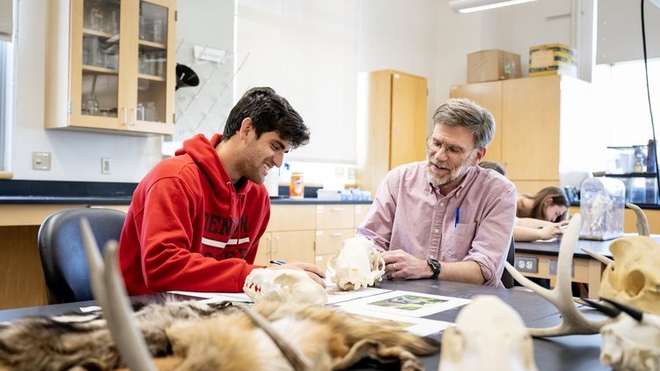 Denison Seminars
Donors funded Denison Seminars, team-taught classes that combine in-classroom learning with study abroad, offering students and faculty the opportunity to explore the liberal arts in a nontraditional way.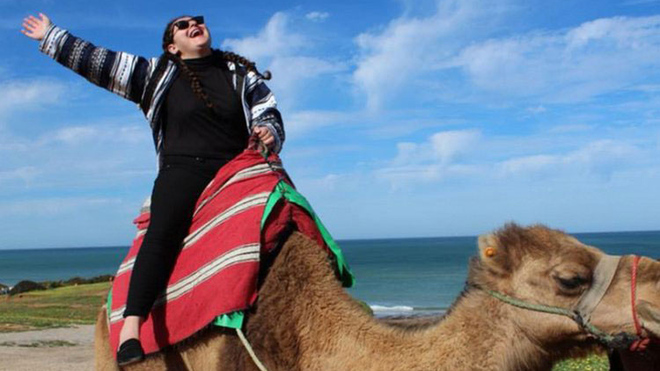 Center for Global Programs
The Center for Global Programs opens up the world for students through off-campus study, global living opportunities, international student support, and multilingual learning.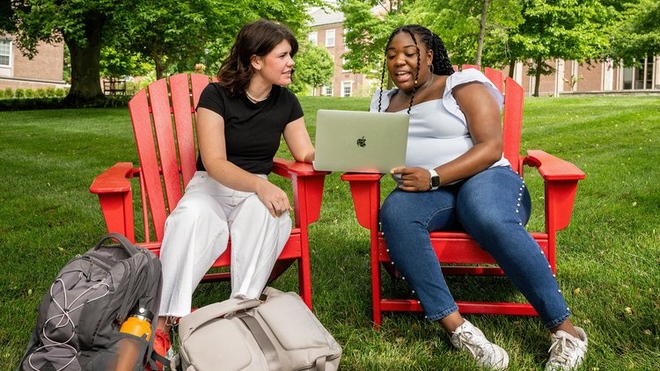 The QuestBridge and Denison-Columbus Alliance Partnerships
Campaign contributions enabled Denison to join with QuestBridge and the Denison-Columbus Alliance to admit high-achieving, low-income students from Columbus and across the country.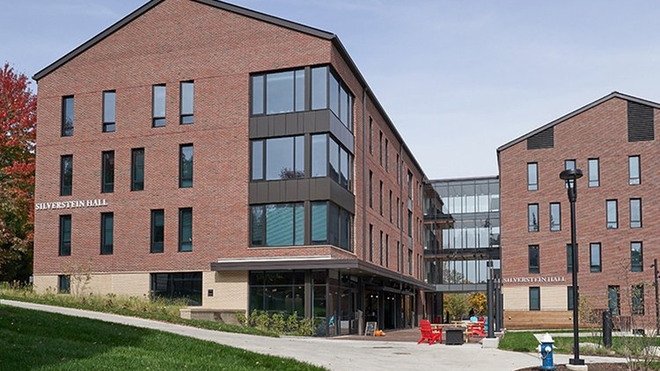 Silverstein Hall
Completed in the fall of 2020, Silverstein Hall is named for benefactor Jonathan Silverstein '89 and offers apartment-style units and a dynamic, engaging living space for Denison seniors.
---
Securing our future: 2023 and beyond
Looking forward, the progress we've made in 2023 ensures a strong future for Denison.
Philanthropy 2023 at a Glance
1,332
First Time Donors
---
60.3%
PERCENTAGE OF SENIOR CLASS GIVING TO SENIOR CLASS FUND
---
2023 donors helped make Denison great
Building on past support, 2023's giving posits Denison as one of the few colleges to give students a life-shaping education and launch them quickly and successfully into lives and careers.
Affordability & Opportunity
Friends and Family Honor the Past, Invest in the Future
The Gift
Kirsten Edwards '77 was an attorney and small business owner, an avid reader, a hater of anything plastic, and a lover of all animals. Greg Waitley '89 was a user experience expert, a beloved dad and husband, and an ardent sports fan whose tongue-in-cheek description of himself included "hack drummer and washed-up hockey player." While their paths never crossed at Denison, they had something else in common — each passed away far too soon. Yet, both were surrounded by loving friends and family who wanted to see that future Denisonians would benefit in their name.
The Greg Waitley '89 Endowed Scholarship Fund targets committed students from Chicago and environs, students who display the characteristics that best describe Greg himself — hard-working, kind, respectful, caring, and optimistic. Kris Edwards, who went back to school for an MFA, is honored through an endowed scholarship fund that commemorates her love for creative writing. By supporting students whose traits and passions are reminiscent of two cherished alums, those who love them honor their memories in perpetuity, while at the same time, creating opportunity for the next generation.
The Impact
"I chose Denison for the close knit community and personalized learning experience. Without this support, I would not have been able to attend Denison," says Lillian Ruiz, a Denison student from the northeast side of Chicago.
"Because of you, I can attend an incredible school and find a new home here on The Hill. I am able to be a figure that the other women of color in my life look up to. Thank you."
Lillian Ruiz, recipient of the Greg Waitley '89 Endowed Scholarship
---
Academic Innovation
Helping Denisonians see the stars
The Gift
Parent Marilyn P. McConnell's gift transformed Denison's planetarium and revolutionized the way faculty teach astronomy. She fell in love with Denison while touring the campus with her daughter Laura. "I was so touched that, at Denison, Laura was able to pursue the arts and sciences simultaneously. The arts and sciences go together – they complement each other," says McConnell.
Her support allowed Denison to leverage the latest display and immersive software technology in the 42-seat planetarium, including funds for community outreach. It will advance sophisticated scientific inquiry and bring students and visitors clearer views of the cosmos. It will not only benefit how we present astronomy; it will expand its use to other academic disciplines.
The Impact
"The previous system visualized the sky as seen with just your eye from the surface of the Earth. The McConnell gift will allow us to transport audiences across the cosmos and time," said Steven Olmschenk, Denison's chair of physics and astronomy. "We will be able to zoom in on Jupiter to see the Galilean moons — both as Galileo first saw them through a telescope in 1610 and as spacecraft today see them as they pass by."
---
Recognizing Denison's Extraordinary Faculty
The Gift
David Baker, English professor emeritus, is a teacher, award-winning poet, and composer. John Jackson, associate professor emeritus of Black studies and religion, arrived from Harvard Divinity School to begin Denison's Black studies program 49 years ago, bringing a strong moral compass and a passion for social justice. In recognition of their accomplishments and character, donors have endowed lasting tributes in their names.
The Dr. David Baker Research and Scholarship Excellence Award, inspired by poet Page Hill Starzinger and supported by David's former students and colleagues, annually recognizes an exemplary Denison faculty member. The inaugural award recipient was Professor of Music Ching-chu Hu, director of Denison's Vail Arts Series, which brings performing arts to the entire campus — an endeavor vital to a liberal arts education.
With support from current students, alums, and friends, the Dr. John L. Jackson Social Movement Leadership Endowed Fund furthers the social justice movement through internships, training, and networking opportunities that build future leaders.
By recognizing these extraordinary men, donors illuminate Denison's faculty more broadly.
---
From Our Hill to Capitol Hill
The Gift
A gift from Jeff Forbes '87 helps geopolitics, diplomacy, and global challenges come to life for 16 to 20 Denisonians annually who spend nearly two summer weeks in the nation's capital. The Denison D.C. Experience affords them the opportunity to learn the business of Washington, both public and private, through the lens of change-makers themselves. Students keep a journal of their travels, interactions, and reflections as they absorb how officials shape security policy and how policy, in turn, shapes American responses in a dynamic and complicated world.
The program upholds Denison's mission, educating and inspiring students to be the autonomous thinkers, discerning moral agents, and active citizens of a democratic society needed in our world. The imperatives of today's domestic and international environment require young leaders who not only solve problems but who can anticipate new challenges while thinking and working across disciplinary boundaries.
The Impact
"The experience was better than I could've imagined. I don't say that lightly. Having the opportunity to talk to the brightest minds in several different areas of U.S. international affairs and foreign policy opened my eyes to two things: how impactful the U.S. is on the world stage and how so many people can have so many differing viewpoints on the same complex issues. Despite the differing opinions, one message was clear: public servants are in short supply and needed to make the government work as well as it can."
Jack Helms '26
Student Life
Kienzle-Hylbert Stadium: A Winning Investment for Big Red Athletics
The Gift
Denison's lacrosse and soccer teams will have a state-of-the-art home next year, thanks to the generosity of Rick '85 and Cindy Kienzle and Paul '66 and Katharine Hylbert. With varsity sports legacies of their own, the families will be recognized by an enhanced stadium that bears their names and marks a new chapter in the story of Big Red athletics.
The Kienzle family made a leadership gift earlier this year and hoped to motivate other Denisonians to do the same. "I want to invest in world-class facilities for our world-class students," said Rick Kienzle, who played on Denison's nationally ranked 1985 lacrosse team. "Denison is on a winning streak, and I want to build on that trajectory."  
Recognizing a transformational opportunity, the Hylberts committed to a leadership gift. "Students learn in the classroom, on stage, through campus leadership opportunities, and as they train and compete on the field. Coming from a sports-loving and competitive family and having played for Denison myself, this gift is a meaningful investment for us," said Paul Hylbert.
The Impact
With support from Denison alums, parents, and families, Kienzle-Hylbert Stadium will ensure that future Big Red athletes flourish on the field. It will feature a new multi-use synthetic turf field, a press box, permanent bleachers, lighting, and a new scoreboard that will help bring athletic events to life. Thanks to the families' philanthropy, the stadium will open for the 2024 lacrosse season. The new facility will help win recruits, better serve current student athletes, and provide spectators with a more enjoyable experience. 
---
Alumni Engagement
Once a Denisonian, Always a Denisonian
The Gift
A school known for creating lasting relationships, Denison is now strengthening one of our most important partnerships — the one between the college and our alums. Bolstering alumni engagement over a lifetime is a critical part of Denison's future, and with good reason. Our alums are our ambassadors to the world, and their success is the best proof of the efficacy of a Denison education. Sustaining an ongoing relationship will bring value to both graduates and their alma mater. 
Thanks to the support of Denison life trustee Dana Hart '76, we are a step closer to reimagining meaningful alumni engagement. Her leadership gift will spark growth in five targeted areas, each informed by audience research. Extending Denison's successful career launch initiatives to alums five years out is a top priority, as is instituting a robust course of lifelong learning for all alums. Denison also plans to expand the alumni network through virtual, regional, affinity and on-campus experiences. Finally, we will shape volunteer opportunities, such as professional mentoring, that encourage alums to give of their talent as well as their treasure and communicate and listen with greater frequency. 
---
Denison's Annual Fund is the great enabler
A gift to the Annual Fund is the most flexible way to support Denison. Annual Fund giving lets us capitalize on opportunity and pivot to meet challenges. We are grateful for gifts of all sizes. In 2023, Denison's Annual Fund benefitted every student and programs on every corner of campus. 
For example, your gifts funded: 
A LEGACY OF LONGEVITY: Dr. Virginia M. Coombs '68
With an accomplished career in higher education as a senior administrator and academic dean, Ginny Coombs knows what it takes for students to succeed. As one of the longest continuous donors to the Annual Fund — at 47 years and counting — she honors her own Denison experience and helps current Denisonians receive the same guidance and mentorship she did as a student on The Hill.
"Denison prides itself on a culture of student-centered decision-making, and students thrive when they are challenged to think and learn. Led by talented faculty members who care about them as people, students flourish when staff members have the resources to assist them as they develop and mature as individuals. Today, I see the emphasis on mentoring — with the same care and attention to individual students — as a core value of a liberal arts education at Denison."
Ginny Coombs
"Because of your generous gift, I am one step closer to not only finishing my first year at Denison, but hopefully pursuing my goal of attending graduate school. Thank you again for your scholarship. This award has lightened a substantial amount of financial burden and I couldn't be more appreciative. I hope to one day return the favor and similarly, give back to my community."
Sydney Flores '26
"I believe that mentorship can change the world and this has been reflected in both my personal life and my Denison career. I've found incredible mentors within the Division of Student Life, the Knowlton Center, and Red Frame Lab that has helped set a launching pad for my future career aspirations."
Alex Pan '24
"As long as I am at Denison, I am putting my best foot forward with my education to keep along a successful path in my life. The quality of education I am getting here wouldn't be possible without these scholarships, so I am taking advantage of all Denison has to offer to make it count."
Grant Gutterman '25
"One piece of the Denison experience that I am so appreciative of is the importance of connection –between people, courses, and beyond…from being asked to speak at Knowlton events and working with new student orientations, I have been able to grow as a leader, a mentor, and a Denison community member."
Sarah Kovacic '23
"This summer, I am doing an internship for a renewable gas company called Opal Fuels. Without Denison and the connections I have been gifted with here, I do not think I would be able to do such an awesome internship. My goal after graduation is to move into a full time position in the renewable energy industry and hopefully get an MBA. I am so excited for the future and feel so well equipped because of my time at Denison."
Myles Beale '24
Thank you for your support!
---