President's Speeches & Writings
Rethinking the career service center
September 8, 2016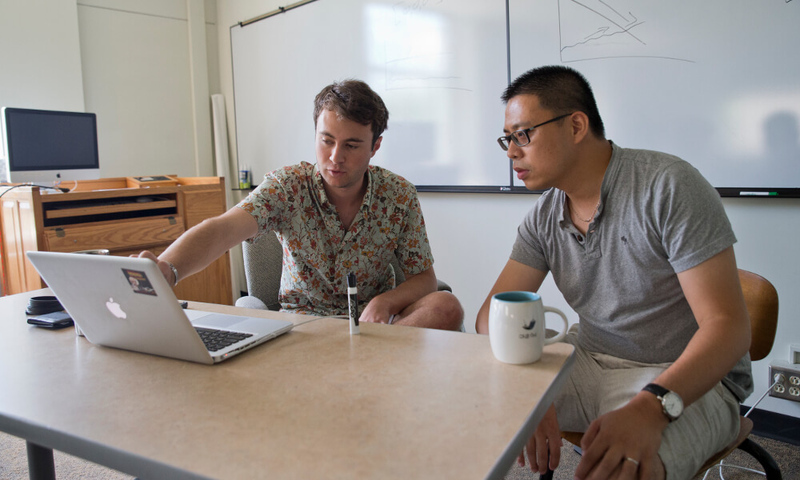 The old college career service model doesn't work. It is not up to the task of helping students prepare for a world that is becoming increasingly competitive, complex and fast paced. Too often, the career service office is small, isolated and underfunded. For these reasons and others, students do not bother to access it until senior year, sometimes even waiting until a month or two before graduation. It is clearly time for a new model.
At liberal arts colleges, there are two particular challenges:
First, there are small but significant gaps between that which students receive through the academic curriculum and that which employers expect. In a wonderfully insightful article in The Chronicle of Higher Education, Matthew Sigelman, chief executive at the job market analytics company Burning Glass Technologies, calls for moving beyond the "lazy debate" that pits the liberal arts vs. pre-professional programs. The data collected by Burning Glass Technologies finds that the answer is not either/or, but both. Employers value and need the skills acquired through the liberal arts, combined with profession-specific skills.
Put most simply, to compete for the best jobs, students need a solid range of liberal arts skills, from effective communications and critical thinking to the ability to work in teams and connect disparate ideas. But they also benefit from some profession-specific skills development through seminars, online training, courses, and internships in one or more of the following areas: marketing, graphic design, computer programming, data analysis and management, social media, general business, project management, sales and information technology.
Second, students who choose a broad-based liberal arts education have the benefit of developing a range of interests and skills. Their eyes are opened to the wide range of opportunities that exist for bright, talented and ambitious students from top colleges. While exciting and inspiring, that high level of knowledge and awareness can make it daunting to get started. Without an initial career goal in mind, liberal arts students sometimes can feel like they aren't sure where to begin.
For the last 36 months, Denison University has been exploring these questions with our alumni, parents, faculty, staff and forward-thinking employers. In response, we have launched the Austin E. Knowlton Center for Career Exploration, which will house a state-of-the-art approach called Denison@Work.
Denison@Work is built upon the following set of foundational observations:
There is no one-size-fits-all solution to career preparation. Colleges need to offer students an array of programs from which they can choose, depending on their individual needs and interests.
Students are only in classes 60 percent of the calendar year. Colleges need to recapture the remaining 40 percent to focus on career exploration and should support those activities financially.
Liberal arts colleges like Denison have a strategic advantage, with a large network of highly successful and engaged alumni who cut across a remarkably wide range of professions.
The day is gone when students can wait until senior year to think about careers. Colleges must create a shift in campus culture that encourages early engagement with career exploration.
Our new model is built upon a developmental understanding of the college process that broadly maps as follows:
The first year is an ideal time to bolster confidence while exploring the different ways people build lives, and how careers and professions fit into those lives. During the first year, students have access to The Possibility Project, which is a semester-long series of guided workshops. Small teams of students develop awareness, confidence and clarity about the range of possibilities to pursue during and after their college years. At the core of this program, students have a chance to meet alumni and parents who share their own paths. The program culminates with each student developing an eight-minute TED-style talk about a subject or issue they care about deeply.
The second year is designed to help students fill skills gaps, while also connecting with alumni and parents as coaches and mentors. As students begin to imagine the kinds of lives they want to lead, they need to connect with those in the professions who can serve as guides and coaches. In particular, they benefit from alumni and parent stories about how careers unfold in unpredictable ways, and about the wide array of paths people take to build successful and satisfying lives. We are rolling out a number of programs to connect alumni with students early in their college careers. For example, NextGen brings recent graduates back to campus for short residencies focused on connecting face-to-face with students and discussing lessons learned about career searching and landing well in the professions.
At the same time, students have access to several new ways to use non-academic periods to offer professional seminars that range from a few days to a few weeks. Some of these are programs that are broadly available to students from any college, and some are specific to Denison@Work. For example: through a partnership with a member of the Denison family, we have developed OnBoard, an online platform that delivers nine instructional modules. The goal is to enable students and recent grads to master the "Day One" skills that most employers find lacking in their entry-level applicant pools: using spreadsheet programs, managing projects, reviewing financial statements, understanding basic accounting, and writing professional documents. 
The junior year is about gaining first-hand, hands-on experience with internships, "short but intense" externships and other experiential opportunities. This is the single most valuable thing a student can do to enhance professional readiness before, during, or after the junior year. First Look is a set of programs that gives students a chance to explore particular professions and connect with alumni across the country. Last year, for example, a group of students spent a week in Chicago visiting different types of financial firms. At each firm, an alumnus or parent arranged a multi-hour seminar on what the firm does and where the industry is headed. Another group of students set out on a road trip over spring break to meet with alumni in five cities to discuss career preparation and post-graduation paths. And one program took advantage of our proximity to Columbus to take students interested in the arts and nonprofits to meet with an alumna who runs the city's art museum. Many students establish connections and summer internship leads through First Look trips. For others, it helps them decide with more precision what path they want to follow (and those they do not).
All of this pre-work leads to summer internships, which form the cornerstone of career exploration at Denison. Many students source their own opportunities in areas of interest ranging from field research to nonprofit work, government, education, and business. And many students take advantage of opportunities made available by parents and alumni. For example, this summer we had students doing everything from working at Amazon, to helping an alumna build a new company called Mom Made Foods, to a group of pre-med students who interned with a rural hospital in India. All students are eligible to apply for funding grants to help offset living expenses and remove the concern of a student who wants the important experience of an internship but worries about lost wages.
One seldom-recognized fact is that all internships are not created equal. At the core of the Denison@Work model, internships are designed to connect students with alumni and parents who can continue to serve as coaches. We also work to build some reflection into the internship, giving students opportunities to process what they have learned about the profession, themselves, and the kinds of careers and professions that might be good starting points for them. For example, in metropolitan areas with concentrations of Denison interns, we are starting to organize evening and weekend events, sponsored by alumni, parents, and other friends of the college who can provide advice and offer short evening seminars on profession-specific skills and workplace topics, such as ethics, networking, leadership, and important issues impacting relevant fields of employment.
The senior year is time to take stock, firm up goals, and create a transition plan. A signature program called Campaign for My Future helps seniors (and a select number of juniors interested in particular fields with earlier on-ramps) to prepare for an effective job search. Students learn how to set appropriate milestones to achieve their goals, how to navigate resources, and how to create clear messaging to prospective employers through written and face-to-face communications. This program is much more than a to-do list. The goal is to help students articulate and persuasively communicate the unique value they will add to the organizations they want to serve. This campaign approach involves students taking ownership and being "hungry" to execute the strategies and tactics.   
Students also have access to a variety of online platforms to connect with alumni and parents. Some of these are widely available. For example, we are building out our LinkedIn presence. And some platforms are more nuanced. In October this year, along with the University of Chicago and Case Western Reserve University, Denison was invited as the first liberal arts college for a pilot launch of the new alumni mentor network Wisr, which matches, connects, and supports our students (and new graduates) with our alumni serving as their professional mentors.
Much of this remains available to students after graduation as they get started on their career path. For example, students have access to Denison Connecting, career networking events which are organized by our alumni in major cities domestically and abroad, and to more specific career communities, which operate as "communities of practice" through which alumni and students connect around shared professional interests. Recent graduates also have full access to OnBoard.
Denison@Work is housed in our recently launched and endowed Austin E. Knowlton Center for Career Exploration, where it is supported by a talented and passionate staff, which has doubled in size, in a large space that is centrally located on campus.
Upending the Old and Creating the New Paradigm: In a wonderful new book, There Is Life After College, Jeffrey Selingo writes, "For all the time and attention students and their families place on the college search, they spend comparatively little on the search for the right job a few years later."
Denison@Work is replacing the traditional stand-alone career service office with a new paradigm that puts students at the center of a network of relationships, increasing their awareness of self, exploring professional interests through hands-on experiences, and pursuing opportunities through personalized plans.
In doing so, Denison@Work is deepening, broadening and extending the career exploration process at Denison. Career exploration has moved from being a frustrating and often solitary activity to an engaging process that leverages relationships with faculty, staff, alumni, parents, and peers. After all, those relationships are at the heart of what makes a liberal arts education so extraordinary.