President's Speeches & Writings
Being a globally oriented college
December 9, 2015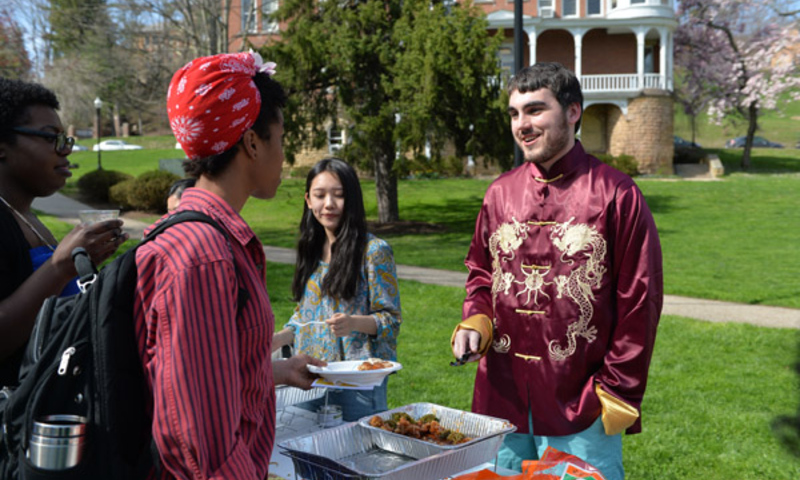 What does it mean to be a globally oriented college? Are some international experiences better than others? Are colleges doing enough to integrate international students on their own campuses? And what steps can we take to improve global education for college students?
First, the good news: according to the most recent Open Doors data, significant yearly progress has been made in two key areas.
Study abroad has grown. Since 2000, the number of U.S. students studying in foreign countries has doubled from 143,590 to 304,467, including a 5 percent increase last year.
College campuses have more international students. Since 2000, the number of international students on U.S. campuses has grown from 514,723 to 974,926, including a 10 percent increase last year.
Unfortunately, those numbers are somewhat deceiving. In fact, fewer than 10 percent of all college students will study abroad. Even at top colleges that claim to be internationally focused, almost half of students do not study abroad.
The Open Doors data also show disconcerting trends among those who do study abroad. The majority of those students who study overseas are white women, while men and multicultural students are underrepresented. Currently, 53 percent of students who study abroad do so in Europe or Eurasia, with 16 percent headed to Latin America, 12 percent to Asia and only 5 percent to Africa and 2 percent to the Middle East. In order to understand a rapidly shrinking world, we need citizens who can work cross culturally and engage with truly global problems.
Likewise, international students are not being well integrated on our campuses. One study found that 38 percent of international students went back home without having made real U.S. friends. For Chinese students, the largest international group studying in the United States, that figure was 50 percent. Simply put, international students often feel isolated, and opportunities for them and for their classmates are lost.
To get this right, we need to make a few shifts.
First, we need to work hard to integrate our international students fully into campus life. Too often, this work is relegated to an underfunded international programs office. Getting this right will require a close look at how students form relationships. We could start by focusing on the first six months, when most college friendships are formed. Everything from roommate selection to orientation to campus organizations should be mapped and tweaked, with an eye toward making sure our international students feel welcomed and valued as part of the campus community. They are our students.
Second, we need to weave a global perspective throughout the educational process to ensure that every student has an enlightening international experience. In particular, we need to better support our faculty as they develop courses and other academic experiences.
One exciting program is the Global Liberal Arts Alliance (GLAA), a consortium of 29 top liberal arts colleges in 17 countries. The GLAA is focused on building a network that will comprise nearly 5,000 faculty and 50,000 students spread throughout the world. The GLAA creates partnerships of equals that provide mutual support within a cooperative framework. The colleges are connected by a commitment to providing a certain kind of education (similar to a residential liberal arts education), with similar challenges and shared opportunities.
This is a major departure from standard practices on college campuses. Traditionally, colleges have made arrangements with each other, or with third-party providers, to create opportunities for students to study abroad. For example, Denison students who want to study abroad may attend programs run by SIT, CIEE and a number of other international study organizations. More recently, U.S. colleges are opening branch campuses overseas. We will need new approaches that are relational and more focused on student learning.
While the traditional approach connects students to third-party providers or college administrators to each other, the focus of the GLAA is creating relationships between faculty, who can infuse their students' academic experiences in large and small ways, throughout the four-year experience.
Denison is a founding member of the GLAA and has made a major commitment to its growth and success. The GLAA is allowing us to broaden beyond the scope of study abroad (where we already are a benchmark campus) in five ways:
Linked Courses: Denison professors partner with sister colleges to work with students on joint projects. For example, a Denison economics class last spring partnered with an economics class at our sister college in Switzerland. Students used Google Hangouts to do a joint project on the Middle East. The project brought together students from the United States, Switzerland, Brazil and Jordan, all using online tools to work together.
International Global Issues Seminars: Denison faculty members work with professors from sister colleges, inviting them to campus to teach one- to two-day courses on emerging global issues. Courses this year will feature a biologist from Mexico who will work with biology classes, as well as classes in sociology, anthropology, Spanish language, and the arts; and an expert on Arabic culture who will work with history, language, and culture courses.
Denison Seminars: Denison faculty are teaching courses for sophomores and juniors that are inter- or intra-disciplinary, often team-taught, and that include travel as part of the coursework. For example, a class that explored how cities are transformed in wars traveled to Berlin.
Multi-campus Programs: The GLAA is exploring different ways to offer students new academic programs that involve several campuses. For example, a new

GLAA initiative,

Globalization Studies, will be designed to help students develop an understanding of the implications of globalization (e.g., the movement of capital and people, impact of technology, migration and refugees) by giving students ways to spend time on multiple campuses and/or to engage faculty across campuses virtually.
Inbound Study Abroad: The GLAA will allow us to bring students from our sister colleges to Denison for campus visits from a short-term visit of a week to longer term visits of a semester or more. With intentionality, we will be able to develop inbound programs that bring together Denison students with their peers from other countries in multiple settings and ways.
Summer Programs: Denison students have access to scholarship funds to conduct research. This work historically has taken place on our campus, but the GLAA will create opportunities for our students to travel abroad to conduct research under faculty supervision. We also are looking at other ways to make summers and intersessions a more integral part of our students' experiences, particularly through international internships and opportunities to travel with faculty.
What's interesting about the GLAA is that it will allow us to weave multiple international experiences of various kinds throughout a student's Denison experience.
The day is gone when colleges can claim they are globally oriented simply because they have a small international population on campus and some of their students study abroad. To prepare our students properly, we need to integrate global perspectives and opportunities throughout their four-year experience. Colleges need to rethink how they relate to one another in order to help students have truly global, life-changing experiences.