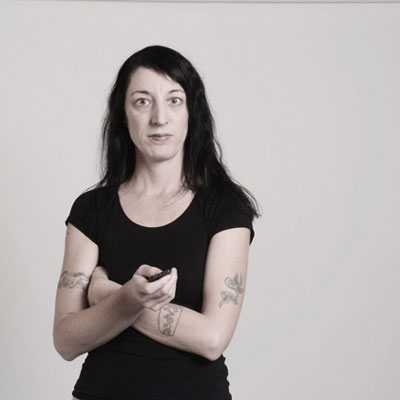 Sheilah (Wilson)
ReStack
Associate Professor
Dr. Viola K. Kleindienst Professorship
Chair of Studio Art
Biography
"Conflating the miraculous with notions of chance and arbitrariness, Sheilah (Wilson) ReStack's work alludes to religious motifs from a perspective of a sincere and heartbroken skeptic. It often centers around the empty center, an impossibility that she bravely faces while connecting history, land and personal experience into fluid and surprising actions within her artistic practice."
from Interview with Leeza Meksin for Temporary Contemporary, December 2012.
Professor ReStack has exhibited her work nationally and internationally. Awards include Nova Scotia Talent Trust recipient (2002-4), Creative Capital Foundation Scholarship (2007), Canada Council Travel Grant (2008), Denison University Research Funding (2010, 2013, 2017, 2018, 2019), Banff Center thematic residency scholarship with Adam Chodzko (2011), Canada Council Project Grant (2012, 2015), Howard Foundation Photography Grant (2016), Ohio Arts Council Individual Excellence (2014, 2019), Union Docs Fellowship (2019). ReStack's work has been commissioned for the Museum of Fine Arts of Santa Fe, Balloon Museum in Albuquerque, New Mexico, OSU Urban Art Spaces, W(here) festival in Pictou County, Columbia College Chicago, Whitney Museum of American Art, Ross Creek Center for the Arts, Confederation Arts Centre and others. ReStack's work investigates the necessity of rupture and precarity in feminist and queer narrative and material structures.
Most recently she has collaborated with her partner, Dani (Leventhal) ReStack, on video and photographic installation work. Their collaborative video, Strangely Ordinary This Devotion (SOTD) was premiered at the Whitney Biennial in 2017. Their collaborative installation Stack for Carrington's Hyena, at Iceberg Projects and Columbus Museum of Art was recently reviewed in Artforum (2017), and was the impetus for their name change. ReStack's are currently working on a video titled Future From Inside (FFI).
Professor ReStack had a solo show, Hold Hold Spill, at Interface Gallery in Oakland, CA summer 2020. The works in the show reflect a feminist inquiry into the possibility of an embodied photograph. As ReStack writes, "What results is of the photograph, but also something more unknowable. It holds a form; with shards of recognition and specificity. It is my attempt to build something that can be as precarious and tentative as the multivalent self in relation to another."
Degree(s)
MFA Goldsmiths College, BFA NSCAD University, BA English/French Mount Allison University
Learning & Teaching
Courses
"In teaching, I rely on a bilateral approach of skills and concepts. In Introductory classes, I work specifically on foundational tools for mastering the camera and basic editing. To begin, I focus on slowing down the act of looking. We live in an image-saturated world; the ubiquity of the image and its accessibility forces us to see quickly and abundantly. We are constantly presented with new images to process. The act of really looking at one's environment and considering how you can change it, through framing, is a deceptively simple, yet powerful, act. Students often have a level of perceived comfort or knowledge with photography because of its ubiquity and the democracy of the medium. Because what I am asking them to do is quite different from what they may associate immediately with photography; fashion, advertising, nature, journalism, etc. I am actually asking them to question and privilege the act of looking and observing in the world."
Introduction to Photography
Analog and Alchemy: Introduction to Darkroom Practices
Writing with Light: Introduction to Studio Lighting
Introduction to Video Art
Photograph as Performative Gesture
Queering the Archive (Denison Seminar)
Photography and Fashion from 1950-80
Research
Professor ReStack joined the Studio Art Department faculty at Denison in Fall 2009. Her photographic, video, social practice and performance work is interested in narrative and how to create ruptures in our understandings of narrative.
Other
Honors & Awards
2021 Ohio Arts Council Individual Excellence Award for Photographic Practice
2020 Canada Council for the Arts Travel Grant Eastern Edge (Newfoundland) Residency
Union Docs UNDO Fellowship for radical practices of documentary filmmaking with Dani ReStack (2019)
Ohio Arts Council Individual Excellence Award for Collaborative Practice (2019)
Canada Council for the Arts: Research and Development for Future from Inside (2018)
Onion City Best of Festival Award by Amina Ross, Carl Bogner and Hannah Piper-Burns (2018)
Howard Foundation Photography Fellowship, Brown University (2017)
Canada Council for the Arts: Project Grant (2016)
Honorable Mention Excellence in Photographic Teaching, Center for Photography Santa Fe (2016)
Ohio Arts Council Individual Excellence in Photography Grant (2016)
Student Collaborations
The Billboard Project in Newark, Ohio was run with the assistance of students at Denison University. The Billboard Project was envisioned as a catalyst and forum for contemporary art in the economically depressed, post industrial town of Newark, Ohio. It is a project that works collaboratively between Denison University and Newark Schools. The goal is always to use art as agent of social change and empowerment. It is important to recognize that where we live can be a site for change, ideas and, ideally, empowerment and conversation for students and community.