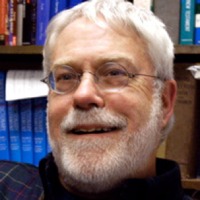 Harold
Van Broekhoven
Biography
As Peter Gomes remarked (The Good Book, 25), "To read is to interpret." Van Broekhoven's special interest is in the interpretation of the Bible with a mind to the particular historical and cultural worlds in which the text came to being and has been interpreted.
Degree(s)
B.A., Wheaton College; Ph.D., Boston University
Research
Details
Van Broekhoven's research interest has centered on the use of interpretive models for recovering the social worlds within which the Bible was written, as well as the use of classical rhetoric by the biblical writer. He also participated in archaeological digs in the Galilee, Israel at Yodefat and Cana. He is currently working on a manuscript interpreting Colossians for a pluralistic age. See also the following:
"The Social Profiles in the Colossians Debate," Journal for the Study of the New Testament (Sheffield, England 1997).
"Praise and Paraenesis in Wisdom Literature in Colossians," Proceedings, East Great Lakes and Midwest Biblical Society XV (1996).
"Persuasion or Praise in Colossians" Proceedings, East Great Lakes and Midwest Biblical Society XIV (1995).
Review of Ephesians, Colossians and Philemon, by Ralph P. Martin, IBC Louisville: Westminster/John Knox, 1991) in Critical Review of Books in Religion: 1994 (Atlanta: Scholars Press 1996).
Review of Saint Paul: Epitre aux Colossiens, by Jean-Noel Aletti, Etudes Biblique N.S. 20 (Paris: Gabalda, 1993) in Journal of Biblical Literature 114/3 (1995).
"A New Social Model for Discerning Wisdom," in New Perspectives on Ancient Judaism, Vol. V: Society and Literature in Analysis, ed. by Paul Flesher (Lanham: University Press, 1990).
Editor, Robert Hanna's A Grammatical Aid to the Greek New Testament (Grand Rapids: Baker, 1983).
Contributor to the Revised International Standard Bible Encyclopedia (Grand Rapids: Eerdmans, 1979-88).
Senior Research directed or co-directed, include:
"Ezekiel the Shaman"
"Christian People, Raise Your Voice: A Hymnology of Liberation"
"Towards a Framework for Doing Neopagan Theology"
"Diagnosis: Suffering from Metaphors; RX: the Sacred Answer"
"Puritan Sexual Ethics: A Reevaluation of Historical and Literary Context"
"El Testimonio de Rigobertu Menchu: Sincretismo, Delegitimacion, y Liberacion en Guatemala"
"Goddess of Ten Thousand Names: Transformation of Isis"
"Centering Tactics of Identity and Inclusion: City as Center of Reconciliatory Church Mission"
"How Good and Pleasant it is when Brothers dwell in Unity: Biological and Spiritual Brotherhood in the Bible"
"The Catholic Dilemma: Can the Church Reclaim Sex from the Threat of Desacralization
"'Breakthrough' and Be "Touched by an Angel": The Secularization of Message and Meaning in Contemporary Christian Television"
"Sojourners, Alone in these Worlds: The Plight of the Psychologically Estranged in First Peter"
"Catholic Church Dynamics in the World Church: An Exploration of Catholic Identity"
"With What Shall We Contend? Eph. 6:12 and the Reality of Spiritual Warfare"
"Modernity, The New Axial Age: Implications from the Hebrew Prophets, Hebrew Sages and Early Church"
"Evil in History: Babylon and the Beast in Revelation"