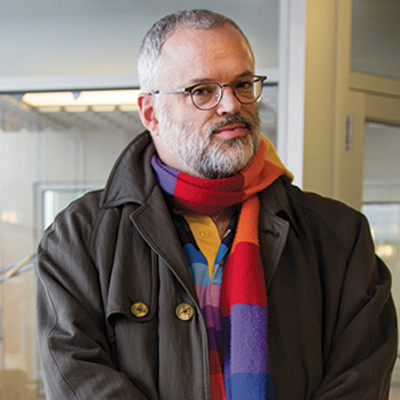 Fred Porcheddu-Engel

'87
Biography
Fred Porcheddu-Engel graduated from Denison during the second Punic War and returned somewhat later to wreak a terrible vengeance upon his alma mater. He teaches courses on first-year writing, European medieval and Renaissance literature, the history of the English Language, the writings of J.R.R. Tolkien, and literature for children, as well as a seminar called "Looking for Richard III" with sclerochronologist David H. Goodwin. He's a fan of The Venture Bros., What We Do in the Shadows, Terry Pratchett's Discworld books, Vincent Price's movies, and 1940s swing music.
He likes to solve puzzles involving old books, and has published essays and reviews on medieval manuscript studies, modern manuscript collecting, and literary history, as well as on the ghost stories of the Edwardian antiquary M.R. James, collaborating often with his pal Patrick J. Murphy of Miami University. In 2011 he became the inaugural recipient of the Dr. Viola J. Kleindienst Endowed Professorship at Denison. He lives in Granville with his husband Vince and their two cockatiels.
Degree(s)
B.A., Denison University; M.A., Ph.D., Ohio State University
Works
Publications
Porcheddu, Fred. "William Alabaster's Notebooks." Spenser Studies 36 (2022) 375-447.
Porcheddu, Fred, Jordan Cardinale, and Bridget Koerwitz. "Midwestern Alchemy: The Global Context of a Small-Town Manuscript." The Journal of the Midwestern Modern Language Association 53.1 (Spring 2020) 81-103.
Murphy, Patrick J., and Fred Porcheddu. "Eumenides and 'Newmenides': Academic Furies in Edwardian Cambridge," In Rebecca Kennedy, ed., Brill's Companion to the Reception of Æschylus (Leiden: Brill, 2016), 362-80.
Murphy, Patrick J., and Fred Porcheddu. "Robert Thornton, the Alliterative Morte Arthure, and Cambridge University Library MS Dd.11.45." Modern Philology 114.1 (2016) 130-47.
Murphy, Patrick J., and Fred Porcheddu. "Lay of a Last Survivor: Beowulf, the Great War, and M.R. James's 'A Warning to the Curious'." Review of English Studies 66 (2015) 205-22.
Porcheddu, Fred. "Devilish Details: A New Record of the Towneley Plays." Medium Ævum 83.1 (2014) 114-29.
Porcheddu, Fred. [Review.] Scott Gwara, Otto Ege's Manuscripts: A Study of Ege's Manuscript Collections, Portfolios, and Retail Trade, with a Comprehensive Handlist of Manuscripts Collected or Sold (Cayce, SC: De Brailes, 2013). Speculum 89.4 (2014) 1147-49.
Hopkins, Stephen, Patrick J. Murphy, and Fred Porcheddu. "The Manuscript of M.R. James's 'Ash-Tree'." Notes and Queries 61.4 (2014) 583-585.
Murphy, Patrick J., and Fred Porcheddu. "'And I'll Come to You, My Lad': Amateur Error, Templar Terror, and the Inscription of M.R. James's Haunted Whistle." Philological Quarterly 92.3 (2013) 389-415.
Murphy, Patrick J., and Fred Porcheddu. "Renovation and Resurrection in M.R. James's 'Episode of Cathedral History'." Studies in Medievalism 22 (2013) 85-113.
Murphy, Patrick J., and Fred Porcheddu. "The Antiquarian Diaries of Thomas Hearne and Mr. Poynter in the Fiction of M.R. James: Duty Unfulfilled." English Literature in Transition 55.3 (2012) 339-60.
Porcheddu, Fred. "Reassembling the Leaves: Otto Ege and the Potential of Technology." Manuscripta 53.1 (2009) 29-48.
Porcheddu, Fred. "Text and Trust: The Manuscript Thefts of Anthony Melnikas." The Remnant Review 5.1 (2009) 1-21.
Porcheddu, Fred. "Mrs. Todd's (Pastoral) Shortcut." The Journal of the Fantastic in the Arts 19.1 (2008) 5-24. (Repr. Jeffrey W. Hunter, ed., Contemporary Literary Criticism [Detroit: Gale, Cengage, 2012] 112-22; repr. Short Story Criticism 237 (Gale, 2017).)
Porcheddu, Fred. "Otto F. Ege: Teacher, Collector, Biblioclast." Art Documentation 26.1 (2007) 4-15.
Porcheddu, Fred. "The Cloning of the Karlmagnússaga in Anglo-French Textual Criticism." In Jennifer Weiss, ed., Sagas and Societies (University of Tübingen, 2002) 1-16.
Porcheddu, Fred. "Edited Text and Medieval Artifact: The Auchinleck Bookshop and 'Charlemagne and Roland' Theories, Fifty Years Later." Philological Quarterly 80.4 (2001) 463-500.