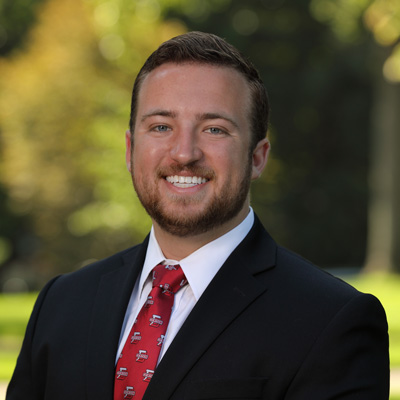 Douglas
Lisko
Biography
I grew up in Columbus and spent a few years in the Akron/Canton area, but I love living in Columbus. My path to Denison was not traditional, but I am so glad that I led me here.
I started at Denison University in 2018 with the creation of Residential Communities and Housing, previously Residential Education and Housing, when Denison transitioned the focus of our campus residential life to community development. Having worked with a variety of student development offices in the past, such as residence life, student activities, orientation, and others, I have found my passion in helping support students while they are navigating personal growth during the college experience. Prior to higher education, I worked at State Farm as an account manager.
Having attended another small liberal arts college, I closely relate to the experience Dension students will encounter. I share their passion for active involvement, personal development, and challenging the status quo. I hope to provide residents a socially inclusive campus, where they feel valued, respected, and listened to.
Denison has been a pioneer in student development in their approach to residence life. Residential Communities and Housing is deeply rooted in the facilitation of building relationships and communities for Denison students.
In my role as an Associate Director, I focus on the operations and logistics of the residence halls. That includes managing the housing selection process, break applications, and striving to connect our office with what is going on in the halls. Students may also work with me when they are referred to the Office of Community Values and Conflict Resolution for possible policy violations. I use a restorative justice approach when resolving these conflicts. When it comes to life on The Hill, there are a lot of offices we work with, such as Facilities Services, Dining Services, Student Accounts and many more. If you have any questions about life on campus, Residential Communities and Housing is a great place to start.
When I'm not helping students find things in their MyHousing Portal, I'm making a home cooked meal, spending time outdoors, or trying to find a new TV series to stream. When you're visiting the Curtis Dining Hall, stop by my office in the Curtis Community Center on the ground level. I look forward to learning about you and what brought you to the Hill.
Degree(s)
B.S., Walsh University; M.B.A., Ohio Dominican University
Works
Presentations
Lisko, D. & Wood, C (2019) "Start with Why: Using Storytelling to Guide Conflict Resolution." OCPA Annual Conference
Lisko D. (2018, 2019) "Campus Values Education." Denison University
Lisko, D. (2018) "Community Advisor Interview Training: Avoiding Biases." Denison University
Lisko, D. & Wood, C (2018) "Lessons of Being a First Time CA." Denison University
Lisko, D. (2016) Building Community in Upperclassmen Communities." Walsh University
Lisko, D. (2014) "The Foundations of Programming: From Beginning to End." Walsh University
Service
Professional Memberships
GLACUHO: Great Lakes Association of College and University Housing Officers
NASPA: Student Affairs Administrators in Higher Education
OCPA: Ohio College Personnel Association