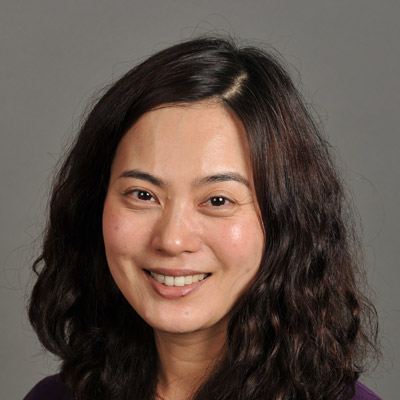 Keun-Joo Christine
Pae
Associate Professor
Chair of Religion
Biography
Dr. K. Christine Pae joined the faculty at the Department of Religion in Fall 2008. Since then, she has taught religious ethics, Christian social ethics, and transnational feminist ethics for both the Department of Religion and the Women's Studies Program. As a Christian feminist ethicist, Christine's academic interests include feminist peacemaking and interfaith spiritual activism, transnationalized militarism with focus on intersection between gender and race, transnational feminist ethics, and Asian/Asian-American perspectives on post-colonial racial relations. Currently Christine is working on her manuscript, Sex and War: A Christian Feminist Ethic of War and Peace. She has published and presented several essays concerning war, women, Asian American Christianity, and religious ethics. As a co-convener, she serves the Asian American Ethics Working Group at the Society of Christian Ethics (2011-2013).
Degree(s)
B.Ed., Seoul National University of Education, Seoul; M.Th., Yonsei University, Seoul; M.Div., Yale University, M.Phil, Ph.D., Union Theological Seminary in NYC
Learning & Teaching
Courses
REL 300 Senior Seminar: Ethics of Peace and War
REL 327/ WMST 327 Woman and Social Ethics in the Global Context
REL 340-01/ WMST 350/ QS 280 Ethics of Sex
REL 224: Christian Social Ethics
REL 227/ WMST 227: Women's Spiritual Activism
REL 203: Asian Religions in the United States
REL 102: Ethics, Society, and the Moral Self
Academic Positions
2014—Present
Associate Professor of Religion/Ethics
Denison University, Department of Religion and Women's and Gender Studies
2008—2014
Assistant Professor of Religion/Ethics
Denison University, Department of Religion, Granville, OH
2006—2008
Teaching and Research fellow
New York Theological Seminary, New York, New York
2005—2008
Teaching fellow
Union Theological Seminary in the City of New York
Works
Publications
Journal Articles and Book Chapters
"A Politics of Empathy: Christianity and Women's Peace Activism in Korea" in Women and Asian Religions. Edited by Zayn Kassam. Santa Barbara, CA: Praeger, 2016. Forthcoming.
"Faith-Based Popular Resistance to the Naval Base at Gangjeong of Jeju: Transforming the U.S.—Korea Relations for Peace and Justice" in Critical Theology against U.S. Militarism in Asia: Decolonization and Deimperialization. New York: Palgrave McMillan, 2016. Forthcoming.  
"Peace and War" in Ethics: Asian American Perspectives, 85—107. Edited by Grace Kao and Ilsup Ahn. Waco, TX: Baylor University Press, 2015.  
"Feminist Activism as Interfaith Dialogue: A Lesson from Gangjeong Village of Jeju, Korea" in Journal of Korean Religions 5.1 (2014): 55-69.
"The United States as a Responsible Member of the Global Community: Life, Liberty, and the Pursuit of Happiness When Militarized Prostitution Matters" in Theological Perspectives for Life, Liberty, and the Pursuit of Happiness in the Twenty First Century United States. Edited by Ada Maria Isasi-Diaz, Mary Fulkerson, and Rosemary Carbine, 37—50. New York: Palgrave McMillan, 2013. 
"Minjung Theology and Transnational Militarism," in Reading Minjung Theology in the Twenty-First Century: Selected Writings by Ahn Byung-Mu and Modern Critical Responses. Edited by Yung Suk Kim and Jin-Ho Kim, 164—183. Eugene, OR: Wipf & Stock Publishers. 
 "Asian Liberative Ethics" in Ethics: A Liberative Approach. Edited by Miguel De La Torre, 47—65. Minneapolis: Augsburg Fortress, 2013.
"Negotiating or Negotiated Space?: Korean American Churches and Flushing, the Queens of New York City" in Ecologies of Faith in New York City: The Evolution of Religious Institutions.  Edited by Nadia Mian, Richard Cimino, and Wei-Shan Huang, 81—101.  Indiana University Press, 2012.
"Peace Be with Your Body and Spirit" in Terrorism, Religion, and Global Peace: From Concepts to Praxis. Edited by Karikottuchira Kuriakose, 255—70.  Piscataway, NJ: Gorgias Press, 2012.
"Rethinking Masculinized Sin: Critical Dialogue between Saiving and Niebuhr from an Asian Anti-Military Feminist Perspective." Journal of Feminist Studies in Religion 28.1 (2012): 115-21.
"The Hybridized Public Sphere: Asian American Christian Ethics, Social Justice, and Public Discourse." Journal of the Society of Christian Ethics. 32.1 (2012): 93-114. (Co-wrote with James McCarty III)
"A Solidary-Talk among Women of Color: Creating the "We" Category," in Faith, Feminism, and Scholarship: The Next Generation. Edited by Kate Ott and Melanie Harris, 73—88.  New York: Palgrave McMillan, 2011.
"Western Princesses—A Missing Story: A Christian Feminist Ethical Analysis of U.S. Military Prostitution in South Korea" in Journal of Society of Christian Ethics 29 (2009): 121—39.
"Negotiated or Negotiating Spaces: Korean Churches in Flushing, Queens of New York City." Cross Currents: Religious Communities and Global Cities 58. 4 (2008): 456-74.
"We Are Asian and Asian-American Women – Generation X: A Post- Colonial Feminist Liturgy in North America." New and Borrowed Rites: Liturgy 23. 1(2007): 65—69.
"Allergy: Killing the Other vs. God: Liberating the Other – A Theological Reflection toward Liberation of the Korean Military Wives" Doing Theology from Korean Women's Perspectives: Ewha Journal of Feminist Theology 4 (2006)
Presentations
Nov. 2013
"Religion and Popular Resistance in Gangjeong Village of Jeju, Korea"
Panel: Critical Christian Studies of the United States' Imperialist Militarism from Asian/Asian
North American Perspectives, The Theology and Religious Reflection Section, American
Academy of Religion (Baltimore, MD)
Mar. 2013
"For the Remembrance of Me: Resistance of Political Forgetfulness"
Plenary Panel at Pacific Asian North Asian American Women in Theology and Ministry
Northwestern University—Garrett Evangelical Seminary (Evanston, IL)
Jan. 2013
"A Framework for Asian/Asian-American Liberative Ethics" and " Solidarity between
Mujeristas and Asian Feminist Ethicists"
Society of Christian Ethics (Chicago, IL)
Nov. 2012
"Prostituted Bodies, Desired Bodies: An Inferiority Complex in the Clash between
Religions and Masculinities"
The Religion and Social Sciences Section, American Academy of Religion (Chicago, IL)
"Buddhist-Christian Interfaith Social Activism in Ganjeong Village of Jeju Island"
American Academy of Religion, Korean Religions Session (Chicago, IL)
Jan. 2012
"Sexual Ethics and Global Peacemaking: A Case Study of Militarized Prostitution"
Society of Christian Ethics, Interest Group of Sexual Ethics and LGBTQ Issues
(Washington, D. C.)
Nov. 2011
"Transnational Feminist Theo-Ethical Reflection on Peacemaking: When Military
Prostitution Matters"
The Religions, Social Conflicts, and Peace Group, American Academy of Religion
(San Francisco, CA)
Aug. 2011
"Just Peacemaking from a Christian Feminist Perspective"
Asian Theology of Life for Peace and Justice (Seoul, Korea)
Mar. 2011
"Transnational Migration and Limited Citizenship: A Korean Feminist Analysis"
Plenary Panel at Pacific Asian and Asian North American Women in Theology and Ministry
Columbia Theological Seminary (Decatur, GA)
Jan. 2011
"Unavoidable Burden of Race: (Under)represented Asian/ Asian American in the Public
Ethical Discourse" (Co-Presented with James McCarthy [Emory University])
Society of Christian Ethics (New Orleans, LA)
Nov. 2010
"A Solidarity-Talk among Women of Color: Searching for a Liberative Feminist
Methodology of Christian Ethics"
American Academy of Religion, Ethics Section (Atlanta, GA)
Nov. 2010
"Feminist Interfaith Spiritual Activism Countering Transnationalized Militarism:
Empathetic Power of Suffering in Dorothee Soelle and Sister Chan Khong"
American Academy of Religion, Women and Religion Session (Atlanta, GA)
Oct. 2010
"From Forgetfulness to the Spirit of Courage: Korean Women's Story-telling of Sexual
Slavery during the Time of War"
Oral History Association (Atlanta, GA)
April 2010
Panelist, "America, the 21st Century's Empire?"
Peace for Life: World without Empire International Conference (New York, NY)
Mar. 2010
Workshop on "Feminist Spiritual Activism"
Pacific Asian North Asian American Women in Theology and Ministry
(Cambridge, MA)
Feb. 2010
"Western Princesses in the Borderlands: Searching for Transnational Solidarity
Countering Globalized Militarism"
The 44th Wooster Spring Academy of Religion 2010, The College of Wooster
(Wooster, OH)
Aug. 2009
"Space Formation: Korean American Churches in Flushing, Queens of New York City"
Asian Pacific American Religious Research Initiatives (Claremont, CA)
Jan. 2009
"Western Princess in the Borderland: Making a Christian Feminist Ethic in the Age of
Globalized Militarism"
Society of Christian Ethics, (Chicago, IL)
Nov. 2008
"Political Theology and Theology of Sex in Globalized Militarism: U.S. Overseas
Militarism and Military Prostitution in the Time of War"
American Academy of Religion, The Theological and the Political Group (Chicago, IL)
July 2008
"Creating a Culturally and Religiously Safe Space: Korean Enclave in Flushing, Queens
of New York City"
Association for Sociology of Religion, Religion and Immigration Session (Boston, MA)
April 2008
"What Does Africa Mean to Me?: African and Asian Women's Experiences of War and
Religion"
Workshop at Center for World Christianity, New York Theological Seminary (New York, NY)
Nov. 2007
"Making a Post-Colonial Christian Social Ethic in the Clash of Masculinities: Women's
Migration and Military Prostitution in South Korea"
American Academy of Religion, Ethics Session, Asian North American Religion,
Culture, and Society Group, Latino/a Religion, Culture and Society Group
(San Diego, CA)
Jan. 2007
"Inter-religious Perspectives on Transnational Adoption"
Center for Studies of Science and Religion at Columbia University (New York, NY)
Nov. 2006
"Gender as an Analytical Tool of Christian Fundamentalism in the Asian/Pacific
American Community"
American Academy of Religion, Asian North American Religion, Culture, and Society
Group (Washington, D.C.)
Mar. 2006
"A Theological Reflection on the Other: Korean Military Wives"
American Academy of Religion, Mid-Atlantic Regional Meeting (Baltimore, Maryland)
Aug. 2003
"An Ethical Consideration on the Experiences of the Working-Poor Asian Immigrant
Women in the Late 20th Century"
Discography
2011-Present: Convener, Asian and Asian American Working Group, Society of Christian Ethics
2009-Present: Denison University Diversity Advisory Committee
Hosted a teaching workshop for the junior faculty of color.  
2009-Present: Denison Museum Board
2008-Present: Women's Studies Committee, and Queer Studies Committee, Denison University
Hosted two campus-wide public events on religion and sexuality.
2009: Women of Color Leadership Project National Women's Studies Association
2009-2010: Program Committee, Peace for Life: World without Empire International Conference in New York City 
Service
Professional Memberships
American Academy of Religion
Society of Christian Ethics
International Academy of Practical Theology
Pacific Asian North Asian American Women in Theology and Ministry
Association of Asian/North American Theological Educators
National Women's Studies Association
Professional Service (includes Denison Service)
2015—Present
Steering Committee, The Women and Religion Section, American Academy of Religion
2013—Present
Secretary, Association of Asian/North American Theological Educators
2012—Present
Steering Committee and Board, Pacific Asian North Asian American Women in Theology and Ministry
2013
Faculty Advisor, Denison University Service Orientation
2011—2013
Co-Convener, Asian and Asian American Ethics Working Group, Society of Christian Ethics
2009—2014
Denison University Diversity Advisory Committee
2009—Present
Denison University Queer Studies Committee
2009—2011
Denison Museum Advisory Board
2009—2010
Program Committee, Peace for Life: World without Empire International Conference in New York City
2009
National Women's Studies Association Women of Color Leadership Project
2009
Great Lakes Colleges Association Academic Leadership and Innovation Institute
2008—Present
Denison University Women's and Gender Studies Committee
2008—Present
Denison University Faculty of Color and International Faculty Committee
2008
Wo men's Association for Theology, Ethics, and Ritual, Feminist Theology and Ethics Conference for Doctoral Students and JuniorFaculty
2007
Asian Theological Summer Institute
2006 – 2007
Served the Church History Search Committee (Union Theological Seminary)
2007
Student Coordinator, Pacific Asian North Asian American Women in Theology and Ministry Annual Meeting
2005 – 2007
Chair, International Students Caucus & Korean Caucus
Union Theological Seminary in the City of New York
2001 – 2002
President, Yale Divinity Korean Association
1999 – 2000
Vice-President, Theological Students' Council
Yonsei University Graduate School
1997 – 1998
Co-Director, Department of Study and Research
Graduate School Students Council, Yonsei University
Community Service
2011-Present: Convener, Asian and Asian American Working Group, Society of Christian Ethics
2009-Present: Denison University Diversity Advisory Committee
Hosted a teaching workshop for the junior faculty of color.  
2009-Present: Denison Museum Board
2008-Present: Women's Studies Committee, and Queer Studies Committee, Denison University
Hosted two campus-wide public events on religion and sexuality.
2009: Women of Color Leadership Project National Women's Studies Association
2009-2010: Program Committee, Peace for Life: World without Empire International Conference in New York City 
Other
Grants & Funding
2014—2015
Denison University Research Fund
2012
The Wabash Center for Teaching and Learning Theology and Religion Summer Research Grant
Honors & Awards
2011—2012
Pre-Tenured Asian and Asian American Faculty Teaching Fellowship,
Wabash Center for Teaching and Learning Theology and Religion
2009
The Robert Lynn Wood Award for the Promise in Theological Education
(Auburn Theological Seminary in the City of New York)
2007
Asian Theological Summer Institute
2007
The Daniel Day Williams Award for Outstanding Theological Work
(Union Theological Seminary in the City of New York)
2004 – 2008
Union Seminary Doctoral Fellowship
2002 – 2003
Rev. F. Wyland Scholarship for Social Justice Ministry
Yale University Divinity School
2001 – 2002
United Methodist Woman Fellowship
Women's Division, General Board of Global Ministry of the UMC
2001
Certificate of Appreciation
Service Employees International Union (Los Angeles, CA)
1999 – 2000
Teaching Fellowship, Yonsei University
1997 – 1998
Graduate School Fellowship, Yonsei University
1993 – 1997
Merit-Based Scholarship, Seoul National University of Education