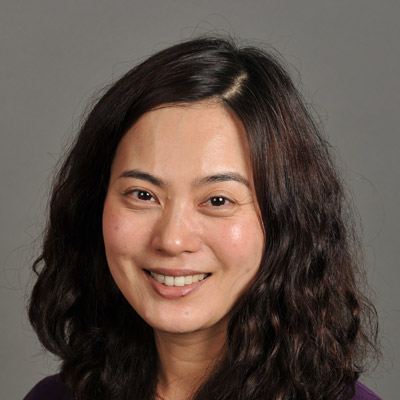 Keun-joo Christine
Pae
Associate Professor
Chair of Religion
Biography
Taking social ethics as a discipline, K. Christine Pae researches and writes about transnational feminist ethics of peace and war, feminist spiritual activism, U.S. overseas militarism, military prostitution, and Asian/Asian American ethics. In her ethics courses, often cross-listed with Women's and Gender Studies and Queer Studies, students critically engage religion intersected with race, gender, sexuality, and class in analyzing power structures on various levels. A Korean native, Christine is active in transpacific political theology groups both in the U.S. and in South Korea. In her spare time, Christine loves reading and watching mystery stories, playing with her children, and cooking Korean food.
Degree(s)
Ph. D. in Social Ethics, Union Theological Seminary in the City of New York (2009), M. Phil. in Social Ethics, Union Theological Seminary in the City of New York (2007), M. Div. Yale University Divinity School (2003)
Learning & Teaching
Courses
REL 102 Ethics, Society, and the Moral Self
REL 200 Thinking about Religion
REL 224 Religion and Social Ethics
REL 227/WGST 227 Women's Spiritual Activism
REL 240/WGST 251/QS 251 Ethics of Sex and Love
REL 302/WGST 321 Ethics of Peace and War
REL 327/WGST 327 Women and Social Ethics: In Global Context
REL 450 Religion Senior Research Colloquium
Academic Positions
2014—Present
Associate Professor of Religion/Ethics
Denison University, Department of Religion and Women's and Gender Studies
2008—2014
Assistant Professor of Religion/Ethics
Denison University, Department of Religion, Granville, OH
2006—2008
Teaching and Research fellow
New York Theological Seminary, New York, New York
2005—2008
Teaching fellow
Union Theological Seminary in the City of New York
Research
My research connects three areas of study: Asian/American feminist ethics, spiritual activism, and transnational feminist ethics of peace and war.
Details
My scholarly work is highly interdisciplinary, ranging from critical Christian studies and Asian American studies to women of color feminist theories. Specifically, my publications critically analyze transnational militarism through the intersectionality analysis of race, gender, sexuality, class, and religion. U.S. military prostitution in South Korea is often taken as a critical site of producing transnational feminist knowledge of war and peace activism. I further research faith-based popular resistance and transnational feminist solidarity in order to (re)interpret the meanings and practices of spiritual activism (the inseparability between spiritual practice and social changes). Postcolonial discourse on necropolitics or sovereignty's right to kill is one of my theoretical tools in critically analyzing war and militarism. Most of my writings elaborate on feminist spiritual activism, emphasizing the inseparability between inner change and outer political work for social transformation. Another critical piece of my scholarship is transpacific feminist theology and ethics with a focus on Asian women's transpacific experiences. My scholarship takes a unique position in critical Christian studies because I interrogate how the U.S.—Asia relations have affected Asian American women's lives and theological imagination—racial, gendered, sexual, and religious dimensions of the U.S.—Asia relations.
Works
Publications
Publications between 2016-2021
"Indecent Resurgence: God's Solidarity against the Gendered War on COVID." In Doing Theology in the New Normal, edited by Jione Havea, 179—195. London, UK: SCM, 2021.
"Introducing Asian Transpacific American Feminist Theology." In Women's Studies in Religion, edited by Helen Boursier, 155—167. Lanham, MD: Rowman & Littlefield, 2021.
"Teaching Ethics of Sex with Tenderness: Religious Literacy and Sexual Literacy in the Undergraduate Classroom," Religious Education Religious Education 116 no. 3 (2021): 204—207.
"Soldiering and Militarized Prostitution: Making A Christian Feminist Ethic of Peace through the Lens of Proletarianized Sexuality." In Faith, Class, and Labor, edited by Jin Young Choi and Joerg Rieger, 143—163. Eugene, Oregon: Wipf & Stock, 2020.
"A Transnational Feminist Pedagogy of War, Peace, and Sexuality." In Teaching Sexuality and Religion in Higher Education: Embodied Learning, Trauma-Sensitive Pedagogy, and Perspective Transformation, edited by Darryl Stephens and Kate Ott, 63—74. New York: Routledge, 2020.
"Spiritual Activism as Interfaith Dialogue: When Military Prostitution Matters," Journal of Feminist Studies in Religion 36, no. 1 (Spring 2020): 71-84.
"The Empathetic Power of Suffering: The Memories of Killing and Feminist Interfaith Spiritual Activism." In Resistance to Empire and Militarization—Reclaiming the Sacred, edited by Jude Lal Fernando, 198-212. Sheffield, UK: Equinox, 2020.
"The Remains of the War Ruins: A Palimpsest of Necropolitics—America's Genocide and Military Prostitution in South Korea." In Feminist Praxis Against U.S. Militarism, edited by Nami Kim and Wonhee Anne Joh, 105—123. Lanham, MD: Lexington Books, 2019.
"The Prostituted Body of War: U.S. Military Prostitution in South Korea As a Site of Spiritual Activism" in Transformational Embodiment in Asian Religions: Subtle Bodies, Spatial Bodies. Edited by George Pati and Katherine C. Zubko, 187—205. New York: Routledge, 2019.
"Factory Girls and 'Comfort' Girls: A Feminist Theo-Ethical Reflection on Korean Girl Soldiers in Japanese Empire's War." In Female Child Soldiers, Gender Violence, and Feminist Theology, edited by Susan Willhauk, 109—122. New York: Palgrave Macmillan, 2019.
"Three Tales of Wisdom: Leadership of PANAAWTM." In Leading Wisdom: Asian and Asian North American Women Leaders, edited by Su Yon Pak and Jung Ha Kim, 125—138. Louisville, KY: Westminster John Knox Press, 2017.
"A Politics of Empathy: Christianity and Women's Peace Activism in U.S. Military Prostitution in South Korea." In Women and Asian Religions, edited by Zayn Kassam, 223—239. Santa Barbara, CA: Praeger, 2017.
"Faith-Based Popular Resistance to the Naval Base at Gangjeong of Jeju: Transforming the U.S.—Korea Relations for Peace and Justice." In Critical Theology against U.S. Militarism in Asia: Decolonization and Deimperialization, edited by Nami Kim and Wohnee Anne Joh, 199—226. New York: Palgrave McMillan, 2016.
Presentations
Nov. 2013
"Religion and Popular Resistance in Gangjeong Village of Jeju, Korea"
Panel: Critical Christian Studies of the United States' Imperialist Militarism from Asian/Asian
North American Perspectives, The Theology and Religious Reflection Section, American
Academy of Religion (Baltimore, MD)
Mar. 2013
"For the Remembrance of Me: Resistance of Political Forgetfulness"
Plenary Panel at Pacific Asian North Asian American Women in Theology and Ministry
Northwestern University—Garrett Evangelical Seminary (Evanston, IL)
Jan. 2013
"A Framework for Asian/Asian-American Liberative Ethics" and " Solidarity between
Mujeristas and Asian Feminist Ethicists"
Society of Christian Ethics (Chicago, IL)
Nov. 2012
"Prostituted Bodies, Desired Bodies: An Inferiority Complex in the Clash between
Religions and Masculinities"
The Religion and Social Sciences Section, American Academy of Religion (Chicago, IL)
"Buddhist-Christian Interfaith Social Activism in Ganjeong Village of Jeju Island"
American Academy of Religion, Korean Religions Session (Chicago, IL)
Jan. 2012
"Sexual Ethics and Global Peacemaking: A Case Study of Militarized Prostitution"
Society of Christian Ethics, Interest Group of Sexual Ethics and LGBTQ Issues
(Washington, D. C.)
Nov. 2011
"Transnational Feminist Theo-Ethical Reflection on Peacemaking: When Military
Prostitution Matters"
The Religions, Social Conflicts, and Peace Group, American Academy of Religion
(San Francisco, CA)
Aug. 2011
"Just Peacemaking from a Christian Feminist Perspective"
Asian Theology of Life for Peace and Justice (Seoul, Korea)
Mar. 2011
"Transnational Migration and Limited Citizenship: A Korean Feminist Analysis"
Plenary Panel at Pacific Asian and Asian North American Women in Theology and Ministry
Columbia Theological Seminary (Decatur, GA)
Jan. 2011
"Unavoidable Burden of Race: (Under)represented Asian/ Asian American in the Public
Ethical Discourse" (Co-Presented with James McCarthy [Emory University])
Society of Christian Ethics (New Orleans, LA)
Nov. 2010
"A Solidarity-Talk among Women of Color: Searching for a Liberative Feminist
Methodology of Christian Ethics"
American Academy of Religion, Ethics Section (Atlanta, GA)
Nov. 2010
"Feminist Interfaith Spiritual Activism Countering Transnationalized Militarism:
Empathetic Power of Suffering in Dorothee Soelle and Sister Chan Khong"
American Academy of Religion, Women and Religion Session (Atlanta, GA)
Oct. 2010
"From Forgetfulness to the Spirit of Courage: Korean Women's Story-telling of Sexual
Slavery during the Time of War"
Oral History Association (Atlanta, GA)
April 2010
Panelist, "America, the 21st Century's Empire?"
Peace for Life: World without Empire International Conference (New York, NY)
Mar. 2010
Workshop on "Feminist Spiritual Activism"
Pacific Asian North Asian American Women in Theology and Ministry
(Cambridge, MA)
Feb. 2010
"Western Princesses in the Borderlands: Searching for Transnational Solidarity
Countering Globalized Militarism"
The 44th Wooster Spring Academy of Religion 2010, The College of Wooster
(Wooster, OH)
Aug. 2009
"Space Formation: Korean American Churches in Flushing, Queens of New York City"
Asian Pacific American Religious Research Initiatives (Claremont, CA)
Jan. 2009
"Western Princess in the Borderland: Making a Christian Feminist Ethic in the Age of
Globalized Militarism"
Society of Christian Ethics, (Chicago, IL)
Nov. 2008
"Political Theology and Theology of Sex in Globalized Militarism: U.S. Overseas
Militarism and Military Prostitution in the Time of War"
American Academy of Religion, The Theological and the Political Group (Chicago, IL)
July 2008
"Creating a Culturally and Religiously Safe Space: Korean Enclave in Flushing, Queens
of New York City"
Association for Sociology of Religion, Religion and Immigration Session (Boston, MA)
April 2008
"What Does Africa Mean to Me?: African and Asian Women's Experiences of War and
Religion"
Workshop at Center for World Christianity, New York Theological Seminary (New York, NY)
Nov. 2007
"Making a Post-Colonial Christian Social Ethic in the Clash of Masculinities: Women's
Migration and Military Prostitution in South Korea"
American Academy of Religion, Ethics Session, Asian North American Religion,
Culture, and Society Group, Latino/a Religion, Culture and Society Group
(San Diego, CA)
Jan. 2007
"Inter-religious Perspectives on Transnational Adoption"
Center for Studies of Science and Religion at Columbia University (New York, NY)
Nov. 2006
"Gender as an Analytical Tool of Christian Fundamentalism in the Asian/Pacific
American Community"
American Academy of Religion, Asian North American Religion, Culture, and Society
Group (Washington, D.C.)
Mar. 2006
"A Theological Reflection on the Other: Korean Military Wives"
American Academy of Religion, Mid-Atlantic Regional Meeting (Baltimore, Maryland)
Aug. 2003
"An Ethical Consideration on the Experiences of the Working-Poor Asian Immigrant
Women in the Late 20th Century"
Discography
2011-Present: Convener, Asian and Asian American Working Group, Society of Christian Ethics
2009-Present: Denison University Diversity Advisory Committee
Hosted a teaching workshop for the junior faculty of color.  
2009-Present: Denison Museum Board
2008-Present: Women's Studies Committee, and Queer Studies Committee, Denison University
Hosted two campus-wide public events on religion and sexuality.
2009: Women of Color Leadership Project National Women's Studies Association
2009-2010: Program Committee, Peace for Life: World without Empire International Conference in New York City 
Service
Professional Memberships
American Academy of Religion
Society of Christian Ethics
International Academy of Practical Theology
Pacific Asian North Asian American Women in Theology and Ministry
Association of Asian/North American Theological Educators
National Women's Studies Association
Professional Service (includes Denison Service)
2021—Present: Faculty of Color and International Faculty, Leadership Team
2021—Present: The President's Advisory Board
2019—2020: Task Force on Revising the Diversity Statement
2019—Present: Faculty Appeals Committee
2019: Organizer, Goodspeed Conference: Confronting Mara and Mammon: Buddhist—Christian Dialogue for Resistance and Social Transformation
2017—Present: Chair, the Department of Religion
2014—Present: Title IX faculty advisor
2013: Faculty Advisor, Denison University Service Orientation
2009—Present: Queer Studies Committee
2008—Present: Women's and Gender Studies Committee
2009—2014: Denison University Diversity Advisory Committee
2009—2011: Denison Museum Advisory Board
Community Service
2020—Present: Board Member, Journal of Feminist Studies in Religion
2019—Present: Secretary, Pacific Asian North Asian American Women in Theology and Ministry
2019—Present: Steering Committee Member, Religion, Genocide, and Holocaust Unit, American Academy of Religion
2017—Present: Co-chair of the Steering Committee, Women and Religion Unit, American Academy of Religion
2015—Present: Steering Committee Member, Women and Religion Unit, American Academy of Religion
2015—Present: Founding Member and Editorial Board, Feminist Studies in Religion Forum
2015—2019: Board Member, Feminist Studies in Religion Book Series
2013—2017: Secretary, Association of Asian/North American Theological Educators
2012—Present: Steering Committee and Board, Pacific Asian North Asian American Women in Theology and Ministry
2011—2013: Co-Convener, Asian and Asian American Ethics Working Group, Society of Christian Ethics
2009—2010: Program Committee, Peace for Life: World without Empire International Conference in New York City
2009: National Women's Studies Association Women of Color Leadership Project
2009: Great Lakes Colleges Association Academic Leadership and Innovation Institute
2008: Women's Association for Theology, Ethics, and Ritual, Feminist Theology and Ethics Conference for Doctoral Students and Junior Faculty
2007: Asian Theological Summer Institute
Other
Grants & Funding
2021—2022: Louisville Institute, Grant for Research Projects, "Antiracist Work in Asian American Christian Communities" ($30,000)
2020—2024: External Scholars Grant, Religion and Sexual Abuse—Henry Luce Foundation Grant, "Asian American Ethnoreligious Community and Sexual Violence" ($20,000)
2020: Denison University Research Fund ($3,500), "Religion and Transnational Feminist Reading of Diaspora Stories of Resistance: Between Palestine and the Transpacific"
2016—2018: The Wabash Center for Teaching and Learning Theology and Religion, Peer Mentoring Grant for the Mid-Career Faculty ($7,500 per year/$15,000 in total)
2014—2015: Denison University Research Fund, "Transnational Feminist Ethics of War and Peace" ($6,800)
2012: The Wabash Center for Teaching and Learning Theology and Religion Summer Research Grant ($8,400)
Honors & Awards
2011—2012: Pre-Tenured Asian and Asian American Faculty Teaching Fellowship, Wabash Center for Teaching and Learning Theology and Religion
2009: The Robert Lynn Wood Award for the Promise in Theological Education (Auburn Theological Seminary in the City of New York)
2007: The Daniel Day Williams Award for Outstanding Theological Work (Union Theological Seminary in the City of New York)
Student Collaborations
COVID-19 and Anti-Asian Racism Forum: Spring 2021
Denison Dialogue on Sexual Respect: Fall 2020