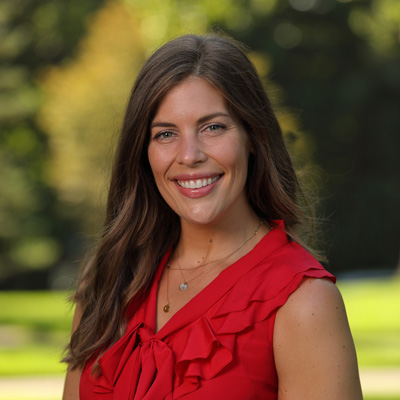 Carianne
Meng
Biography
I grew up outside of Philadelphia, in southern Ohio and in the Chicagoland area, but I'm happily claiming Central Ohio as "home" after finding my way to Denison. My adult life was shaped by a small liberal arts college on a different hill. I attended Augustana College in Illinois and, true to liberal arts form, I was a Community Advisor, sang in a women's a cappella vocal ensemble, led campus tours and worked in the Art History department – all while pursuing my education. After four years, faced with a future in the 'real world', I mentioned to a mentor that I couldn't imagine leaving college. She wisely suggested I pursue work in higher education; I never even considered that an option!
Since 2007 I have been doing work I love: working with students in residence halls as they navigate their out-of-classroom experiences and build vibrant residential communities. I was specifically attracted to Denison's residential program because students spend four years crafting community with diverse groups of people.
I value the intimacy of small campuses where context and community mean a great deal in planning for the future. As Director of Student Housing Operations & Planning, I get to consider the built environment and its impacts on students' experience, wellness and success. I help lead the housing master planning efforts at Denison and collaborate with my colleagues in Residential Communities to bring the 'heads and beds' together with the heart of student community and lived experience on campus.
When I'm not passionately advocating that every wall should be a pleasing neutral color, I'm listening to true crime podcasts, leading wellness workshops or plotting my next trip to Phoenix to visit my nieces and nephew. Feel free to say 'hello!' when we pass on A-Quad or drop by the Doane Hall 102 to share some of your Denison story!
Degree(s)
B.A., Augustana College; M.A., McKendree University
Works
Presentations
Meng, C. & Daleiden, B. (2016) "Changing the Course: Navigating a Job Search with a Non-Traditional Background." GLACUHO Annual Conference
Meng, C. (2014, 2015, 2016, 2017) "Safe Party Hosting." Denison University
Meng, C. (2015, 2016) "Working with At-Risk RAs." Denison University Head Resident Training
Meng, C. (2016) "Supervising Personalities and Navigating Differences." Denison University Head Resident Training
Meng, C. (2014, 2015, 2016). "Welcome To Denison: Parent and Student Presentation on Housing and Residential Education." Denison University, June Orientation
Meng, C. (2014, 2015) "Campus Values Education." Denison University
Meng, C. & McKee, A. (2013) "Learning to Speak the Languages of Appreciation in the Workplace." GLACUHO Annual Conference
Meng, C. (2012) "Beyond Campus Leadership: Making student leadership experience meaningful." University of Saint Francis, Student Leader Development Series
Meng, C. (2012) "Parent Orientation Program - Welcome, Wellness and Student Life." University of Saint Francis
Meng, C. (2008) "What Should I Do with My Life?" University of Saint Francis, Student Leader Development Day
Service
Professional Memberships
Great Lakes Association of College and University Housing Officers (GLACUHO) Member 2011-2017
Great Lakes Association of College and University Housing Officers Board of Directors, 2013-2017