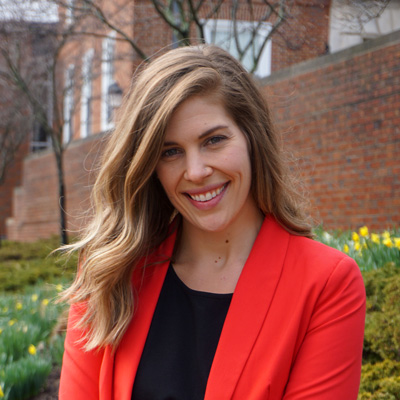 Carianne
Meng
Biography
I grew up outside of Philadelphia, in southern Ohio and in the Chicagoland area. I'm a Cubs fan to my core, but I call Ohio home (sorry, Cleveland fans). I found my way to Denison because my adult life was shaped by a small liberal arts college on a different hill. I attended Augustana College in Illinois and, true to liberal arts form, I was a Community Advisor, sang in a women's a cappella vocal ensemble, led campus tours and worked in the Art History department while finishing my English and Sociology majors.
In the summer before my first year of college, my class was assigned a common reading to be discussed during fall orientation. After reading Po Bronson's book, "What Should I Do with My Life?" I felt empowered by the stories of people who found their calling, their vocation. Many of the folks poured their energy into hobbies or involvements, finding their calling in what they truly loved, which often was not their college major. Four years later, faced with the end of my college experience and a future in the 'real world', I mentioned to a mentor that I couldn't imagine leaving college. She wisely suggested I pursue work in higher education; I had never even considered that an option!
Since 2007 I have been doing what I truly love: working with students in residence halls as they navigate their out-of-classroom experiences and build vibrant residential communities. I was specifically attracted to Denison's residential program because students spend four years crafting community with diverse groups of people. My role gives me the opportunity to dive into this work with students; we dig deep in 1-to-1 meetings to learn what students value in community. Even better, I help students learn to build empathy and respect for the needs and values of other community members, too.
I work primarily with senior communities at Denison and feel privileged to be present for students' final year on the Hill. I most enjoy reflecting with students about the ways involvements and communities shaped the Denison experience, their sense of calling and future plans. Feel free to say 'hello!' when we pass on A-Quad or drop by the Curtis Community Center to share your story!
Degree(s)
B.A., Augustana College; M.A., McKendree University
Works
Presentations
Meng, C. & Daleiden, B. (2016) "Changing the Course: Navigating a Job Search with a Non-Traditional Background." GLACUHO Annual Conference
Meng, C. (2014, 2015, 2016, 2017) "Safe Party Hosting." Denison University
Meng, C. (2015, 2016) "Working with At-Risk RAs." Denison University Head Resident Training
Meng, C. (2016) "Supervising Personalities and Navigating Differences." Denison University Head Resident Training
Meng, C. (2014, 2015, 2016). "Welcome To Denison: Parent and Student Presentation on Housing and Residential Education." Denison University, June Orientation
Meng, C. (2014, 2015) "Campus Values Education." Denison University
Meng, C. & McKee, A. (2013) "Learning to Speak the Languages of Appreciation in the Workplace." GLACUHO Annual Conference
Meng, C. (2012) "Beyond Campus Leadership: Making student leadership experience meaningful." University of Saint Francis, Student Leader Development Series
Meng, C. (2012) "Parent Orientation Program - Welcome, Wellness and Student Life." University of Saint Francis
Meng, C. (2008) "What Should I Do with My Life?" University of Saint Francis, Student Leader Development Day
Service
Professional Memberships
Great Lakes Association of College and University Housing Officers (GLACUHO) Member 2011-2017
Great Lakes Association of College and University Housing Officers Board of Directors, 2013-2017