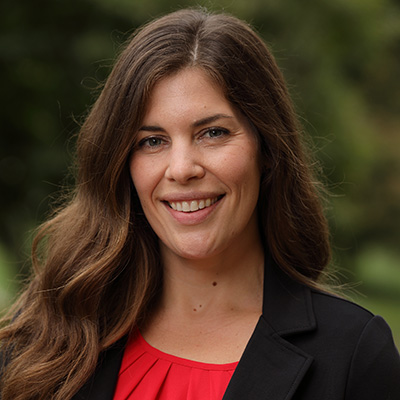 Carianne
Meng
Associate Director of Admission
Biography
Hometown: Lancaster, PA
Undergraduate Major: English, Sociology
Hobbies/activities: I love spending time outside and when the weather is nice, you'll find me in my garden, reading a book on the porch, or exploring our local bike trails. I care deeply about health and well-being and coach wellness workshops in my spare time.
Fun fact: I'm passionate about pollinators and keep honeybees as a hobby.
Something I love about Denison: I love that people are the best part of this place! Community is key in everything we do.
Advice to prospective students: Don't reinvent the wheel by trying to figure out everything by yourself; search for answers, ask a pro, and connect with others.
Degree(s)
B.A., Augustana College; M.A., McKendree University
Works
Presentations
Meng, C. & Daleiden, B. (2016) "Changing the Course: Navigating a Job Search with a Non-Traditional Background." GLACUHO Annual Conference
Meng, C. (2014, 2015, 2016, 2017) "Safe Party Hosting." Denison University
Meng, C. (2015, 2016) "Working with At-Risk RAs." Denison University Head Resident Training
Meng, C. (2016) "Supervising Personalities and Navigating Differences." Denison University Head Resident Training
Meng, C. (2014, 2015, 2016). "Welcome To Denison: Parent and Student Presentation on Housing and Residential Education." Denison University, June Orientation
Meng, C. (2014, 2015) "Campus Values Education." Denison University
Meng, C. & McKee, A. (2013) "Learning to Speak the Languages of Appreciation in the Workplace." GLACUHO Annual Conference
Meng, C. (2012) "Beyond Campus Leadership: Making student leadership experience meaningful." University of Saint Francis, Student Leader Development Series
Meng, C. (2012) "Parent Orientation Program - Welcome, Wellness and Student Life." University of Saint Francis
Meng, C. (2008) "What Should I Do with My Life?" University of Saint Francis, Student Leader Development Day
Service
Professional Memberships
Great Lakes Association of College and University Housing Officers (GLACUHO) Member 2011-2017
Great Lakes Association of College and University Housing Officers Board of Directors, 2013-2017