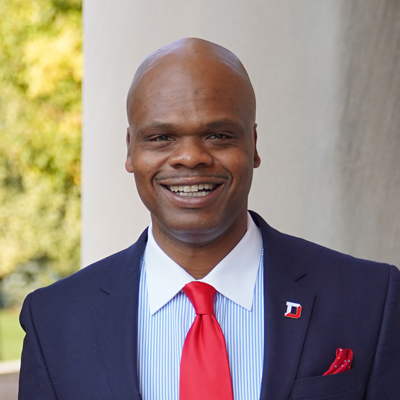 Alexander
Miller
Vice President of Student Life
Biography
Alexander (Alex) R. Miller, Ed.D a highly regarded educator and administrator is the Vice President for Student Life. Miller came to Denison from his position as Dean for Student Engagement and Acting Associate Dean of Students for Inclusion and Belonging at Harvard University in July 2020.
Alex has received awards and honors, presented nationally, and is active in several professional, social, civic and service organizations such as the National Association of Student Personnel Administrators (NASPA), American Fraternity Advisors (AFA), and the National Association of Campus Activities (NACA), serves on the board of trustees for the Licking Memorial Hospital in Newark, Ohio. He is also a proud lifetime member of Kappa Alpha Psi Fraternity Incoporated. In addition to his Bachelor of Arts degree from Olivet College, Dr. Miller holds a Master of Arts in Student Affairs Administration from Michigan State University, and a Doctor of Education in Adult and Higher Education Administration from Northern Illinois University. Dr. Miller's dissertation research examines the intersection of transformational learning theory and identity formation among college students between the ages of 18-24. He also has completed an executive leadership development program at Harvard University.
Dr. Miller has well over 20 years of experience in higher education as a student life professional. Prior to his role at Harvard, Miller served in leadership positions at the University of Chicago, DePaul University, Tulane University, Syracuse University, and Michigan State University. One of Alex's favorite places in the world is New Orleans, Louisiana which he affectionally refers to as his second home. His fondness of the city stems from the critical role he played in Tulane University's rebuilding and reopening efforts during the aftermath of Hurricane Katrina in 2005.