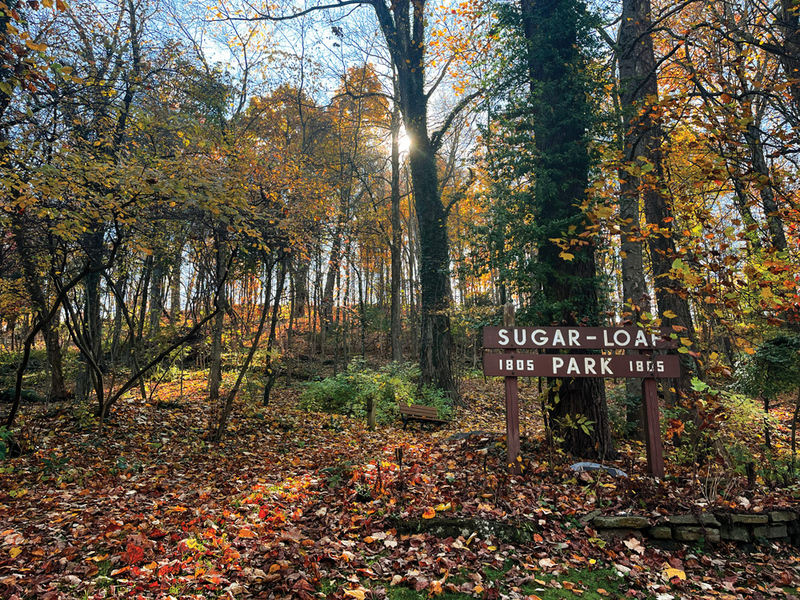 Sugar Loaf Park
Total walking time: 10 minutes
Distance from campus: Wowza.Could it be any closer?
Difficulty level: Moderate
Highlight: A great spot for a light walk and a picnic.
A stone's throw from Stone Hall, Sugar Loaf Park is located on West Broadway in Granville and offers a quiet retreat from the bustle of campus.
If you're visiting in the fall, the sounds of crunching leaves will follow you to the top. The steep, wooded incline is suited for five minutes of cardio that will make you feel less guilty about the treats in your picnic basket.
This is a friendly spot for novice hikers of all ages, but beware: That incline may pose a challenge to those (like yours truly) with knee problems!
Having gone by Sugar Loaf many times over the years, I was curious about the view from the top of the trail. I was hoping for a stunning view of Granville.
SPOILER ALERT: It's not that, but when you reach the top of the hill, you'll find a nice spot for a picnic plus Founders Monument, a massive rock that was dedicated in 1905 during Granville's Centennial celebration. According to the park's Facebook page, that big boulder got to the peak with the help of two oxen.
In 2020, Sugar Loaf received a new a plaque paying tribute to those who've dedicated countless hours to make the park what it is today.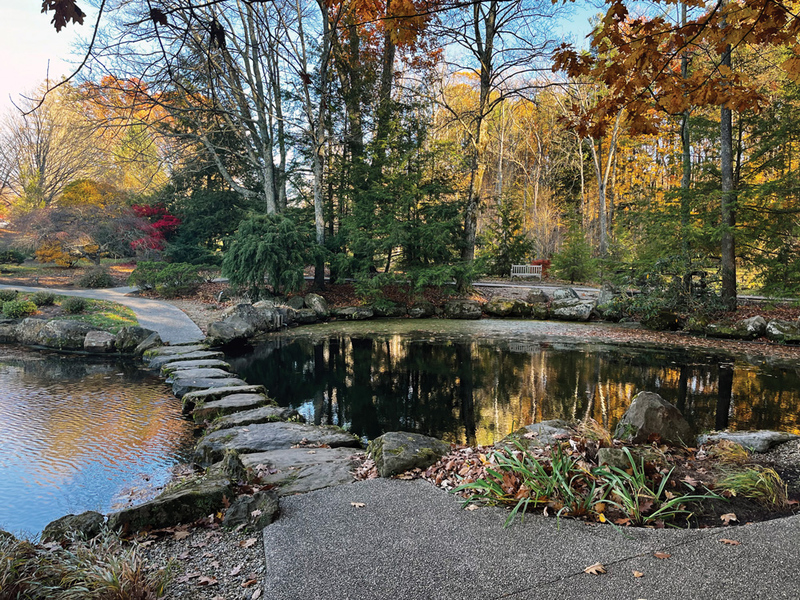 Dawes Arboretum
Total walking time: Choose your own adventure! Mine was two hours long.
Distance from campus: A bit of a hike in itself — a 20-minute drive from Granville.
Difficulty level: Easy
Highlight: Japanese garden
At the gate for Dawes Arboretum, I was greeted by a very friendly and helpful employee who, after recovering from the shock of learning it was my first visit, gave me a quick rundown of offerings and attractions I shouldn't miss.
Since it's 20 minutes from campus and there's a cost to enter, I recommend making a trip to Dawes Arboretum a full-day excursion. Don't worry — you won't run out of things to do. Dawes spans nearly 2,000 acres of land and hosts regular events, including a historic tour of the Daweswood House Museum and a wagon tour. If you aren't in the mood to walk or the weather catches you out, the arboretum has a driving path for you to experience the beauty.
My first stop was the Daweswood Trail hike. The red leaves were glowing, ablaze in the sunlight. A picturesque lake, hypnotizing windmills, gigantic compostable bird sculptures, and scarecrows in costumes were waiting for me along the trail.
I knew I couldn't leave without visiting the Japanese Garden. The two arched bridges across the water set a serene scene. Most of the trail loop was paved, with the exception of the pebble path to cross the pool of water. If I find myself missing this vibe during the workday, there's now a Japanese garden on campus.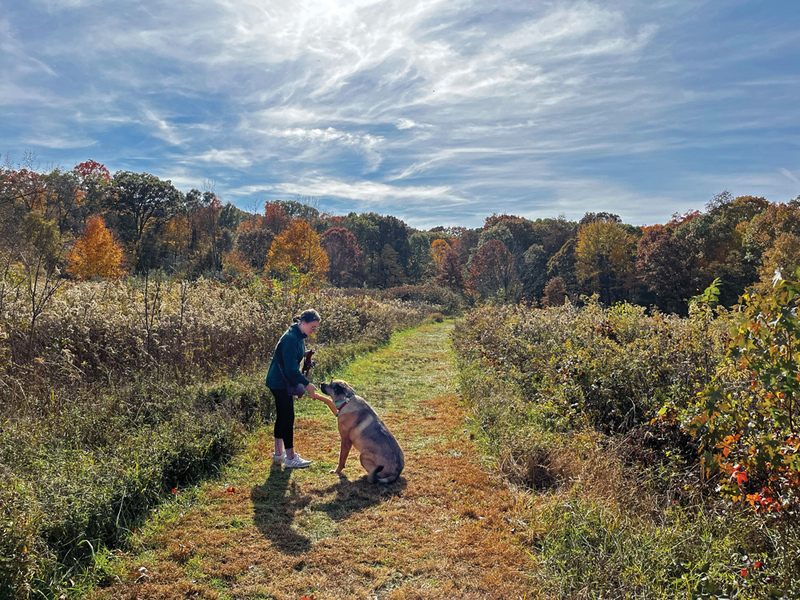 Blendon Woods Metro Park
Total walking time: 45 minutes
Distance from campus: ~30 minutes (an easy stop if you're visiting Easton or Columbus).
Difficulty level: Easy peasy
Highlight: A pet-friendly oasis
Blendon Woods Metro Park is absolutely stunning. From the moment I drove into the park, I was surrounded by sunny yellow and green trees. As the wind made the leaves dance, a wave of calmness washed over me. An oasis in the city.
It was a great, mild day for this hike. My friend and fellow Denisonian Megan Puritz '17 joined me with her dog, Atticus. We decided to walk along Goldenrod Trail, the only pet-friendly trail in the park. The trail was flat, an easy mile-long loop around a shrubbed area. We walked and talked, taking in the blue sky and the colors of the trees as we caught up with each other.
We spotted a deer peering at us (shades of Denison!) from the shrubs and promptly entered into a staring contest. We weren't sure it was real. Plus, we had to be careful not to spook Atticus. Slowly making our way past it, we continued our walk — aware, now, that we weren't the only ones in the park.
While we stuck to our chosen trail, there's plenty to do in Blendon Woods Metro Park, with activities including disc golf and ice skating.
---
Honorable mentions
If you're in the Columbus area, we also recommend checking out the following parks:
Highbanks
Inniswood Metro Gardens
Scioto Audubon
Walnut Woods
The Biological Reserve (Sure, it's part of campus — so while it's not "off The Hill," it's still 350 acres of wonderful wilderness.)
Published February 2023