There is sometimes a perception that liberal arts colleges are ivory tower academies that don't provide students with much in the way of career preparation. Even in higher education circles, "there's been a false choice between a liberal arts and a preprofessional education," Adam Weinberg says.
When Weinberg was named Denison University's 20th president in 2013, he spent the first couple of years listening and learning. Talking with recent alumni, "over and over I heard that their launch was more difficult than it needed to be," he says.
It became obvious that the school — which had always done well at providing a life-shaping education — could and should devote more resources to help students unlock their potential in the years that lie ahead, Weinberg says.
Within a few years, Denison had launched or reinvigorated an impressive array of organizations that help students and recent graduates answer three interrelated questions:
What kind of life do I want to lead?
How do careers and professions fit into those lives?
How do I use my time in college to develop the skills, values, habits, experiences and networks to get started?
"I've been impressed and grateful at how quickly the faculty came on board," Weinberg says. "Alumni were amazing, too, providing early financial resources that allowed us to take some risks. They, and parents, have stepped up in finding great internships as well.
"People always said that Denison had a great alumni and parent network," he says. "Nothing exemplifies this better than how far we've come in the last five years."
Unique among liberal arts colleges, Denison's efforts to provide pathways to students don't end at graduation.
"This is not a four-year but a nine-year effort," Weinberg says. "Our goal is that, at their fifth reunion, our graduates will have successfully launched into their lives. Getting a job is not that challenging. It's harder to get a life."
There are four key centers that work alongside the academic experience to support students prepare for life beyond The Hill.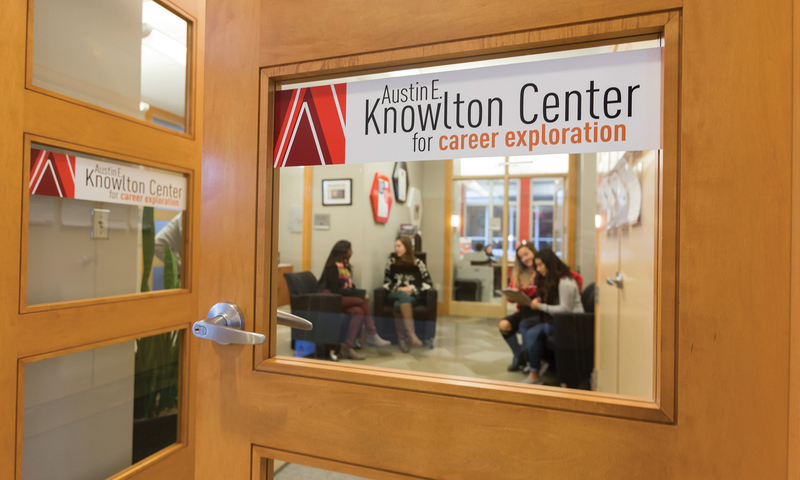 Austin E. Knowlton Center for Career Exploration
Burton D. Morgan Center
In 2016, the school's career center was renamed after the Austin E. Knowlton Foundation pledged a $9.3 million gift to create a permanent endowment.
"Fifteen years ago, Denison's career center was peripheral to the student experience, with four or five people on staff,"" says associate vice president for career development, Laurie Kamerer. "They spent most of their time helping seniors put together a resume."
Today, the Knowlton Center is a bustling office in the middle of campus, with 18 employees. "Now our staff spends most of their time helping students discover their passion and coaching them on how to map that passion to internships and jobs. This is a generation that has very little intent to work in one place for 30 years," Kamerer says. "So they're looking at the first thing on the journey."
The career coaches begin working with students from their first semester on campus and stick with them through at least the first five years after graduation.
"But there's no expiration date on our services. We get calls from alumni 20 years out who are making big career changes, too. We add more and more resources on that front every year," said Kamerer.
The center has invested heavily in technology and resources, including a virtual career center and job board, assessment instruments, research tools, and alumni mentoring platforms.
By joining what's known as a Career Community, students are provided the tools, resources, and people they will need to launch careers in such areas as financial services, consulting and business; health care and clinical research; marketing, sales, and communication; nonprofits, education, and government; technology, data, and science; and visual, written, and performing arts.
"We meet with 90% of students by their senior year," Kamerer says. "Ultimately we're trying to convince 2,300 students a year to take it on almost like another class."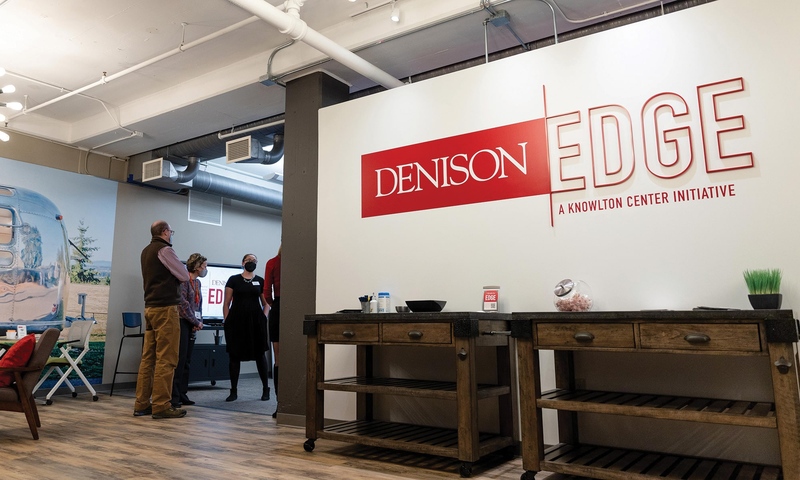 Denison Edge
300 Marconi Boulevard, Downtown Columbus
Launched in January 2021, Denison Edge gives students practical training and skills to help them succeed in whatever job they may pursue.
"This is really President Weinberg's brainchild," says Eric Lloyd, executive director of Denison Edge. "During the first winter break of Covid, as many other schools did, Denison had an extended winter break. We didn't want students sitting idle that long, so we offered some programs that would give them practical job skills to complement the liberal arts skills of problem solving, communication, and critical thinking."
Once students have met with a career coach to identify their passions and strengths and explore potential career paths, they often find their way to Denison Edge, where they are taught both hard and soft business skills, as well as technical and data skills that are crucial to their field.
Next, students receive hands-on experience through sponsored projects and internships.
Training programs cover a wide range, from an eight-hour introduction on using Excel spreadsheets all the way to a 30-hour course in understanding financial and managerial accounting.
"For each program, we have a panel of industry experts who work with us," Lloyd says.
The programs are offered both in person (at the Denison Edge offices across the street from Nationwide Arena), or virtually.
The Columbus location, while unusual for a Denison organization, "is part of (President Weinberg's) vision to forge a closer connection between Denison and Columbus," Lloyd says.
Only a year in, the program is already showing impressive results.
"We've been talking to a lot of central Ohio employers to keep a pulse on the suite of skills that are most in demand," he says. "A lot of them ask if we can send someone in to upskill their employees."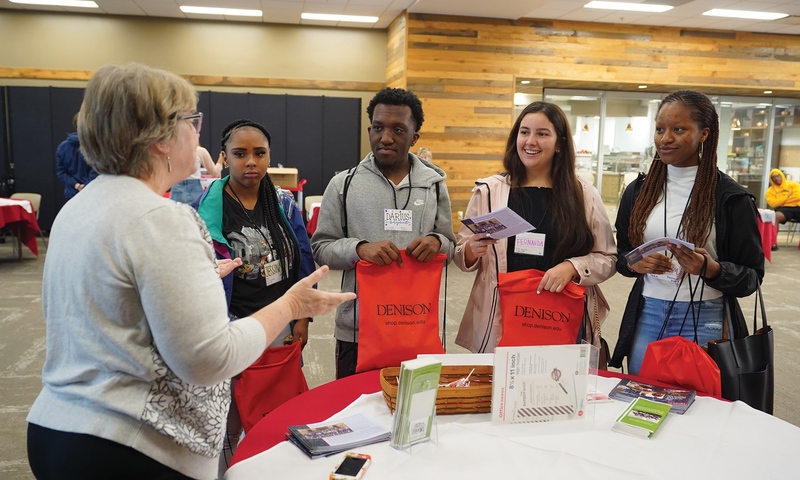 Lisska Center for Intellectual Engagement
Fellows Hall
In 2016, the Gilpatrick Center for Fellowships and Student Research was rededicated as the Lisska Center for Intellectual Engagement in honor of Philosophy professor, Dr. Anthony Lisska.
Primarily focused on advising and supporting students, faculty, and alumni in academic pursuits, the Lisska Center helps those applying for national and international fellowships and scholarships; coordinates Denison's Summer Scholars program; provides funding for student research and travel; and sponsors various multidisciplinary programs and events, among other programs.
Every summer, more than 120 students receive funding to support independent research alongside a faculty member.
"The Lisska Center acts as a bit of an incubator for students," says Administrative Director Suzanne Shoger. "We support them not just in what they're going to do after they graduate, but what they can do right away. By the time students are seniors, they've already had research experience or received fellowships for focused academic study in the U.S. or abroad."
"How these experiences build on each other is really helpful in early on getting the students to be self-reflective and think about their academic experiences, their background, their upbringing," says Adam Davis, director of the Lisska Center.
"Some students do more than one summer program," Davis says. "That's really important in enabling them to try more in-depth research to see if they want to pursue a graduate degree. It's also very useful when applying for jobs to have that hands-on research experience. So it serves as a great launching pad for a graduate degree or work as a scientist, for example."
He says the Lisska Center, like so many other parts of Denison, works at building relationships that last many years, including post-Denison.
"A big part of what we do is provide one-on-one support," Shoger says, "meeting students where they are as early and often as possible."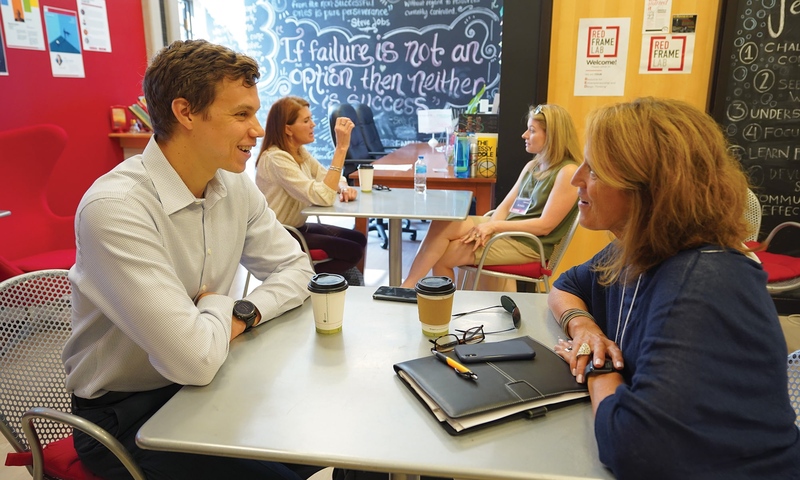 Red Frame Lab
Slayter Hall Student Union
"We don't have a major in entrepreneurship," says Red Frame Lab Director Steve Krak. "And yet something like a quarter of Denison alumni identify as entrepreneurs."
At Red Frame Lab, students explore and develop those entrepreneurial skills, engage with visiting entrepreneurs, and learn business and design fundamentals. Launched in August 2017, Red Frame offers immersive workshops, startup weekend programs, pitch competitions, alumni entrepreneur summits, and one-on-one coaching, among other activities.
A core element is the introduction to design thinking, a powerful user-centered problem-solving approach that's used across all career sectors.
"This is a learning laboratory," Krak says. "You're not here to get grades; you're not going to get fired. You are here to explore, create and learn."
Student employees of the Red Frame Lab are part of RED (Research, Engagement, and Design) Corps and receive training and experience as design consultants for Denison itself. Another key component of the center is Red Frame Lab Consulting, where experienced mentors guide student teams using design thinking to address real problems for actual clients. Projects range from two weeks to an entire semester, and students progress over a four-year path as consultants, senior consultants, managers, and senior managers. Since the summer of 2020, this program has served more than 88 clients locally and across the country.
Red Frame also provides students access to a massive collection of professional contacts.
"Rick's network is amazing," Krak says, praising Rick Coplin '85, the center's entrepreneur coach. "I often challenge students to 'Stump the Band' (with Coplin) — pick a subject and he'll know someone and connect you."
One recent graduate used her experience with Red Frame to create her own marketing business.
"Her first client was one she had worked for at Red Frame," Krak says. "She's been killing it ever since."
Published July 2022