Friends since their first year, juniors Chase King and Colin Ravin decided last fall to put their environmental studies and economics double majors into practice.
"We wanted to do something that would have an impact on sustainability on campus," Ravin says.
They brainstormed. Maybe a solar canopy over the parking lot at Silverstein Hall?
"That seemed a little too 'big picture,' and expensive," King says.
They paid a visit to Jeremy King '97, Denison's director of sustainability and campus improvement (and no relation to Chase), hoping he would have some ideas. He did.
"I told them, 'You know, Denison really needs to look at electric vehicles and electric-vehicle charging,'" he says.
"It was something that was so obvious we didn't really think of it," Ravin says.
Jeremy King also knew a perfect alum to work with the pair. He connected them with Chris Wolfington '90, who was coming to campus for ReMix, the annual entrepreneurial summit he was instrumental in starting at Denison in 2018. Wolfington's experience in both energy and transportation ventures led him to start Ground Truth Energy, where he leads a team in the development of solutions to quickly and cost-effectively electrify even the most complex of vehicle fleets.
"Jeremy was the catalyst in getting us together," Wolfington says.
"This is the perfect example of how we provide students an opportunity to explore their ideas and their passions."
Wolfington and his two proteges crunched numbers, gathered emissions data, and compared maintenance and operational costs of internal-combustion and electric vehicles. They presented their findings to key administrators, who agreed to start by adding a Chevrolet Bolt to the college's pool of vehicles.
"It was exciting for Ground Truth Energy to work on this with Denison," Wolfington says. "In addition to the real world exposure for the students, this project offered Denison a way to move quickly to give their sustainability efforts credibility and exposure — and it saves money for the school."
The Bolt arrived in 2023, and now students and staff can sign it out for use on official college business, such as trips to Denison Edge in downtown Columbus.
"Colin and Chase knocked it out of the park," Jeremy King says. "They had done their homework and explained the benefits to Denison of going electric."
"We could have been going in circles if it weren't for Chris," Chase King says. "His direction has proved invaluable."
"Chris really kept his foot on the pedal," Ravin says. Unable to resist, he smiles and adds, "not 'foot on the gas.'"
Wolfington says the students stepped up.
"It has to be a natural motivation," he says. "It definitely took some courage on their part to make that choice and decide to push."
Ravin and King eventually met with President Adam Weinberg to share their project and their hopes for it going forward.
"He said it was refreshing to see students excited about something they initiated," King says. "His first question after we debriefed was, 'What's next?' That was just a really cool thing to hear."
So what is next?
They are gathering the usage data from the electric car to help build their case for more EVs. And what started as a purely volunteer project is now earning them college credit.
"It's become an independent study with me and Chase, and Chris and one of the econ professors, Katherine Snipes," Ravin says.
Before they graduate, they are aiming for at least the campus public safety vehicles to be switched over to EVs. And they plan to find interested students to take the reins from them after graduation so momentum isn't lost.
"When Chase and Colin started the year, they would never have guessed they were going to be doing an independent study on fleet-electrification, and here we are," Jeremy King says. "This is the perfect example of how we provide students an opportunity to explore their ideas and their passions."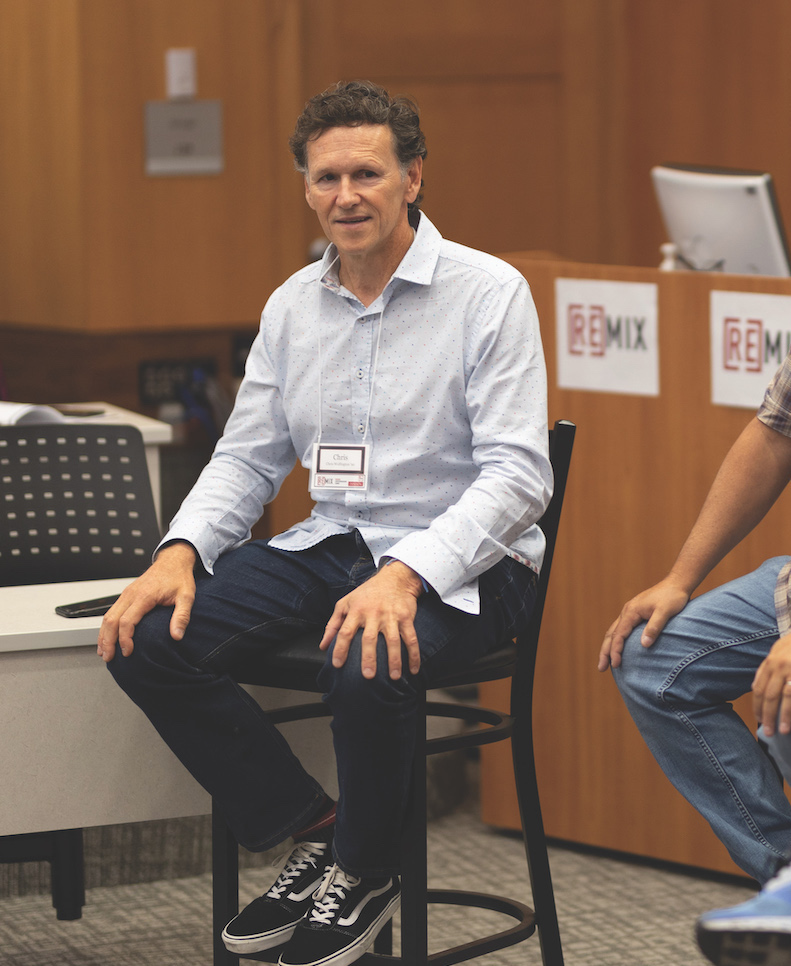 Chris Wolfington '90 remains connected to Denison through many ways, including the university's ReMix entrepreneurship summit, which he helped create and implement.
Published June 2023