Determined to ensure it didn't become a lost summer for students, leaders from the Austin E. Knowlton Center for Career Exploration, the Red Frame Lab, and the Lisska Center for Scholarly Engagement got to work creating Summer Accelerator 2020, providing students with a suite of free programs and experiences to help them advance their academic and career goals. Through Summer Accelerator 2020, students applied liberal arts thinking to commercial problems, built their networks with influential alumni and business leaders, engaged in intellectual inquiry and discourse, and gained knowledge and practical experience to prepare them for success in today's most sought-after fields.
The Knowlton Center launched Business Essentials, providing an opportunity for students to explore the fundamentals of a variety of fields—from marketing and sales to finance, information technology and data analytics to human resources. Zoom sessions enabled one-on-one networking opportunities for students with executives (often Denison alumni) within their chosen track. Students gained practical know-how through LinkedIn Learning modules, which helped beef up their resumes with skills ranging from Excel spreadsheet mastery to effective time management.
The Red Frame Lab launched its own internship experience, giving students the chance to work remotely with companies on more than 40 different business challenges. Teams tackled a broad range of projects, including building tools for supply chain and supplier evaluation, developing marketing strategies and conducting market research, and improving the user experience on a company website—all with resounding success and positive feedback from their clients.
As the executive of one of the client company's expressed, "I could not have been more pleased with the process and the outcome. The team was amazing, and the work product they delivered was above and beyond my expectations, and could easily have been the work of far more seasoned professionals."
The Lisska Center's mini-courses like "Economic Justice" and the timely "Plagues and Peoples: From the Black Death to Covid-19" kept students intellectually engaged and connected to their classmates through the summer of COVID quiet.
As Denison prepares to launch the next iteration in January—a significantly expanded set of programs and courses called Winter Accelerator—we caught up with a few of the hundreds of students who participated in the inaugural summer programs.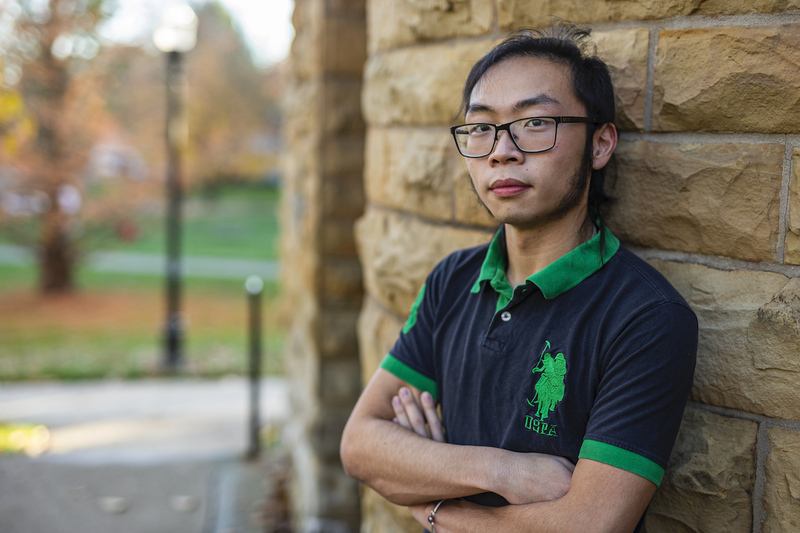 Alan Phung '22
Major: Economics
Red Frame Internship & Business Essentials, IT and Data Analytics Track
Back-up Plans: Internships started to get hard to come by because of COVID, so I was thankful for the Red Frame Lab consulting opportunity with Deke Digital—a public relations firm. During the duration of the Summer Accelerator program, we helped Deke create a model to decode and categorize news articles for their clients. That work would go on to help them build AI for their clients to categorize news stories. Even after the program ended in late June, Deke offered us an internship for the rest of the summer to continue that work. Two other students and I will also be working with them during the winter break, and potentially over the summer as well.
Beans to Bottles: I have a start-up company I've been running since my freshman year. The company is called Mai Coffee, and we bottle Vietnamese coffee. I've also started importing coffee beans from Vietnam and selling directly to businesses. When I graduate, I'm hoping that I can find a full-time job that allows me to also continue growing Mai Coffee. Data analytics and the lessons I took from the Summer Accelerator program will certainly help me refine my business strategy for Mai Coffee.
Habits for Good: James Clear '08, one of the speakers, taught us about forming good habits for life. You start small, and even though that start may seem insignificant, you slowly build it up. I had started trying to lose weight, and hearing James made me realize I wasn't approaching it in the right way. I was focused on a big, longer-term goal instead of smaller, more attainable short-term goals. I started running one mile, and then one mile turned into two, then to three, then to four. By the end of the summer I had lost 40 pounds.
Digital Connections: Summer Accelerator really didn't bring people together physically, so you would think that this would be the summer where people weren't as connected. But actually, that wasn't true. I was really connected with the people that I worked with. One of the students on my team was more of a researcher—he's a physics major—and his approach to the work was really different than mine. But we learned how to collaborate, and we learned from each other even from a distance.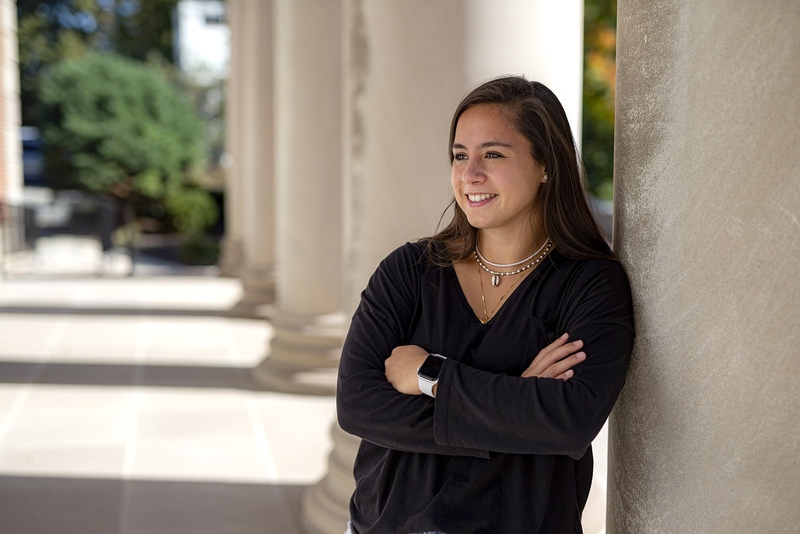 Maya Tumiwa '22
Double Major: Economics and Communication
Essentials of Business, Sales and Marketing Track
Lessons from the Field: Our field hockey coach, P.J. Soteriades, forwards emails to the team about upcoming events through the Knowlton Center. A bunch of us didn't have internships lined up, others had internships canceled due to COVID. I knew there wouldn't be much I could do over the summer, and I wanted to make the best use of my time. Since I didn't have any instruction or an internship, I was able to use that time to explore.
Big Decisions: They had so many separate interests to explore—finance, data, marketing. I'm an economics and communication double major–and I'm trying to figure out what I want to do after graduation, so I thought the sales and marketing track would be an interesting one to explore. I was able to learn from people in those fields and hear what they had to say about their jobs. It was both broad and detailed—general topics geared toward business, but also skill development like learning Excel. And there were individual breakout sessions focused on our own interests. They were all resumé-building experiences.
Time to Connect: One of the most helpful things for me was that you could sign up to do one-on-one networking chats with Denison alumni and other professionals through the Red Frame Lab. I met with Kristen Volk '04 , who was a communication major and now works as a digital marketing consultant. It was really nice to have those short conversations to learn how they used their Denison degrees. Those one-on-one conversations also made the idea of networking less daunting.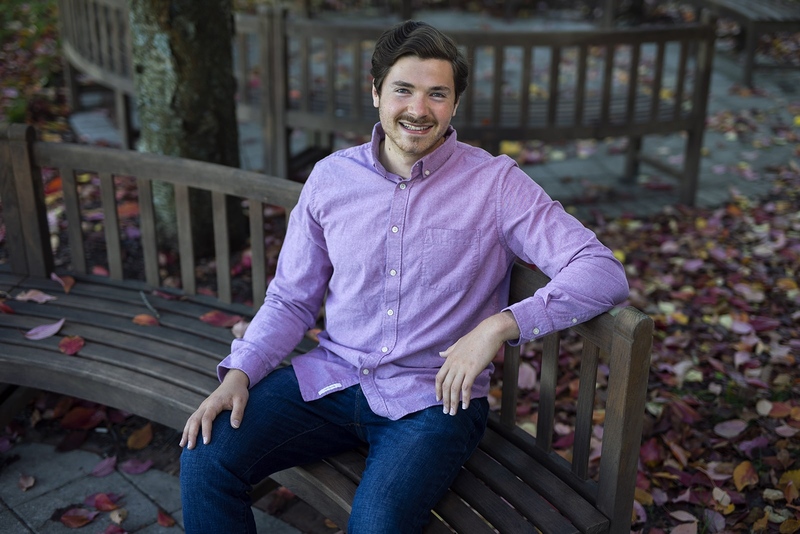 Allen Primack '21
Triple Major: Data analytics, global commerce, economics
Lisska Mini-Courses & Business Essentials, IT and Data Analytics Track
On Staying Connected: I was looking for some extra opportunities during the summer, and I wanted to maintain a connection to the Denison community as much as possible because it was lonely being at home and not really being able to get outside the house. Summer Accelerator allowed me to dig into IT for the first time. As someone who is majoring in data analytics, I was curious to see what potential careers in IT might look like. Beyond industry- and field-specific exposure, there was also a lot of opportunity to gain general, practical knowledge that will benefit us in our career launch, like how to establish a strong LinkedIn presence and create an effective resumé.
A Look at the Path Ahead: Anthony Mujic, who works in IT at Abercrombie & Fitch headquarters in Columbus, was one of the speakers and provided a good overview for the day-to-day work in information technology. He also talked about how our skills as liberal arts students would translate well in the field. Our ability to communicate, for example. Being a good communicator allows us to break down more technical concepts to any audience and stakeholder. The presenters also served as mentors. They offered to connect with us on LinkedIn, which allowed me to grow my network in IT. And I know if I have any questions about my career search, I can reach out to them.
The Bigger Picture: The Summer Accelerator also included Lisska Center mini-courses, so I was able to take the Economic Justice course with Dr. Burczak. I enjoyed having more discussion-based economics lectures, and we examined inequalities and disparities like wage gaps between genders and the impacts of climate change and the environment on businesses.
A Big Win: For now, I think I can see myself pursuing a job in retail where I can apply my knowledge and experience in data analysis. Eventually, I'd love to work for a sports team. I'm a sports fan—basketball, football, baseball—and there's so much analytics in sports. It would just be a dream come true to work for a sports team one day.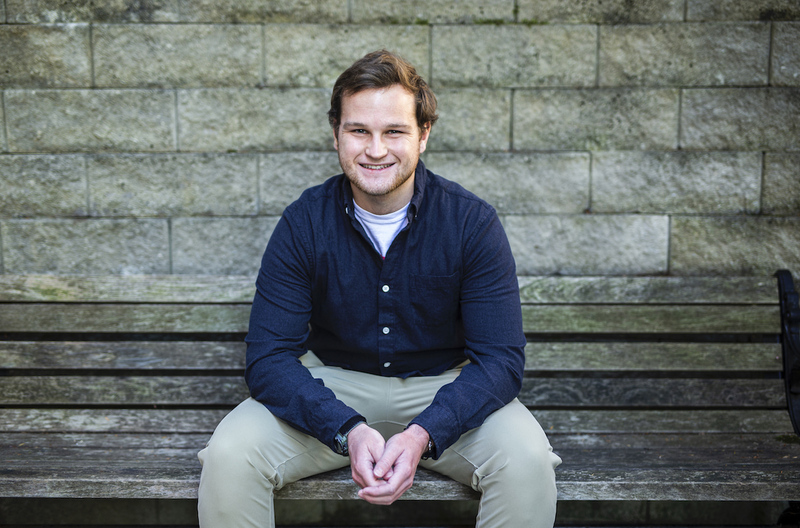 Dylan Cox '21
Major: Economics
Essentials of Business, Finance and Accounting Track
A new opportunity: I was originally planning to study abroad in New Zealand, but that was canceled due to COVID, and I had no summer plans. When I got home, the options were minimal, but luckily Denison offered this opportunity which I felt could offer me a productive summer. I would be going into my senior year, and I wanted to make the most of it, so I took a chance. I wanted to gain skills to help translate to the working world.
Focused on the future: I had done some networking and career exploration previously because when asked what I wanted to do after college, I didn't know. I answered with a possible career in finance without actually knowing what those jobs entailed. This program granted me an opportunity to think about my future and learn from the people in the fields and positions that interest me.
On LinkedIn Learning and the Knowlton Center: I did over 30 courses on LinkedIn Learning. They provided different learning paths, so I was able to do an Excel learning path, as well as a financial analyst track. The Knowlton Center provided one-on-one time slots, so we were able to speak with alumni individually to discuss their life after Denison. This really helped grow my professional network. After each one-on-one meeting, I connected with the alumni on LinkedIn and everyone was very responsive and kind.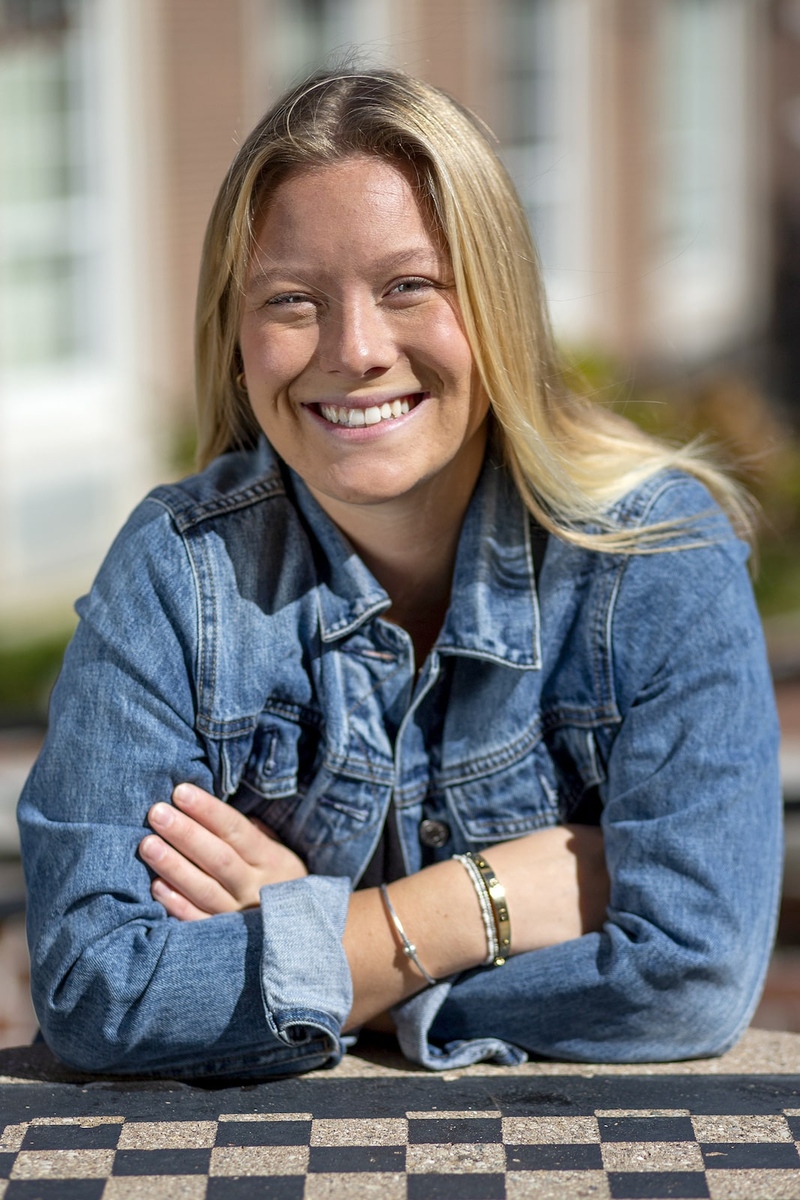 Avery Asherman '22
Major: Communication, Spanish Minor
Essentials of Business, Sales and Marketing Track
On the right path: I had previously participated in a marketing and communications internship with one of the schools I attended prior to Denison. That experience fueled my interest in graphic design, advertising, and branding. From there, I knew I wanted to focus on marketing, so I was excited the Summer Accelerator program was offering this marketing and sales track.
Time to focus: I decided to sign up because I wanted to spend some time focusing on career preparation this summer, without distraction from school or community life. Through the program, we heard from various keynote speakers and alumni, and my favorite part was learning how a liberal arts education at Denison created so many well-rounded business leaders, and how I have the potential as a student to become a successful professional in the marketing field.
Facing the career path: I had been putting off starting my career journey for a while but this program inspired me to start focusing on it and setting time aside during my day to look through LinkedIn. I've been conducting a lot of informational interviews with Denison alumni and business leaders in the marketing industry, which has sparked my curiosity. I think this helped me gain confidence in learning how to engage in an interview. It really inspired me to work hard academically during the semester, but also focus on my future career.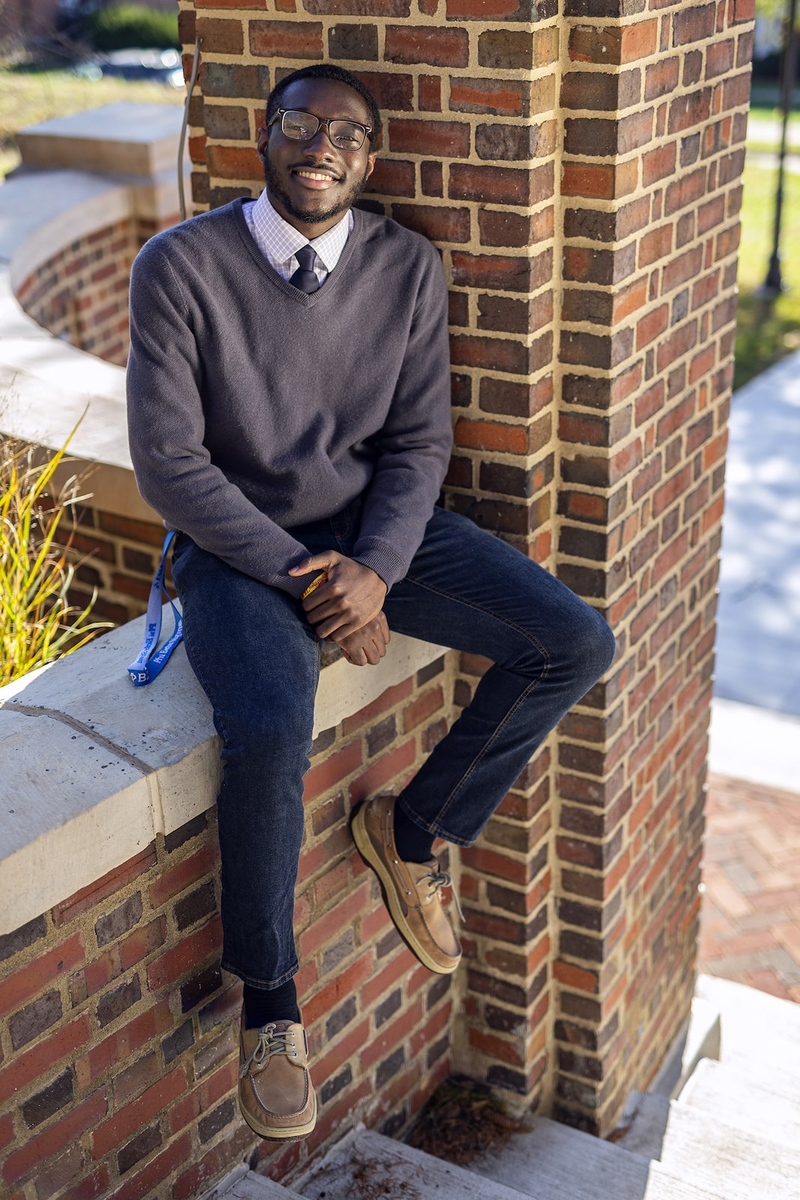 Kwaku Akuffo '23
Major: Data analytics
Essentials of Business, IT and Data Analytics Track
Mind for Business: I was looking to find a job or internship, but those fell through because of COVID. So when Denison launched the Summer Accelerator, it gave me the chance to explore my interest in business through Knowlton's Essentials of Business program.
New Skills: Speakers were from a wide range of companies, and they offered new perspectives on the information technology and data analytics worlds, but we also had access to LinkedIn Learning to develop practical skills like time management, organization, and Excel. It was really helpful to get tips and ideas from experts while gaining skills that I will be able to apply in any role and that will help boost my resume.
Good Vs. Great: There's a difference between being good and being great. You can be good at everything that you want to do in your life—and that's fine. But if you want to be something great and leave something behind for others, you have to be willing to do things that other people won't do. For me, that's waking up at 5:30 a.m. every day, doing the work, getting ahead of schedule in classes or projects or extracurriculars, because I know that putting in the extra effort is helping me get to the goals I'm trying to achieve.
Dreaming Big: For me, pursuing a degree and career in a STEM field, there aren't a lot of Black people to look up to in top positions. I'm driven to pursue opportunities like Summer Accelerator so I can be in one of those positions someday and have people younger than me realize that, if I can reach the top , they can too. There's a quote from a motivational speaker named Eric Thomas. "If you want to succeed as bad as you want to breathe, then you'll be successful." I want to succeed.
Published January 2021