1 Throw out the first pitch at a Cleveland Indians (my team) baseball game as president of the North Coast Athletic Conference (a high ball over the plate; catcher Kelly Shoppach had to come out of his crouch).
2 Dine at "high table" with the faculty of Trinity College, Cambridge, and with the faculty of Harris Manchester College, Oxford.
3 Make a private, after-hours visit to the West Wing and the Oval Office with Frank Ward '04 of the White House staff.
4 Visit film and television star Jennifer Garner '94 backstage on Broadway after her acclaimed performance in Cyrano de Bergerac.
5 Dine in a private room at London's oldest eatery, Rules Restaurant in Covent Garden, with an English lord and lady, Mark Malloch- Brown and his spouse, Denison alumna Trish Malloch-Brown '86.
6 Meet and have private conversations with former U.S. Presidents Jimmy Carter and George H.W. Bush.
7 Enjoy lunch in the United States Senate Dining Room (beginning with the famous navy bean soup) with Sen. Richard Lugar '54.
8 Throw out the first pitch at a Milwaukee Brewers baseball game—caught by Denison Trustee Fellow John "Tony" Canning '66 and called from the press box by broadcaster Bob Uecker (a strike; Canning never moved!).
9 Participate in a dinner and reception at the historic Treaty Room of the U.S. State Department.
10 Be invited as an "expert" (!) to an international higher education conference at the headquarters of the Council of Europe in Strasbourg, France. (I flourished the "expert'' badge in front of my wife, hoping she'd take notice.)
11 Dine with two dozen Denison alumnae during a women's leadership luncheon held in the room behind the clock face at the top of the historic Daniels & Fisher Tower in downtown Denver, Colorado.
12 Be received by Spain's Minister of Foreign Affairs at the Palacio de Viana, Madrid.
13 Place a winning wager at Dublin's Leopardstown Race Course while the guest of faculty at University College Dublin and Trinity College. (Pretty good for a guy who doesn't gamble.)
14 Enjoy a late-night dinner and a dramatic view from a rooftop garden just beneath Athens' Acropolis, while meeting with liberal arts college presidents from the U.S., Europe, North Africa, and the Middle East.
15 Enjoy the governor's holiday party with Tina at the Ohio governor's mansion.
16 Participate in an editorial board meeting of the Chicago Tribune as a member of a task force of the Chicago Council on Global Affairs.
17 Travel to Saudi Arabia as a representative of the Great Lakes Colleges Association to advise the president and administration of the innovative Effat University for women.
18 Bargain for a handmade Iranian rug in the Afghan souk (bazaar) of Jeddah, Saudi Arabia, during that trip to the Middle East.
19 Congratulate an NCAA National Championship men's swimming and diving team on the pool deck in Indianapolis (The Big Red in 2012) and, subsequently, receive a surprise NCAA championship ring (big bling!).
20 Roam the Library of Congress after hours with library staff and other liberal arts college presidents.
21 Visit the restored underground Churchill War Rooms with Winston Churchill's grandson.
22 Represent Denison in academic processions at presidential inaugurations for institutions ranging from The College of Wooster and Grinnell College to the University of Chicago.
23 Own a personalized red and white Denison hard hat to wear when visiting campus construction sites.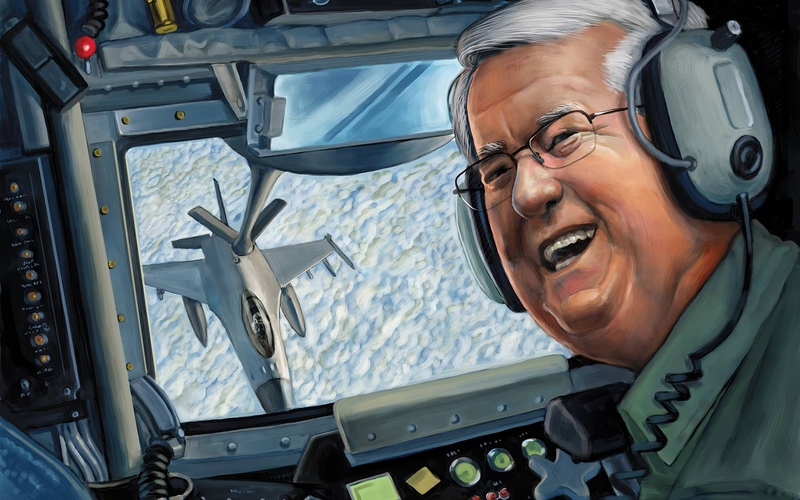 24 Live in historic Monomoy Place for 15 years, witness the renaissance of the house and gardens under Tina's hand, and welcome thousands of students and their family members, faculty and staff, alumni, college guests, and community neighbors to events at the house.
25 Attend two men's and one women's NCAA Division I basketball "Final Fours" as a member of the NCAA Division III Presidents Council.
26 Cheer on the Big Red at 700+ campus athletic events involving Denison's 23 men's and women's varsity teams, on average more than 45 contests per year.
27 Sing often enough with the Denison Hilltoppers to be named an honorary member and given the Hilltopper nickname, "Prez."
28 At the invitation of the Ohio National Guard, lie prone in the plexiglass pod under the tail of a KC135 jet tanker refueling F-16s 30,000 feet over the Ohio River.
29 Attend Centre Court at Wimbledon, arranged by the president of USTA, a fellow member of a higher education board.
30 Share fascinating dinner conversation at Monomoy Place with, among others, Robert Kennedy Jr., former First Lady Rosalynn Carter, and Mary Robinson, former president of the Republic of Ireland and former U.N. high commissioner for human rights.
31 Visit the memorabilia-filled office of Michael Eisner '64 at Walt Disney Studios and have lunch in the Disney Studios commissary.
32 Dine in a centuries-old wine cave on the Danube in the Austrian countryside with the Viennese faculty of IES Abroad, a nonprofit collegiate study-abroad provider.
33 Ride across the range in a pickup along Texas' Upper Brazos River with Ardon Judd '59, a descendant of the founders of the historic 50,000-acre Lambshead Ranch.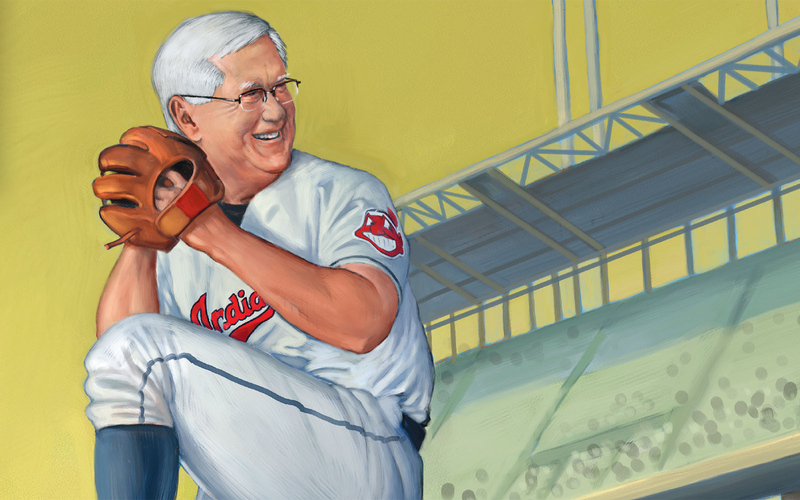 34 Enjoy the company of classical artists Yo-Yo Ma, Christopher O'Riley, Christopher Parkening, Yuja Wang, and Joshua Bell at Monomoy Place.
35 Ride at 180 mph in a twoseater Indy car with Mario Andretti behind the wheel.
36 Host Denison dinners for fascinating people such as Ambassador Richard Holbrooke, former Ambassador Christopher Hill, former Senator Bill Bradley, former Congressman Newt Gingrich, former Secretary of State Madeleine Albright, former Secretary of State James Baker, former Senator Olympia Snowe, civil rights pioneer James Lawson, former Senator Robert Dole, musician Wynton Marsalis, and actors Hal Holbrook '48 and Dixie Carter.
37 Work for 15 years with a remarkable college board of trustees, as well as talented and committed Denison faculty and staff colleagues.
38 Lecture on immigration history at Ellis Island with the restoration architect for the historic beaux-arts Main Building, Jack Beyer '54.
39 Pass through 82 airports in the U.S. and abroad while traveling on Denison business.
40 Have a conversation with Walter Cronkite.
41 Enjoy more than 300 student plays, musicals, dance performances, and music concerts and recitals on campus.
42 Be photographed with Tina and Denison guest Cookie Monster on the Swasey stage, arranged by Muppets innovator Rollie Krewson '74.
43 Have an official Denison presidential photograph taken in New York City by Bachrach, the firm that photographed Lincoln, Edison, and Eleanor Roosevelt (a big deal for a historian!).
Published March 2013