I met assistant journalism professor Doug Swift during a critical moment in my junior year — when I decided to alter my path and make a late switch to a journalism major.
"A crazy plan, that's for sure," Swift said. He was all for it. A champion for chasing what drives you, Swift proved to be the ideal mentor for such a pivot.
With graduation quickly approaching, I sat down with Swift to talk about that decision and what the future holds . Our conversation, edited a bit for length and clarity, gives a glimpse of today's relationships between students and faculty at Denison — and how the learning and impact goes both ways.
Meyer: I met you when I was switching advisors after I decided I wanted to completely pivot from psychology to journalism my last year of college. And I remember we met and we planned out the rest of my classes. And you didn't doubt for a second that I could do it. Even though you didn't know me. And that really got this fire in my belly going. Because you believed in me, I really looked forward to proving to you that I was worth that belief and that trust in my capabilities. I guess I'm curious to hear from you if you questioned whether or not I could do it in a year — if that was something you'd seen before?
Swift: No, I've never seen it. It's a crazy plan, that's for sure. Takes a crazy person to do a crazy plan. And I saw just enough crazy in you. And it felt right. That's my primary mode and that's how I've lived my life.
Meyer: By feeling?
Swift: Yeah, totally. 100%. I have no doubt that's what's going to help every single person at the most critical moments of their journey — make a move. It's not going to be sitting down and rationalizing something. It's going to be from inside. It felt like you knew what you needed to do in this last year. And my job was to help you do it and help it to go as smoothly as possible.
Meyer: Well, thank you. You really have impacted me a lot.
Swift: Good. You deserve that, by the way.
Meyer: What do you feel that you've learned from your students? How do you feel they teach you?
Swift: Well in the sense of what I teach, I'm asking everybody to enter into the creative process. Every time anybody does that, that's a learning experience. Not just for the person doing it, but for anybody who's around the person doing it.
And that would include me. I'm just saying here's a path and if you go down this path, there will be some interesting things that'll happen, and I get to be a witness or a guide on that path. And so whatever they're learning, I'm kind of co-learning.
When you had the vision of putting a GoPro on the backs of those dogs so that you could actually see the people who experienced the therapy dogs, you know, I've never seen that idea. So I made sure we got a GoPro so that you could do it, right? So my job was to make sure that your vision could be carried out. And then to see what you got — I learned a lot from that.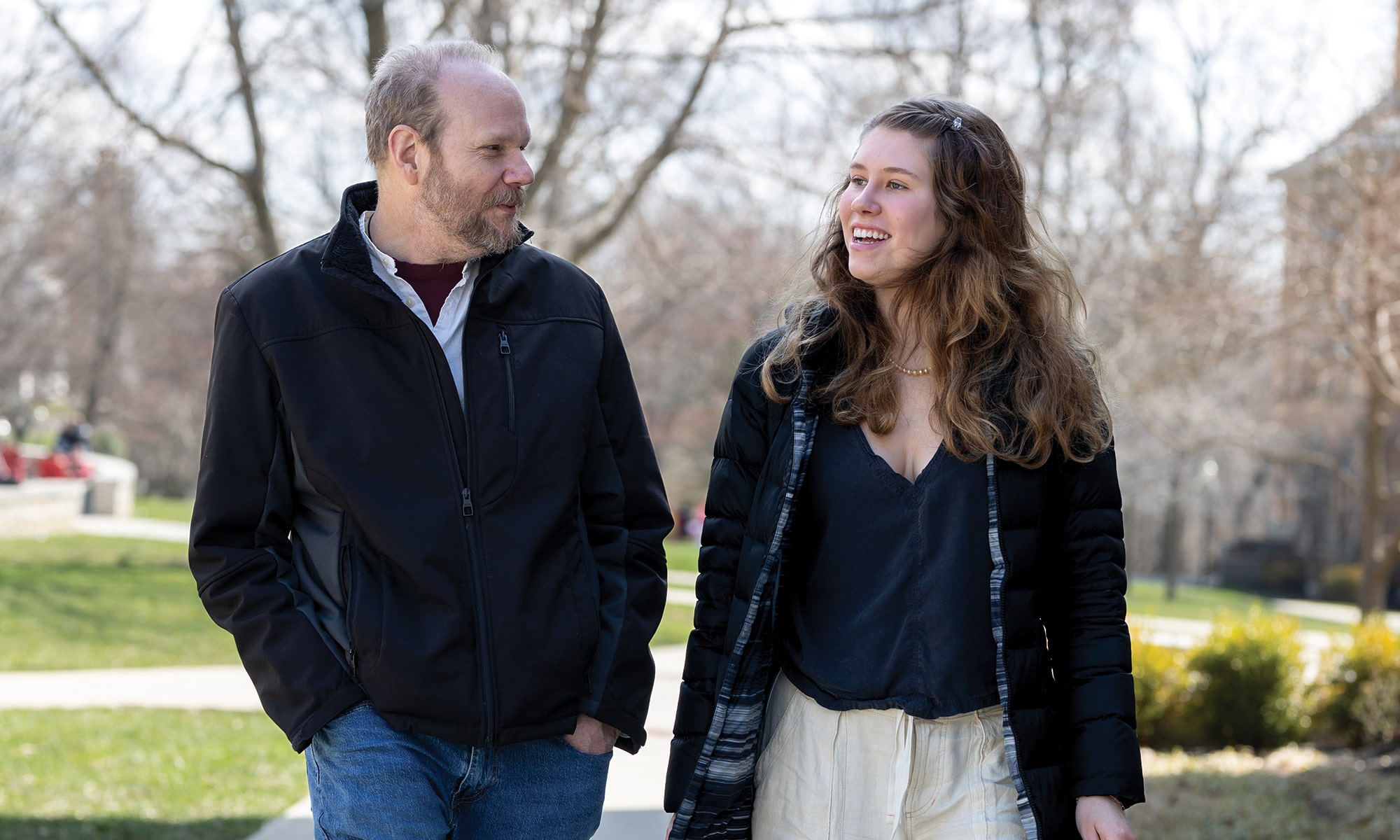 Zoe Meyer '23 says assistant journalism professor Doug Swift taught her "how to do everything with heart."
Meyer: Since your multimedia journalism class, I've been fascinated by the way multiple mediums come together and how full and multi-dimensional that feels. Now I can't just write an article without thinking about a documentary and an audio story to go along with it.
Swift: That's cool.
Meyer: I've also learned how to do everything with heart. Because that's what you do. And that's been something invaluable for me. And something I'll practice for the rest of my life.
Swift: That's beautiful. After you went to talk to Alissia, the pastor I connected you with for senior research, she sent me a lovely email about what a beautiful, intuitive, intelligent person you were. When we send students out to community members, you know, we certainly hope that we don't make a mistake. She felt like you were drawing on her wisdom in all the best possible ways. And that's everything that we hope will happen, right? That community members are honored in that way and seen in that way. And then when you came back and talked to me about what you learned, you were excited and you had all these great notes. And it really filled in the blanks for me about what she was saying. You find good stories. You find stories that other people don't find, and you lead with your heart. Every community needs a storyteller like that.
Meyer: What do we hope for each other in the future? What do you see yourself doing?
Swift: Well, it's never been more clear to me that the way that I relate to other people is going to come through in the work I do and how I am within myself. It is the reason I teach storytelling — because it is fundamental to the one and only life I've been given on the planet. So I just want to hone my own craft and tell stories of meaning to the world and to those around me. And then, if that creates more mentorship possibilities, that's a wonderful byproduct. It just has to come from my own work, getting myself out there and making myself uncomfortable.
Meyer: Definitely. I could see you making all sorts of documentaries or podcasts or whatever medium it might be, and bringing in students. That's what you've been doing, bringing in students to your projects. And collaborating with them. And it just comes naturally for you. It just kind of happens. And that's what I wish for you. That kind of effortless beauty in collaborating with people.
Swift: I know what you mean. It's hard work, but it has an effortless feel because it's so in sync with inner energy and the way that inner energy wants to flow. What do you hope for yourself?
Meyer: I've spent all this time trying to figure out a finite answer for what I want to do. And I've been doing a lot of thinking, and I don't think I ever really want to know. I think that would be quite boring. I don't really want to land on anything ever. I know the area that I like, but within that area, I always want to explore. I always want to stretch myself. I always want to learn.
Swift: Well, I think that's the right frame of mind. Wherever you wind up, that community is gonna need somebody like you as a storyteller. What I would want for you is to find that path. Find those stories that you are very good at finding. And play.
Published June 2023