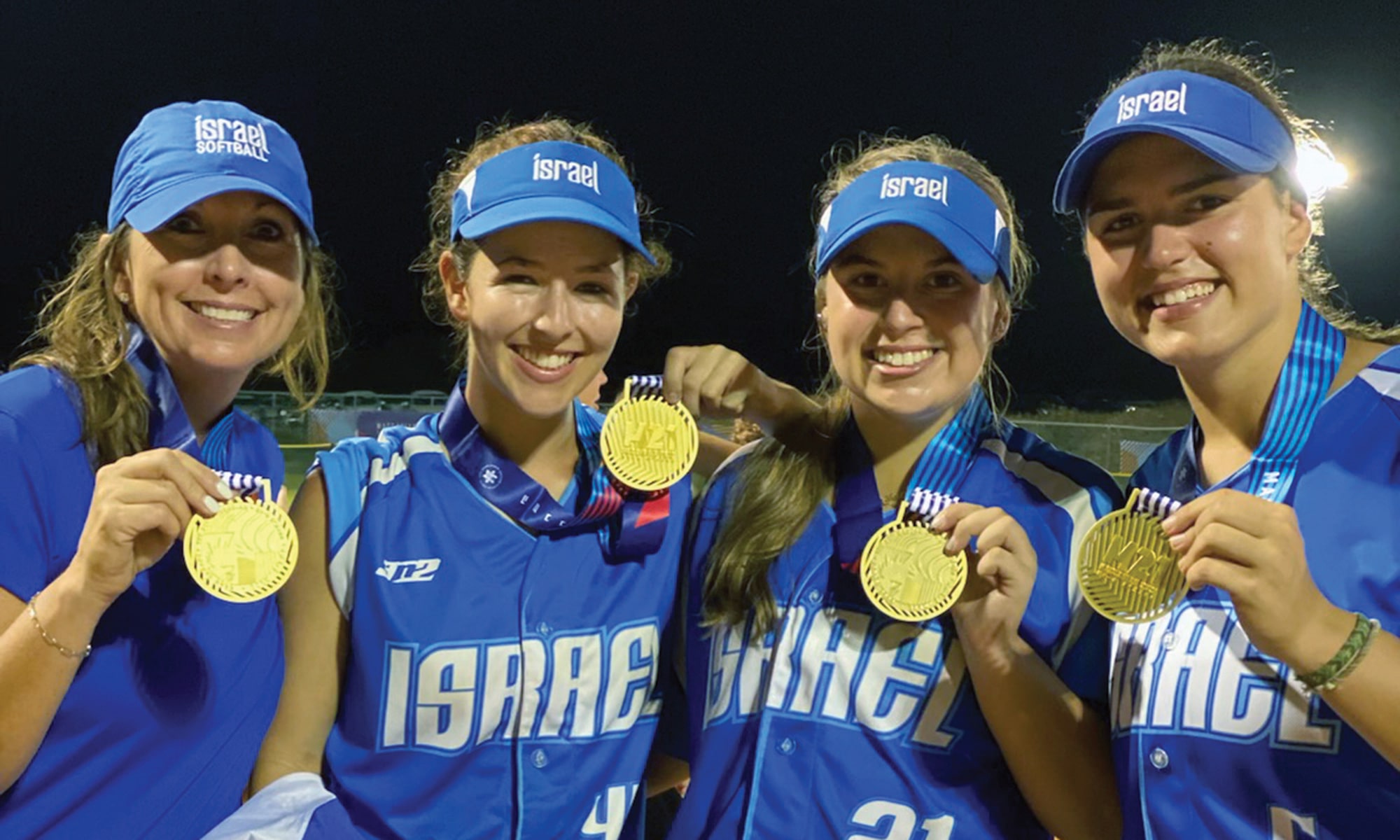 Leah Amico and players Riley Shubb, Sydney Silverstein, and Kaia Glickman
Over the 2022 summer break, Denison softball pitcher Sydney Silverstein '25 had a good way to keep her skills sharp: She played international softball for Israel's women's national team at the 21st Maccabiah Games, a global tournament in Israel for Jewish athletes.
She and her teammates didn't just compete — they took home gold (the first ever for Israel's softball team) with a 2-1 win over Team USA. Silverstein pitched the last five innings.
That win was huge, Silverstein says.
"Everything that you worked toward — in that moment — it paid off," she says.
It's not often that Denison fields a player who competes on a national team, says head softball coach Tiffany Ozbun. But Silverstein is just getting started.
Since joining Team Israel, she's also had the chance to scrimmage against European Championship teams. This summer, she'll play with the women's national team in the Canada Cup. And despite some delays in getting her Israeli citizenship, which is required to play in the European Championships, she hopes to have the details worked out in time to play with the U22 team in Ireland next year.
A longer-term dream is to play in the Olympics.
Silverstein, a double major in psychology and health, exercise and sports studies, got the chance to play overseas through connections she made playing youth softball.
She didn't hesitate.
"There was really no thought process on if I was going to do it," she says. "It was like, 'How am I going to make this happen?'"
The international stage is demanding. It's the same game, Silverstein says, but has minor rule differences, including one that allows pitchers to step into their delivery more — making for faster pitches.
There's also the spotlight. The environment is louder and more energized, Silverstein says. "You're on an international stage … you have a little bit higher pressure."
She noticed the intensity during the team's visit to Europe. While watching her pitch, her father ended up in conversation with the Czech Republic coach (whose team later won the championship), and the coach was able to recite where Silverstein played in high school, her pitch repertoire, and her plans to play at Denison.
"It was very intimidating at first, but once you embrace it, you kind of just go out there and you have fun with it."
"They're very in-depth; they go all in," Silverstein says. "It was very intimidating at first, but I think once you embrace it, and you kind of just go out there and you have fun with it, then it makes it a lot better."
It's a level of focus she's able to bring back to Denison softball. Teammates back at Denison are able to learn from Silverstein, which enhances the program, coach Ozbun says.
"Anytime you get the opportunity to play the game of softball at the international level, you're learning and growing from so many different coaches and teammates, and you just get to see the game in a different light," Ozbun says.
Silverstein is happy to share what she's learning with her teammates. She enjoys the family environment that's inherent to softball. "The sport itself is truly a team sport," she says. "You cannot do anything in softball without another teammate."
Silverstein's coaches both praise that team spirit. Listening to them talk about their young player can feel like having the same conversation twice.
"She is probably one of the kindest, thoughtful, giving people," Ozbun says. If someone is out with an injury, she's the first one to check in on them. "She wants to take care of people."
"Sydney, to me, is just somebody that's so full of joy, and you see that she loves the game," Team Israel coach Leah Amico says. "She's really somebody who keeps a team cohesive and working together."
Silverstein's positive and encouraging personality helped Team Israel connect, and her pitching — and lack of an ego — boosted the team, too, Amico says.
"I was really glad that she had the opportunity to come up big in the championship game," she says. "What I loved about her, she didn't pout when she didn't get the start. But when I called on her, she was ready to go. She helped lead us to win the gold medal. To me, that's a championship mentality."
Published June 2023