When you were a student and you couldn't make it to the dining halls, maybe you dined on a smorgasbord of foodstuffs that came from a science lab (spray cheese, anyone?) instead of a farm.
And maybe that sounds appealing in your early 20s, but the faux glow eventually wears off. Yes, for most of us, the memory of homemade dorm food is best left in the dorm—preferably in a drawer next to the Twinkies and Ritz crackers.
But what if those lackluster memories were replaced by more elegant and creative interpretations of the dorm food we knew and (sort of) loved? Like mac 'n' cheese made with real cream and tender, smoky bacon and eaten with a linen napkin in your lap, not a plastic fork at your side? Or how about a towering crown of cappuccino ice cream, marshmallow fluff, and bittersweet chocolate sauce to replace that microwaved marshmallow and chocolate sandwich that you used to call a s'more?
Consider the following recipes your dorm food redux—a remodeling of food from your Denison days. Let's raise a glass of really cheap wine (out of a sense of nostalgia, of course) to the beautiful ways in which these five graduates have given dorm food a much-needed makeover.
He has a tattoo of a pig on his left bicep—not to signify an allegiance to Looney Tunes but instead to pay tribute to a beloved ingredient in his culinary repertoire. Sure, he experiments with agave and has a soft spot in his heart for tapioca maltodextrin, but Ian Humphrey is serious about the heft of his food. He's also serious about food staying true to form and not diverting from its local, organic roots.
Intent on becoming a broadcast journalist, Humphrey never expected to end up in the kitchen. He did not come from a family of foodies. Still, a high school elective class, "Gourmet Foods," gave him a glimpse into the world in which he would one day thrive.
"I excelled in the class, and my teacher floated the idea of culinary school to me," he recalls. "But I was certainly not thinking of food as a profession."
It was a roommate in San Francisco, a chef, who jump-started Humphrey's food career by challenging him to hone his talents. Humphrey attended the California Culinary Academy, and later worked at one of Google's first cafés, Café 150, where all the ingredients came from within a 150-mile radius. "The first week I was there, we were on the Today show," he laughs.
He left Google in 2008, and after restaurant gigs in St. Thomas, he's back in San Francisco, designing catering menus and keeping it local.
Green Bean Casserole
with Bacon and Toasted Almond Brittle
Servings: 6-8
Toasted Almond Brittle (make ahead)
4 tablespoons unsalted butter
1/2 cup sugar
1 cup sliced almonds, toasted
Cover a sheet pan with wax paper or line with a nonstick slip mat sprayed with cooking spray. In a saucepan, melt butter and sugar over medium heat, then add toasted almonds. Stir mixture with a wooden spoon to mix completely. Pour onto slip mat or wax paper and, with a spatula, press almonds down to form a thin, even layer. Freeze for 5 to 10 minutes until hard. Using fingers or a knife, break/chop brittle into small pieces. Set aside until casserole comes out of the oven.
Green Bean Casserole
4 cups green beans (trimmed, blanched,* and shocked)
1 large yellow onion (julienned and sautéed)
1/2 pound bacon, diced and cooked until crisp
10 ounces of homemade (or store-bought) cream of mushroom soup**
Heat oven to 350 degrees. Spray casserole dish with cooking spray, add blanched green beans, onions, and cooked bacon, and spread evenly throughout dish.
Pour cream of mushroom soup evenly over top, cover with parchment paper and foil, and bake for 30 minutes. Take out of oven, remove cover, garnish with toasted almond brittle, and enjoy.
* To blanch green beans, toss them into a pot of boiling water for a few minutes until beans are firm, but not fully cooked. Then quickly drop them into an ice bath to stop the cooking process
** For Humphrey's cream of mushroom soup recipe, visit denison.com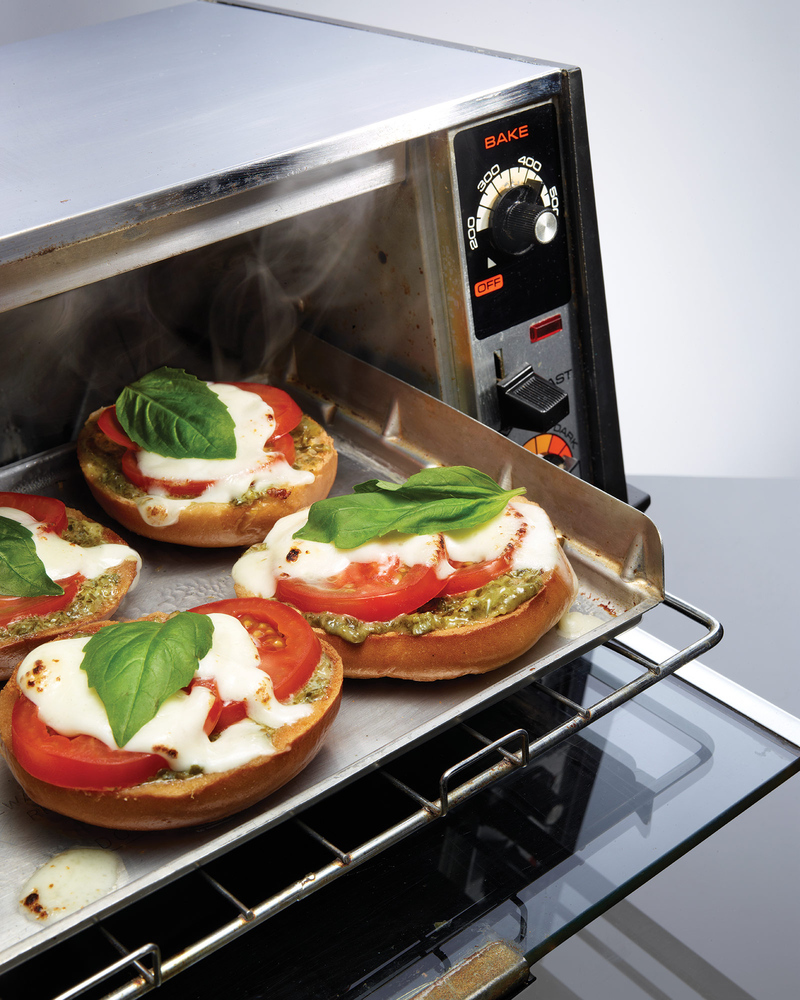 The demanding schedule of a restaurant pastry chef is far underplayed. Since most of us have mastered only boxed cake mixes, it's difficult to imagine that someone stood in the kitchen for 14 hours to make that orb of pink mousse with gold leaf that was devoured in three minutes at your birthday dinner. When Kate Chorlton Cavotti's first child was in kindergarten, and she couldn't fathom how to manage school, kids, and work, a friend suggested a teaching gig at the Culinary Institute of America.
Now, 13 years later, she's doing what she loves, with hours that don't consume her life.
"I knew when I was 12 that I wanted to be a pastry chef," Cavotti says. "But my parents thought I should have a more traditional education. There weren't many women in the industry at the time, and they knew it would be a difficult road. I got into PR but wasn't pushy enough to get the stories."
After Denison, she earned an associate's degree in hotel and restaurant management and pursued pastry externships in France and Italy, realizing that her love of pastry had never gone away. Now she helps churn out some of the country's most esteemed pastry professionals.
Mini Pesto Pizzas with Fresh Tomato and Mozzarella
Servings: 4
8 mini bagels, halved
1/4 cup pesto, store-bought or homemade
2-3 plum tomatoes, sliced
4 ounces fresh mozzarella
Fresh basil
Slice the bagels in half, and toast them in a toaster oven. Once toasted, spread a thin layer of pesto on each half. Top with 2-3 slices of tomato. Place a slice of fresh mozzarella on top of each one. Put the bagels back in the toaster oven at 350 degrees just long enough to melt the cheese. Top each with a basil leaf, and serve.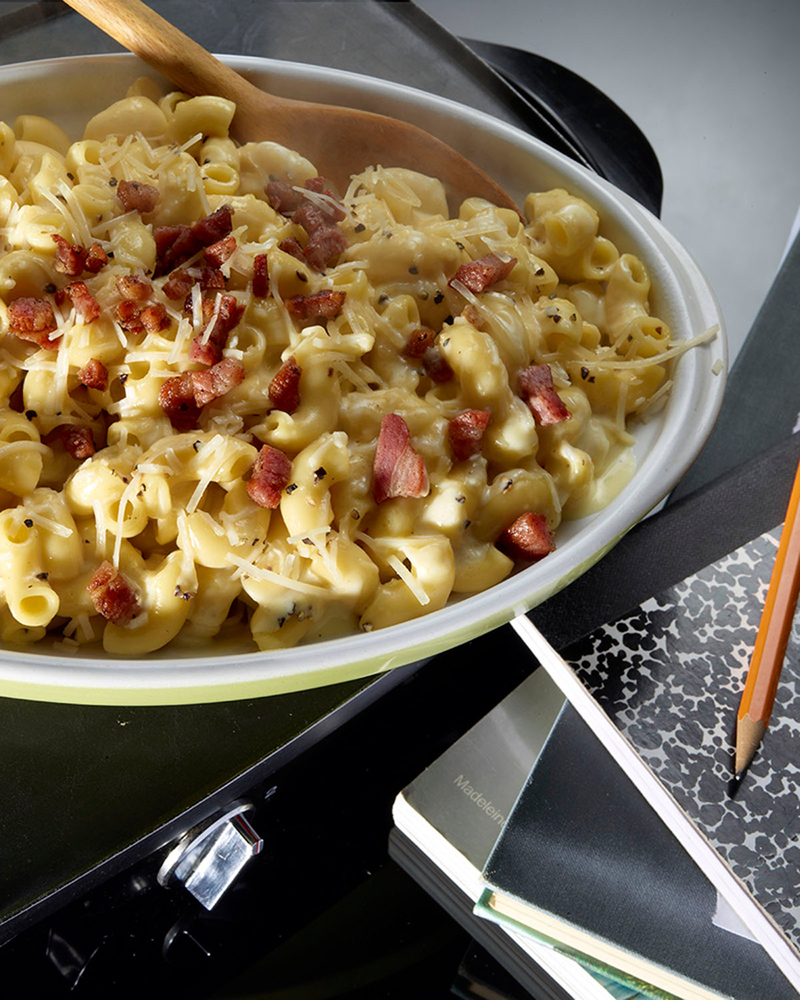 Jonathan Beard is very modest when he talks about his (very talkedabout) San Francisco restaurant, Bistro Aix. He never mentions the fact that food critics call him one of the city's "unsung great cooks," or that his restaurant is often on the top 100 lists in a town bloated with restaurants begging to be noticed. Instead of letting success go to his head, Beard is honest about the hard work that goes into starting and running your own restaurant, where most weeks find him working 80-plus hours.
A graduate of Le Cordon Bleu-Paris and Cornell University's graduate program in hotel and restaurant administration, this fluent French speaker lived in Paris as a child and sat by as his mother, Karen Asselta Beard '61, took classes at Le Cordon Bleu. That experience and his grandfather's Italian background influenced his love of food. He knew at age 12 that he wanted to become a chef. After earning his history degree from Denison (where his dad, Ron Beard '61, is now a life trustee), he immediately went to work at restaurants in D.C. and L.A., opening his own restaurant in 1996.
Bacon and Parmesan Mac & Cheese
Servings: 1
1 (half-inch) slice of applewood-smoked bacon, cut into 1/2-inch pieces Canola oil
1/6 pound of uncooked macaroni
1 fresh egg, preferably purchased from a local farm
1/4 cup heavy cream
1/4 cup freshly grated Parmigiano-Reggiano
Salt and freshly ground black pepper, to taste
Extra virgin olive oil, as desired
Bring 2 quarts of water and 2 tablespoons salt to a boil. In the meantime, brown bacon in a hot skillet with a bit of canola oil. When crispy, drain and keep warm.
Once water has reached a boil, cook macaroni al dente, meaning it should still be slightly chewy, and not overcooked, as pasta continues to cook from residual heat even after removed from water.
In a bowl, whisk egg, cream, and cheese together with a pinch of salt and black pepper.
Add macaroni to bowl and toss. Return pasta mixture to empty pan and stir on low heat for 30 seconds (see editor's note). Cook only until the egg, cream, and cheese mixture resembles a thick sauce.*
Put finished pasta in a serving bowl, top with bacon, more freshly grated cheese, if desired, and a drizzle of extra virgin olive oil.
* This recipe is based on a traditional pasta carbonara, made with a sauce created by just minimal cooking of the eggs, relying on the heat from the pasta to cook the eggs. Please be aware of the risks of consuming undercooked eggs, and cook longer, if desired, understanding that eggs can come out scrambled if not consistently stirred (or whisked, if cooking sauce before adding pasta) while being heated.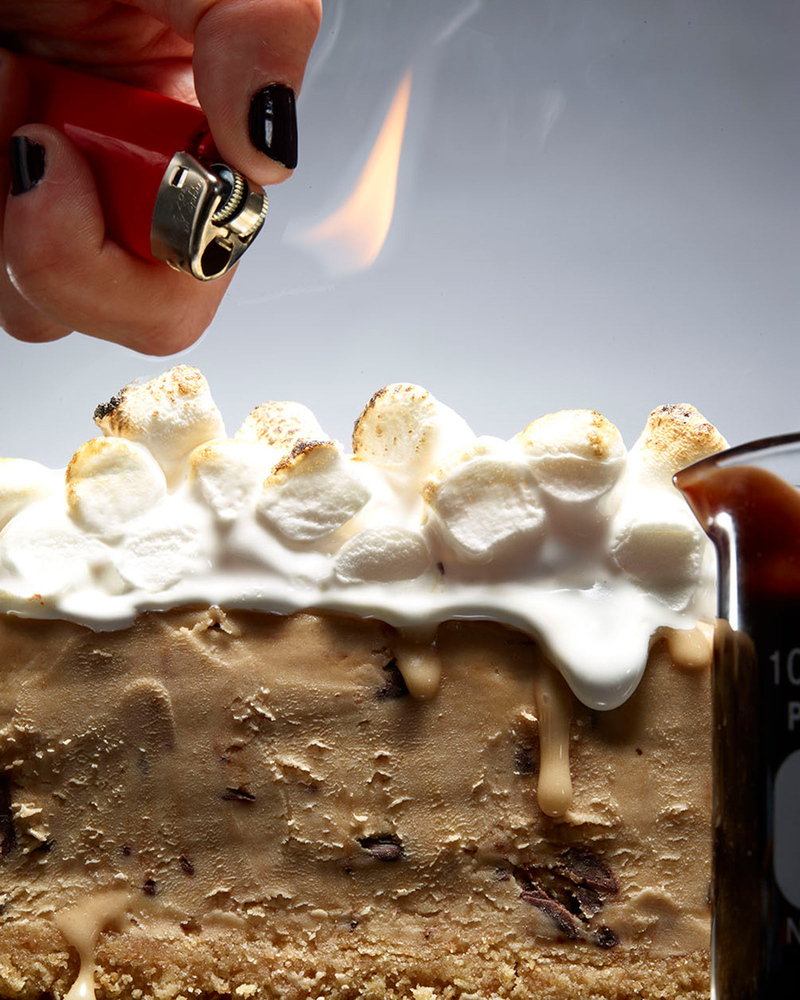 Emily Luchetti is the Meryl Streep of the pastry world. A veritable pastry powerhouse, Luchetti has countless culinary awards (like the prestigious James Beard Foundation's award for outstanding pastry chef) under her belt and six cookbooks to her name. She has worked at some of the finest restaurants in the U.S. and Europe, has been a guest on many television shows, and was co-host of the PBS show, The Holiday Table.
Luchetti didn't set out to become a chef. You can thank The New York Times for that. Having moved to New York after graduation, she was intrigued by the paper's executive dining room job description: "no typing required." She applied for the job.
"The more I did it, the more I loved it," she admits. "It was 1980, and the food revolution was really taking off. Most people in the kitchen had advanced degrees, and no one had a template for where they could go with a food career. We just made it up as we went along."
In the beginning, she worked on the savory side of things, including her first three years at San Francisco's acclaimed STARS restaurant, before stumbling into pastry.
"Thirty minutes into it, I knew I had found my home," she says. And now, 26 years later, it's clear that home is, indeed, where Luchetti's heart is.
S'mores Ice Cream Cake
Servings: 10
Crust
1 1/4 cups finely ground graham crackers
8 tablespoons unsalted butter, melted
Mix together the graham crackers and melted butter. Firmly press the graham crackers into the bottom of a 9 1/2-inch springform pan.
Ice Cream
1/2 gallon of your favorite flavor*
Spread ice cream over the prepared crust and freeze until firm, about one hour. The cake also can be made and frozen several days in advance.
* Luchetti likes to use homemade Cappuccino Chocolate Chip Ice Cream (pictured), and you can find her recipe at denisonmagazine.com.
Marshmallow Topping
1 cup marshmallow cream
2 tablespoons water
1 (10 1/2-ounce) package mini marshmallows
In a small bowl, mix together the marshmallow cream and the water with a fork. Stir in half of the marshmallows. Spread the marshmallow mixture over the firm ice cream cake. Sprinkle the remaining marshmallows on top. Freeze until the ice cream is hard, at least 6 hours to overnight. Toast the marshmallows just before serving.
Toast the Marshmallow Topping
If you are using a hand-held Bunsen burner normally used for crème brulée, run a knife around the inside edge of the springform pan. Release the latch and remove the ring. Leave the bottom of the pan under the cake. Torch the marshmallows until golden brown. If you are using the broiler, adjust the oven rack so the ice cream cake will be 2-3 inches from the heating element. Preheat the broiler to its highest setting. Leave the cake in the pan, put it on a baking pan, and place it directly under the heating element. Broil until golden brown, about 2 minutes. Run a knife around the inside edge of the pan and remove the latch.
Bittersweet Chocolate Sauce
1 cup heavy whipping cream
7 ounces bittersweet chocolate, coarsely chopped
In a heavy saucepan, heat the cream over medium heat until small bubbles appear around the edges of the pan. Remove from heat and add the chocolate. Let stand for 5 minutes, then stir until smooth. Sauce can be made ahead and refrigerated or made just before cake is ready to serve.
Finishing Touches
Place the cake on a large plate or platter. Slice with a hot knife and place on plates with a good amount of warm chocolate sauce drizzled on top. Serve immediately.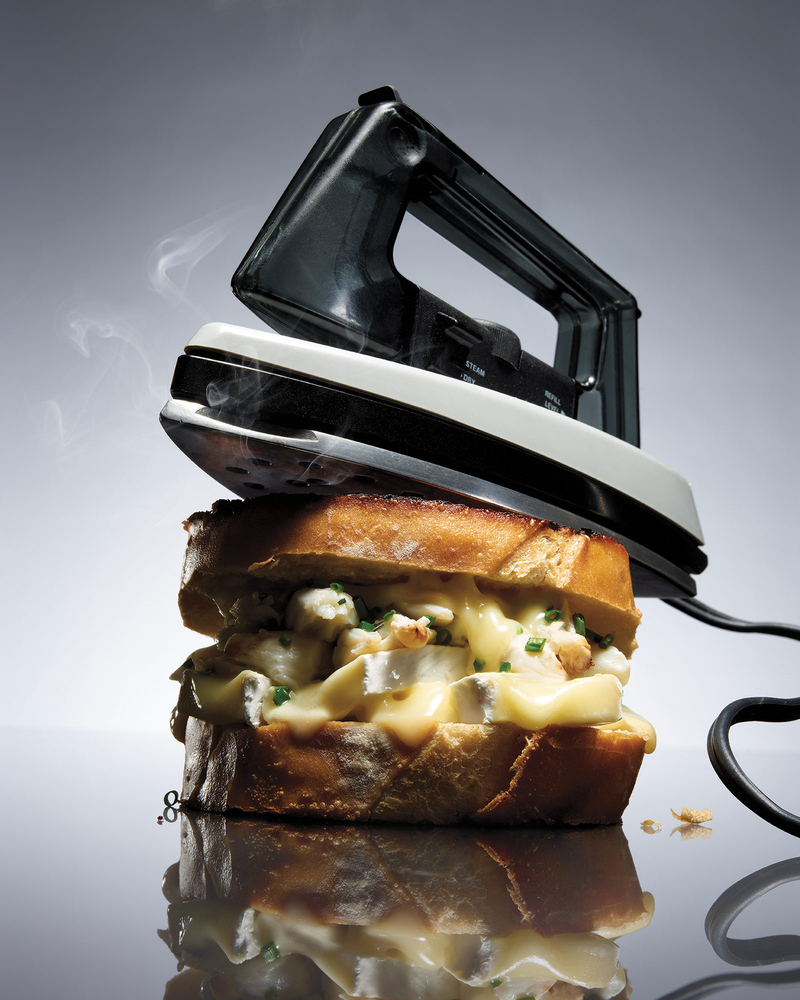 Susan Delbert has lived in Australia, Alaska, and on a 33-foot Bermuda sloop, but she says none of that compares to the thrill of becoming a partner in your own law firm, only to realize you prefer to peel carrots.
Yes, Delbert found her life's calling next to a mound of julienned vegetables.
She was always sure she wanted to be an attorney. She worked in Alaska as a criminal lawyer, and later earned her LL.M. in taxation, practicing business and tax law for many years. In 1996, she opened a practice with a few colleagues.
To make ends meet while they were acquiring clients, she worked nights as the maitre d' at Clyde's of Chevy Chase in Chevy Chase, Md., where she became friends with the corporate chef.
"I looked forward to the evenings," Delbert recalls. "One day, the chef gave me a pair of whites, and sent me to Clyde's sister restaurant, the Old Ebbitt Grill, where I cut carrots in the back. I had such fun, and couldn't believe they were paying me. A bell went off in my head. I turned my life around in that moment."
She quit her job at the law practice and enrolled in the Culinary Institute of America. Today, she holds the prestigious job of executive chef of the National Press Club, where conversations about business and law, which used to occupy her life, are happening all the time. But now, she talks tortes—not torts—and she's just fine with that.
Saltwater Grilled Cheese
Servings: 1
2 slices rustic white bread
Butter, softened
1-2 slices Brie cheese, about ¼ inch thick
1-2 ounces jumbo lump crabmeat (or lobster pieces—claw meat is okay), steamed and cooled
Fresh chives, minced
Salt to taste
1 slice Swiss cheese
Butter the outside of both slices of bread. On non-buttered side of one slice, layer the Brie, crabmeat or lobster, and chives. Add salt, and top with Swiss cheese. Cover with second bread slice, buttered side out.
Cook in skillet on medium high heat, in a toaster oven at 350 degrees, or on a panini press or waffle iron. Flip after 3 minutes, and cook an additional 2 minutes, or until cheese is fully melted.
Published March 2013