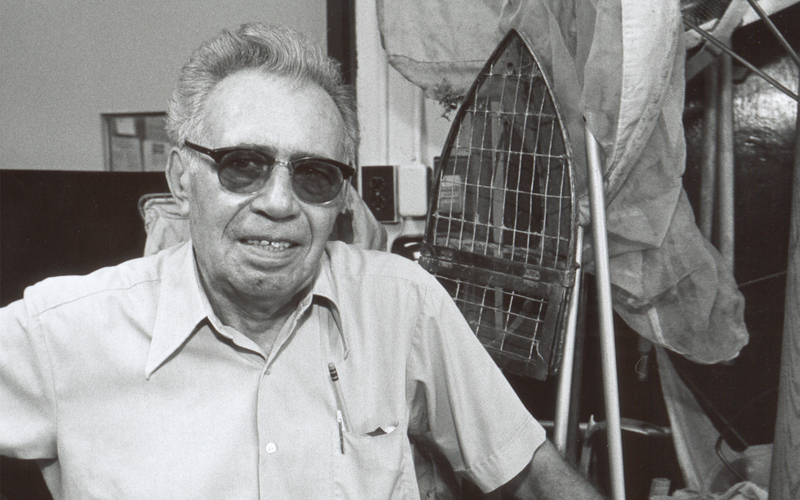 This is Bob Alrutz, the late professor of biology and the godfather of all things environmental at Denison. "Daddy A" – as some called him – played a central role in the 1966 founding of the college's 350-acre Biological Reserve, rich with forests, ponds, meadows, and streams. He was the driving force behind the establishment of the Homestead, an alternative living experiment that was only supposed to last five years when it started in 1977, yet continues to draw earth-conscious students to its serene, rustic haven. In the early '70s, Alrutz planted the seeds of the Environmental Studies Program, which he directed until 1990. And in 1984, he assisted students in creating the Denison University Recycling Program. Off campus, among many other endeavors, Alrutz helped create the Black Hand Gorge and Cranberry Bog state nature preserves. A recipient of the Ohio Governor's Conservation Achievement Award, Alrutz passed away in 1997, but his living legacy will be honored for generations to come.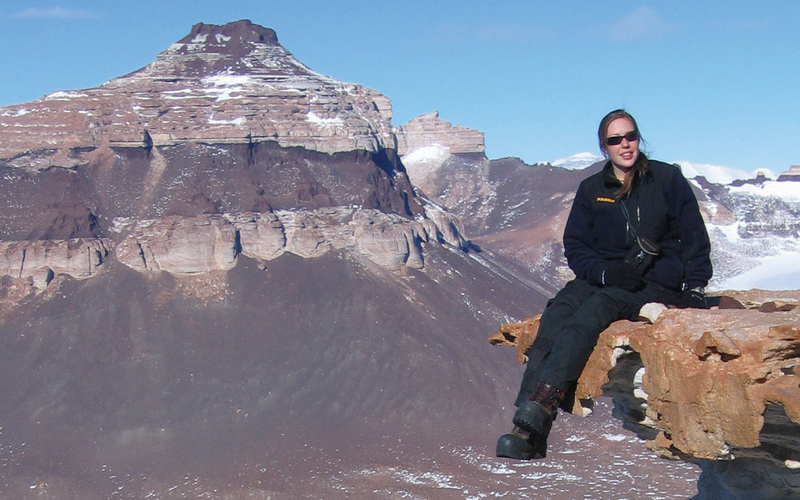 This is Stephanie Konfal '03, perched on 400 million-year-old sandstone high above the Beacon Valley in the Transantarctic Mountains. A graduate student at Ohio State University, the Denison geology major spent this winter (well, summer down there) buzzing about Antarctica in a helicopter and using high-precision global positioning system devices to measure tectonic movement of the mountain range. As part of the TransAntarctic Mountain DEFormation team based at the U.S. Antarctic Program's McMurdo Station, Stephanie is studying post-glacial rebound—how the land literally bounces back after an ice sheet melts—as well as movement that has taken place over the last 10,000 years. Her team's findings will hopefully provide insight to how the mountain range developed. Prior to graduate school, Stephanie was an intern for the U.S. Geological Survey station near Mount St. Helens, and was one of the few geologists to witness that volcano spew ash in November 2004, the first activity since its devastating eruption 18 years earlier. To read more about Stephanie's Antarctic adventures, visit her informative, exciting, hilarious blog at skonfal.blogspot.com.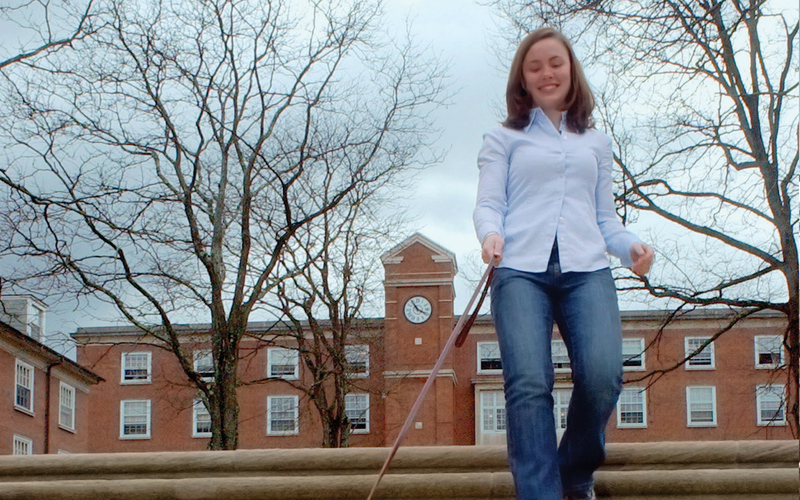 This is Penny, a five-month old standard poodle, and her friend Claire DeNisco '07, a political science major from Harrod, Ohio. Penny is Claire's roommate in Beaver Hall and one of the few canines we know of that Denison has allowed to live on campus (although we suspect others may have done so in "unauthorized" fashion). She is also the fuzziest, bounciest, and one of the newest members of Delta Gamma sorority, which commits the bulk of its philanthropy to Service for Sight. Penny comes to Denison by way of Pilot Dogs, Inc., a 55-year-old Columbus-based non-profit that places puppies in foster homes and then trains them to become service companions for the blind, all at no charge. Claire will devote about a year to caring for and training Penny. Then Penny will be tested to determine if she is suitable for a formal education. If she passes (and all signs indicate that this smart pup will), these two friends will have to say good-bye, as Penny goes on to loyally devote her own life to making a better life for someone else.
This is the Denison campus community on an early lap of the Relay For Life in 2004. They would march on like this in turns for the next 24 hours, each step a tribute to those who have fallen victim to cancer, and a measure of hope for an eventual cure. Denison's first Relay for Life, conceived by Sarah Pyle '04 as a Panhellenic charity event, was held in 2003 to raise money for the American Cancer Society. But overwhelming support made it clear that this was more than the typical Greek philanthropy, and has since become a campus-wide endeavor. In its first two years, Relay For Life raised more than $118,000—not bad for a small college. After missing last year over a few organizational challenges, another student-coordinated Relay For Life is firmly in the works for April 21-22 in the Mitchell Athletics and Recreation Center, complete with live music, games, food, informational booths, a luminaria ceremony, and a worthy $70,000 goal. For more information, visit www.acsevents.org/relay/OH/DU.
Published March 2006