Ah, Columbus. Our citified neighbor next door. How we love to hop in the car and drive downtown and beyond for food, fun, art, shopping, and a little education along the way. We asked faculty and staff—those who live near and in the city year-round—to tell us about their favorite spots. Then we handed that list to two seniors and asked them to spend two days exploring the places that called to them. Here's what they deemed the best of the best.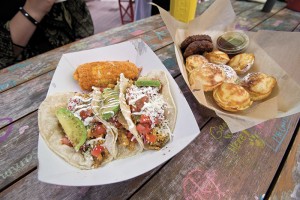 Katalina's  Tucked into the heart of Victorian Village, a 100-year-old gas station has been converted into a hopping breakfast joint.
The café is a rustic adventure into local and organic ingredients and fresh foods. While most places with a vintage feel keep the duller notes of ages gone by in their establishments, Katalina's also pulls color and soul out of its repurposed and found items, which are used everywhere—from the mason jars by the water dispenser to the silverware holders at every table. The former gas station's interior has been completely transformed into a seating area (although most seating is outdoors) and the kitchen. The walls are chalkboard, mostly covered in vibrant messages and drawings from patrons and staff alike. Every surface is there for creative expression, as we discovered when we were given markers to take to the wood tables on the patio. From its famous pancake balls (filled with Nutella, dulce de leche, or Cooper's Mill pumpkin-apple butter) to its award-winning breakfast tacos, Katalina's offers a variety of food genres from the American South to South America, but keeps to a central theme of fresh, colorful, and really,  good.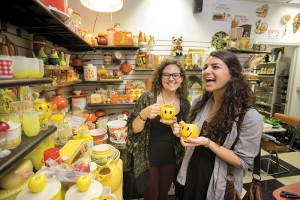 Flower Child Stepping into Flower Child with its light pink walls is like stepping back in time, though the decade is questionable, as the store is by no means organized chronologically.
The basement is full of old clothing, records, magazines, and posters, as well as purses and bags from generations past. Prom dresses and leather jackets are kept in a little room upstairs, connecting to a room with hats and long, elegant, and lacy gloves. Each room holds different wonders—a room dedicated to kitchen supplies, a space for old American relics and paraphernalia, a spot for jewelry cases. Nothing escapes the time warp—the store is packed with photos and art on every wall, and the shelves are loaded with knickknacks that don't fit specific categories. Pricing at Flower Child is perfect for the typical college crowd—those of us not old enough to dish out big money for vintage items, but who want them anyway.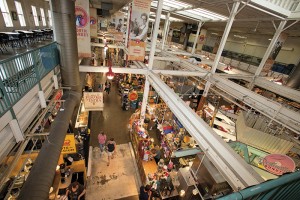 North Market North Market merchants peddle local fare and leave no international or specialty food untouched.
There is freshly made pasta, sushi, a deli, a Polish kitchen, and even Indian food and a doughnut stop. (Seriously, who doesn't love a one-stop spot for curry and cream-filled?) Market Blooms hosts a variety of flowers, and there is even a popcorn shop, as well as Columbus' famous Stauf's Coffee Roasters. Spending a day at the North Market might be difficult to do, but the Short North—Columbus' arts district—is a block or two away, in all its arty glory, so if you want some fresh groceries before or after your arts excursion, look no further! Try to get there on a Saturday for the farmers' market—more local love!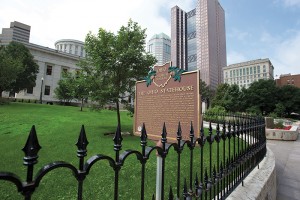 Ohio Statehouse In the heart of downtown, situated conveniently across from the Columbus Commons, sits the Ohio Statehouse.
Historic buildings hold steady watch over the larger, modern buildings in the city. The grounds are sprinkled with buckeye trees (that's Aesculus glabra to our friends in biology) dedicated to important state figures and former governors, adding a charming bit of Ohio's natural life to the heart of the urban capital. There are historical tours offered inside, and the Statehouse grounds are always bustling with people, not to mention its galleries, exhibits, and museum. It's a great spot to people-watch—almost as great as Port Columbus International Airport, which is just a few miles away.

Columbus Museum of Art At the Columbus Museum of Art, you'll marvel at the assortment of artistic styles represented, from classical European paintings to the Old Masters to photography to works by contemporary Ohio artists, including instructors from down the street at Columbus College of Art and Design.
More than 200,000 people come through the museum's doors each year to view the permanent collections, including works by Renoir, Degas, Monet, and many others. There's plenty there for the very serious mind, like the Philip J. and Suzanne Schiller Collection of American Social Commentary Art, 1930–1970, which the museum acquired in 2005. But we'll admit we spent a lot of time in the children's section of the museum, which features opportunities to create art across many mediums like paper, tape, crayon, twist tie, even kinetic sand. The art pieces of previous patrons are on display to give inspiration and contribute to a spirit of creativity.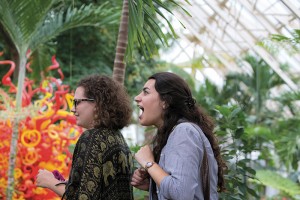 Franklin Park Conservatory Franklin Park Conservatory hosts a variety of botanical wonders, and the greenhouse makes for a lovely two-hour excursion, right outside downtown Columbus.
Each large biome holds a different landscape of the world, with varieties of plants and trees from Paris to Texas, and they connect with large glass doors and a center courtyard. On select days, you can even get some glassblowing lessons at the hot shop outside! The real treat is Dale Chihuly's glass art, which appears throughout the conservatory and the gardens. The conservatory houses the largest collection of his works outside his original collection in his hometown. The exhibitions change seasonally, but September is a great time to see the "Blooms and Butterflies" exhibit, which includes a daily release of butterflies and a mini-lesson about them. It will arm you with tons of information to start up a chat with Professor Tom Schultz in the biology department.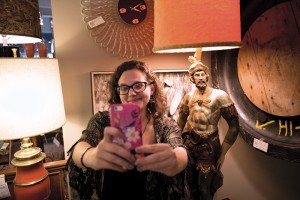 Grandview Mercantile Exchange Grandview Mercantile Exchange offers a wide selection of relics, treasures, and oddities.
The sprawling antique store, stocked with items ranging from cabinets and beds to delicate pieces of jewelry, feels open while retaining a labyrinthine charm. It feels like exploring, not shopping. Indeed, the appeal of the eclectic selection is that each piece is unique (unless a rare pair, like a lovely set of gladiator lamps), and there is no clear organization, inviting wandering and searching. The store boasts a clean website with online shopping and a weekly email list about upcoming tag sales, new items to keep fans in the loop, and contemporary art by locals. While its offerings may be far out of range for the average college student with a limited budget, the adventure makes the place more like a museum than a store.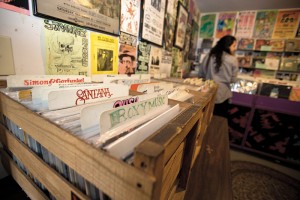 Lost Weekend Records Fear not, the record is not dead.
It may be easy to pass by the small three-room record shop tucked into the lower levels of a High Street home. It's inconspicuous and almost dive bar-esque, inhabiting three small, dim rooms. The place has character, boasting a magnificent record collection—everything from Bowie to Bob Marley and some contemporary artists. There's even a section dedicated entirely to Ohio musicians. Indeed, the entire location embodies the local feeling that is always welcome in a record shop, having no paid advertising and relying entirely on word-of-mouth. The price categories range from "well stocked" to "rare," so hardcore collectors and newcomers to vinyl can all walk away with something.

Columbus Commons From the outside, the Columbus Commons is clean, open, large, and located in a convenient area to access, especially with the parking lot right below. The Commons has a carousel for small kids, a tortilla stand, a Jeni's Splendid Ice Creams stand (another Columbus hot spot worth its weight in cream) with ample seating, and a giant chessboard. During the day you'll find a steady flow of people, some staying to eat a quick lunch during their corporate lunch hour and some just walking through on a city stroll. In the evening, the place is host to a multitude of events, including concerts, a food truck food court, and public rallies.
Katzinger's Deli Katzinger's Deli was abuzz with activity even as the lunch rush waned.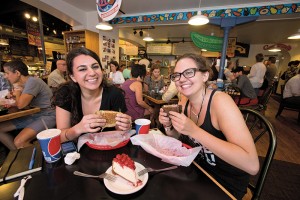 We had heard endless praise of the location but were still surprised by the length of the line. Luckily, the ample seating was sufficient and even a little more than enough to hold the crowd of hungry Katzinger's fans. It was almost good we had a few moments in line to peruse the menu; there were so many choices it was hard to decide even by the time we'd reached the register. The deli is obviously a community staple and a Columbus treasure, and it's easy to see why: a seemingly endless menu full of festive and unique names like "Jack Does the Funky Chicken" and "Fred's Jazzy Pita Treata." Inside, it's bright and spacious, and a deli line separates diners from those interested in take-out meats and cheeses. Many accolades line the walls—and Katzinger's deserves them all, too. Spirited atmosphere is one thing, and Katzinger's has plenty, but food is another business. The smoked salmon with red onion and scallion cream cheese on pumpernickel is a must.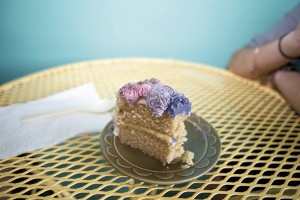 Pattycake Bakery Outside, a large smiling cupcake gives an early read on the festive and quaint atmosphere.
The interior is pastel and cute, small but with a few seating options. A large counter holds an assortment of varying sweets, including sticky buns and fresh cake. The staff members are helpful and enthusiastic, explaining the options and hardly suppressing their excitement at having someone taste the sweets they've made. We had the honor of trying the first slice of a lemon cake with lavender icing, and it was honestly the most delectable cake we can recall. The best part about the bakery is that it is vegan and a healthy alternative, so you can have your cake and eat it, too.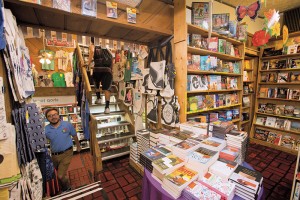 Book Loft German Village hosts a plethora of Ohio's local haunts, including the Pistacia Vera pastry kitchen and Katzinger's Deli, but behind a bright red awning and a fluorescent sign lie 32 rooms chock-full of "bargain books"—both used and new—in one of the country's largest independent bookstores.
Grab a coffee at any of the surrounding coffee shops—we personally recommend Stauf's, a local microroaster with lots of high-quality brews—and spend an hour or two perusing classics, travel books, or nonfiction. The hallways are fairly narrow, but lined with books, and every nook and cranny has been filled! A bookworm's dream.
Wait, There's More
Our student interns spent two full days in Columbus, but they couldn't hit all the hot spots recommended to them by faculty and staff, so follow the green boxes for even more C-bus fun.
Columbus Clippers A short walk from Nationwide Arena and the Blue Jackets, you'll find Huntington Park, home of the Columbus Clippers, a Triple-A affiliate of the Cleveland Indians. The Clippers are known for their skill (they just won the 2015 Governors' Cup), stadium (Huntington Park is shiny, clean, and built in 2009), and food (Dime-A-Dog and Buck-A-Bone are crowd favorites).
The Thurman Café Located in German Village, this is the place to get the best and biggest burgers in Columbus. Come with some extra time, though. They don't take reservations, and there's always a line.
Studio 35 Drafthouse meets independent movie theater at Studio 35 in Clintonville. Grab a beer, soda, or pizza at the bar and take it right into the theater which features new movies, classic cinema, and special events.
Lisska Bar & Grill Yes, Lisska. As in Professor of Philosophy Tony Lisska. The bar was started by Tony's uncle and is currently run by his cousin. Stop by for what's been voted the "Best Coconut Cream Pie in Central Ohio."
Downtown Columbus Library While it makes sense that many of our professors love the nationally recognized library, the building built in 1873 is known for more than just books—it also houses a topiary garden based on Georges Seurat's painting, "A Sunday Afternoon on the Island of La Grande Jatte."
Worthington Farmers Market Flower farmers, fresh veggies, crisp bread, handwoven baskets, honey infused with lavender, locally sourced meat, home-baked treats, and a never-ending supply of samples. Upward of 80 vendors line the streets of Worthington every Saturday.
Gallery Hop On the first Saturday of every month, more than 20 galleries and hundreds of nontraditional art venues (think restaurants and boutiques) exhibit acclaimed artists, many of whom are Ohio-based. Performers also settle on the streets to play live music while thousands of visitors converge on High Street.
Wexner Center for the Arts A lab and public gallery, the Wexner Center for the Arts (named after Limited Brands founder and longtime Columbus resident Leslie Wexner) is dedicated to the exploration and advancement of contemporary art. Stop by the internationally renowned center to watch a film screening, walk through a gallery, or see a performance.
Columbus Crew This Major League Soccer team is also a fan favorite in Columbus. Perhaps Professor of English Kirk Combe says it best: "Brats, beer, and MLS soccer. Real nice."
Short North Stage Located in the heart of Columbus' Short North Arts District, Short North Stage hosts and produces weekly performances, ranging from Broadway classics to one-act plays and everything in between. You might even catch a performance by Professor of Theatre Cheryl McFarren, who has been known to grace the stage.
Hoover Reservoir Located just east of Westerville, the Hoover Reservoir holds 20.8 billion gallons and offers patrons the chance to kayak, sail, fish, bike, picnic, and play Frisbee golf. You might even see the Denison Sailing Club practicing there.
Cafe Istanbul In the mood for Mediterranean? Grab some shish kebabs and baklava along with many other delicious Turkish food options at one of the three Cafe Istanbul locations.
Acorn Bookshop Booklovers rejoice! Grandview's Acorn Bookshop has been called "the literary equivalent of Cheers." Stop by to browse their collection of secondhand books—everything from cheap paperbacks to classic first editions.
Kingmakers Board Game Parlour Located in the heart of Columbus' Short North Arts District, Kingmakers boasts over 500 titles for play and a team of sommeliers to find the perfect game for your group.
Columbus Blue Jackets Show your Columbus pride by donning red, white, and blue to cheer on the Blue Jackets at the Nationwide Arena. The NHL team, whose name and logos are inspired by Ohio's Civil War history, was founded as an expansion team in 2000 and made its second trip to the Stanley Cup playoffs in 2014.
WE KNOW YOU'LL HAVE YOUR OWN FAVES. Write to us at denmag@denison.edu, and we'll publish your letters in our next issue.
Jillian Koval '16 is an English major from Westerville, Ohio. Golzar Meamar '16 is a political science major from Mission Viejo, California.
Published November 2015