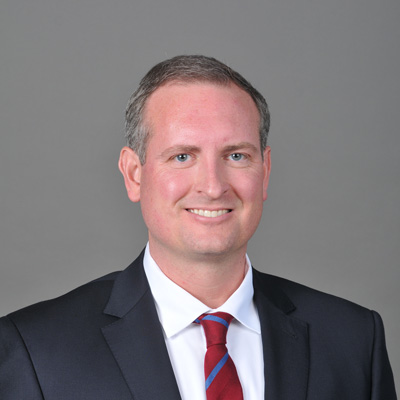 Bill
Fox
Dean of Student Support & Family Partnerships
Biography
This is my 15th year at Denison. I have served in a variety of Dean roles since arriving on campus in 2007. I grew up in New Jersey and spent many years in the Washington, DC area working in higher education.
I enjoy bringing my family to campus events and cheering on the Big Red! You can often find me enjoying a cup of coffee on the weekends at one of the coffee shops in Granville, the farmers market, or the bike trail or bioreserve.
It is a privilege to be able to work at Denison and within the field of higher education and student affairs. Educators made a difference in my childhood in such a way that helped me value learning and believe in myself. I am driven by the desire to see our students and community flourish. I feel like I am applying my talents in this work, acknowledging areas for growth, and coming to know more of myself in the process. My life's work thus far has exposed me to the life stories, struggles, and achievements of hundreds of young people. I feel fortunate to have benefited from their openness with me. Empathy is a personal strength and it is expressed in my daily work. These conversations have influenced how I live my life and serve as an educator and ally.
My role in the Division of Student Life is one that focuses on the holistic well-being of all students. My colleagues and I care deeply about student success, we are focused on creating policies, programs and practices that produce momentum for degree and goal attainment. We also seek to eliminate barriers to persistence. We support students as they respond to personal and academic challenges. As the divisional lead for parent and family communications, I communicate and partner with parents and families in ways that help them feel more connected to the Denison community and its resources that promote student thriving. I do this work in close partnership with Alumni & Family Engagement, Institutional Advancement, and other Student Life offices.
Additionally, I oversee our financial literacy and well-being center, select micro-grants for basic needs, campus values and student conduct office, CARE Network, university on call team, student enrollment status group, and other cross-divisional working groups.
Degree(s)
B.A. Political Science & Communication, James Madison University; M.A. Education Policy and Leadership, The Ohio State University; Executive Certificate in Nonprofit Management, Georgetown University; Ed.D. Higher Ed Management, University of Pittsburgh
Learning & Teaching
Academic Positions
2007-Present, Denison University
Dean of Student Support & Family Partnerships
Dean of Students
Associate Dean/Director of Housing & Residential Life
Prior to Denison, Dean Fox held positions at Georgetown University, CUA, and Capital University
Research
Dean Fox's research focuses on student success, organizational change, strategic planning, culture change, senior wellness officer positions, wellness initiatives, and healthy academic cultures.
Details
The Emergence of the Chief Wellness Officer in U.S. Higher Education, NASPA Strategies Conferences, 2020
Making the Case for a Chief Wellness Officer on Campus, NASPA Annual Conference, 2020
Re-imagining Student Government in Promoting Democratic Citizenship on Campus, NASPA Annual Conference, 2020
Becoming a Better Supervisor through Radical Candor, NASPA IV-E, 2018
Border Towns: Campuses work to make sure that the dividing line between town and gown doesn't become a line in the sand. pages 60-63
Generating and Utilizing Data to Inform Persistence-Related Priorities, NASPA Closing the Achievement Gap Conference, 2016
Title IX Investigations: Promising Practices and Lessons from Peers, NASPA IV-E Conference, 2014
ACUHO-I Virtual Roundtable: Title IX, October 2014
Assessing Social Culture on Residential Campuses: Approaches to Creating Safe Communities, ACUHO-I Annual Conference, 2014
College 101: Thriving on Campus, Presentation to University School Graduates, 2014
How to Succeed in Student Affairs (With or Without a Doctoral Degree), NASPA Annual Conference, 2014
ACUHO-I Virtual Roundtable: The Impact that Student Financial Aid Cuts Could Have on Housing Occupancy, July 2011
Legislative Updates: Public Policy Year in Review, ACUHO-I Annual Conference, 2009, 2010, 2011
Housing Officers' Responses to Changing Purchasing Regulations and Tax Codes, ACUHO-I Annual Conference, 2011
Grassroots Public Policy Advocacy: You Can Make a Difference, ACUHO-I Annual Conference, 2010
The Homestead Program: Cabin Living Year-Round with a Focus on Ecological Sustainability, ACUHO-I Annual Conference, 2009
Alcohol Prevention in Practice, Outside the Classroom AlcoholEdu Day at Georgetown University, 2007
On Student Culture: Guide to Sanctioning, JASPA Summer Institute-Fordham University, 2005
Linking Staff Training and Selection Processes, MACUHO Conference, 2004 Do What You Love and Love What You Do, MACUHO Conference, 2004
Preparing for the Next Step: A Career in Higher Education, MACUHO Conference, 2003
Promoting Civility: Initiatives in Student Character Development and Ethical Decision Making, MACUHO Conference, 2002
Our Different Paths Towards Community Development, MACUHO Student Staff Conference, 2001
Developing Leadership through Community Service-Learning, panel member, ACPA Convention, 2000
Service
Professional Service (includes Denison Service)
Granville Village Charter Review Commission Chair, 2021
NASPA: Student Affairs Administrators in Higher Education, Wellness & Health Promotion Leadership Strategies Conference Program Committee 2020-Present
BHAC: Building Healthy Academic Communities Advisory Board 2020-Present
ACUHO-I: The Association of College and University Housing Officers International Regional Affiliations Director, Executive Board 2011-2013 Term
Chair, ACUHO-I Public Policy Advisory Committee 2007-2011 Term
ASHE: Association for the Study of Higher Education
LeaderShape Institute, Cluster Facilitator