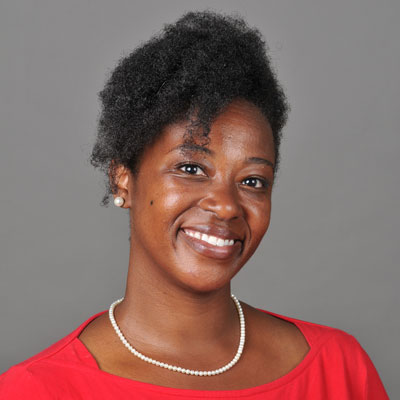 Trinidy Jeter

'04
Assistant Dean of Students
Director of Multicultural Student Affairs
Biography
Trinidy Jeter is the new Assistant Director for the Alford Community Leadership and Involvement Center. She graduated from Denison University in 2004 with a bachelor of arts degree in black studies. Her interest in supporting student leadership development within the collegiate environment was ignited during her undergraduate experience. Trinidy is a certified interpreter for the Myers-Briggs Type Indicator. She will oversee major campus programs, provide support for all student organization and advise the University Programming Council.
Trinidy earned her master of arts in higher education and student affairs from the Ohio State University. Her experience at OSU included multicultural affairs programming, greek life and student wellness. Trinidy's most recent position, as Student and Campus Activities at Bowling Green State University Firelands, included student leadership development, designing co-curricular experiences and campus-wide programming. At Kent State University, she served as the assistant director of the multicultural center and academic advisor. Her primary responsibilities included facilitating academic persistence workshops, student leadership training and recognition ceremonies. Her experiences allowed Trinidy to build relationships between collegiate constituents while encouraging civic engagement amongst students.
She is a strong proponent of the platinum rule: treat others how they want to be treated. Trinidy is originally from Sandusky, Ohio where she grew up spending time with her large family at Cedar Point. She enjoys traveling and spending time with her wonderful family.
Degree(s)
Bachelor of Arts Black Studies, Denison University
Master of Arts Higher Education Administration, The Ohio State University
Works
Presentations
Jeter, T. and Schwartz, J. 2005. A Comparative Study of the Study Abroad Programme Trends at Lancaster University. Lancaster University, Lancashire, England.
Myers-Briggs Personality Type Indicator, Kiwanis International Rotary Youth Leadership Awards Conference, Hiram University, Hiram, Ohio, June 2013-2016. Denison University, 2007-2016, Baldwin-Wallace University, 2011-2016.
Introverts vs. Extraverts in Student Affairs, OCPA, Columbus, Ohio, 2015.
LGBTQ Students of Color, Say What? Dialogue Series, Student Multicultural Center, Kent State University, 2014-2015.
Black Male Conference, The Impact of Personal Branding, University of Akron, Akron, Ohio, April 2013.
Service
Professional Memberships
National Association of Campus Activities
National Association of Student Personnel Administrators
Alpha Kappa Alpha Sorority, Incorporated
Other
Student Collaborations
Denison Campus Governance Association, Co-Advisor
University Programming Council, Advisor
Events and Traditions Council, Advisor