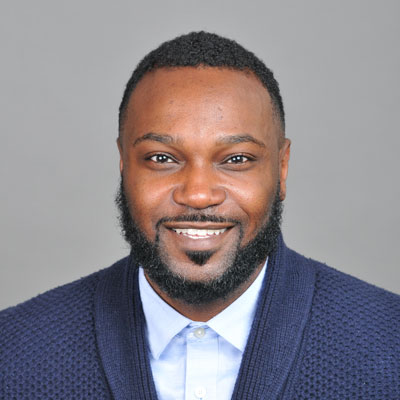 Thomas Witherspoon

'05
Associate Dean of Students/Director of Multicultural Student Affairs
Overview
Biography
As Associate Dean of Students and Director of Multi-Cultural Student Affairs, I am responsible for supporting students and student groups in their co-curricular learning. This work takes the form of coaching around self-advocacy, intergroup dynamics, and conflict resolution.
My work has a very distinctive focus on persistence, identity exploration, and graduation. My role has an emphasis on connecting university-wide in support of students from marginalized communities.
Additionally, I work with cohorts of students to develop and provide programs and services that support and enhance the academic, social, emotional, and overall success of students.
Before Denison, I worked at Dartmouth College as an Assistant Undergraduate Dean supporting and advising students on all issues that may impact academic success. I also served as Director of Cultural Education at Providence College where I was charged with creating awareness of cultural differences, support self-reflection, and building cultural competencies.
Additionally, at Boston University, I oversaw the strategic enrollment plan for multicultural students which span across Boston Universities nine undergraduate schools and college. In addition to strategic development, I also facilitated campus-based and national events, and staff trainings.
I started my career in education at the Posse Foundation as a Trainer and Program Director. During my tenure, I supported Posse Scholars, developed and facilitated retreats, managed partnerships with community-based organizations, school districts and college partners in both Atlanta and Chicago.
I am a proud Chicagoan, Denisonian, first-generation college graduate and Posse Alumnus. For fun, I enjoy photography, hip-hop culture, and spending time with family.
Degree(s)
B.A., Denison University; M.A., Northeastern Illinois University; Ed.D., New England College
Works
Presentations
Witherspoon, T.L. (2017). The Role of Student Development Theory in Transformational Coaching. Presentation delivered at the National KIPP School Summit, Las Vegas, NV
Hopkins, L.E. & Witherspoon, T.L. (2017). Explore, Engage, Excel: Social Justice and Non-Traditional Advising in a Traditional Setting. Presentation delivered at the NACADA Region 1 Conference, Verona, NY
Witherspoon, T.L. (2017). Transition Culture & Growth. Training delivered to the Division of Student Success at Rensselaer Polytechnic Institute, Troy, NY