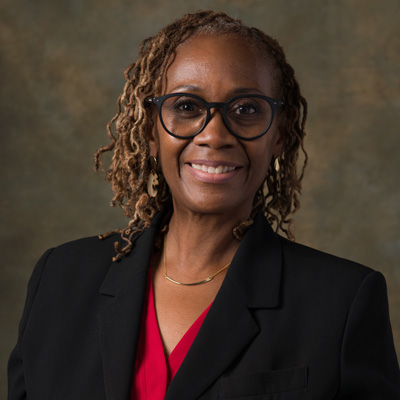 Pamela
Prescod-Caesar
Associate Vice President for Human Resources
Chief Human Resource Officer
Biography
I have been a passionate Human Resources professional for more than 25 years. I thrive on helping others achieve their potential, and my work in HR and coaching has allowed me to do work that is personally and professionally rewarding.
Human Resources encompasses various areas that support employees in the workplace. We manage the employee life cycle through recruitment, onboarding, employee development, and competitive total rewards.
We contribute to cultivating a positive and diverse campus culture through intentional engagement and creating opportunities to gather and learn from one another. These happen through various events such as HR Lunch and Learns on different topics and offer meaningful opportunities to participate in projects and celebrate. These events help to create a sense of belonging and enrich our culture.
I am excited to be at Denison. We want to continue attracting and retaining the best and brightest people, help them thrive in a vibrant and evolving workplace, and offer meaningful work, career growth, and development opportunities to our existing employees.
When I'm not at work, I love to experiment in the kitchen with new recipes. I also like to explore and learn about wine and pair the different varietals with the perfect meal. The most fun for me is to share a good meal and wine with friends.