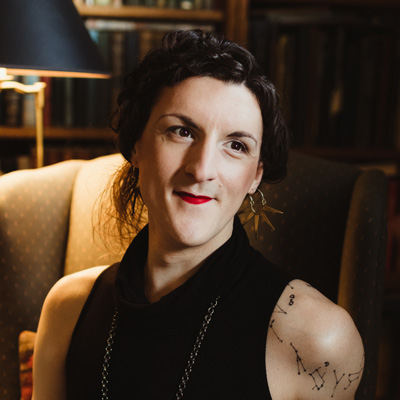 Michael J.
Morris
Visiting Assistant Professor
Biography
Michael J. Morris is a choreographer, performer, scholar, and educator working across and between dance studies, performance studies, gender studies, and sexuality studies. Their work is concerned with destabilizing normative categories through which bodies are made to live and proliferating difference as an irreducible multiplicity through which more lives might come to matter.
Morris is currently a Visiting Assistant Professor at Denison University where they teach in the Department of Dance, Queer Studies, Women's and Gender Studies. and Environmental Studies. They were the Intrerim Chair of the Denison Department of Dance in 2017. They hold a PhD in Dance Studies from The Ohio State University, where they were awarded both the Presidential Fellowship and the Graduate Associate Teaching Award, the highest recognitions for graduate research and teaching at Ohio State.
Morris' dissertation "Material Entanglements With the Nonhuman World: Theorizing Ecosexualities in Performance" examines the ways in which performances of dance, performance art, and pornography provide modes of thinking the ecological entanglements between sexuality with the more-than-human world. Morris' writing has been published in The Oxford Handbook of Dance and Theater, edited by Nadine George-Graves, the European Journal of Ecopsychology, edited by Jamie Heckert, Choreographic Practices, TDR: The Drama Review, and Dance Chronicle. They have presented their research at a number of international, national, regional, and local conferences, including PSi (Performance Studies International); the Dance Studies Association (formerly the Congress on Research in Dance and the Society of Dance History Scholars); Queer Places, Practices & Lives; Transforming Care Conference: Midwest Conference on LGBTQ Health Equity and HIV/AIDS; the TransOhio Transgender and Ally Symposium; In Bodies We Trust: Performance, Affect, and Political Economy; Meanings and Makings of Queer Dance; Staging Sustainability: Arts, Community, Culture, Environment; Environmentalism Outside the Box: An Ecosex Symposium; and the EcoSex Symposium II.
Morris approaches choreography and performance as research modalities, investigatory practices that look to bodies and composition for their knowledge-making potential and their capacities to invent and innovate social relations. Their work has been presented at universities, galleries, community spaces, theaters, bars and nightclubs, films, domestic spaces, and most recently the Wexner Center for the Arts. Morris' choreographic and performance work draws influences from early formalist postmodern dance, queer burlesque, Japanese Butoh, and ritual practices. Morris has studied Butoh in both the U.S. and at the Kazuo Ohno Studio in Yokohama, Japan. Morris has been performing queer burlesque since 2012. They were a principal dancer with Viva Valezz! and the Velvet Hearts! and were a featured performer in the 2015 Fierce International Queer Burlesque Festival. In their performance work, they have collaborated with artists and scholars including Annie Sprinkle and Elizabeth Stephens, Maree ReMalia, CoCo Loupe and Mina Estrada, Rashana Perks Smith, Courtney Harris and Charli Brissey, and Catriona Sandilands, among others. Morris has also served as dramaturge for Available Light Theatre, Maree ReMalia | merrygogo, the Baker & Tarpaga Dance Project, and James Graham Dance Theatre.
At Denison University, Morris teaches coursework in transgender studies, queer studies, cultural studies, movement analysis, writing about dance, modern/postmodern dance practices, and yoga, while also choreographing new dance works for the department. At OSU, Morris taught courses in writing about dance, the history of western concert dance, yoga, modern dance technique, and ballet technique. They are certified to teach Labanotation through the Dance Notation Bureau in NYC. They also completed their 200-hour Lotus Flow Yoga Teacher Training at Laughing Lotus Yoga Center in San Francisco, and are a Registered Yoga Teacher through Yoga Alliance.
Alongside their scholarly and artistic practices, Morris has also curated multiple queer porn screenings, served on the planning committee for Performance Art Exploratorium and Performance Art Day at Wild Goose Creative, and taught a weekly Queer Yoga class (sponsored by Queer Behavior) in Columbus, Ohio from 2011 to 2015. They currently serve on the Board of Directors for Wild Goose Creative.
*Michael J. Morris identifies as genderqueer/nonbinary and uses gender-neutral pronouns (they/them/their).
Degree(s)
B.F.A. in Dance, Belhaven University, Ph.D. in Dance Studies, The Ohio State University
Other
Honors & Awards
Presidential Fellowship and the Graduate Associate Teaching Award, the highest recognitions for graduate research and teaching at The Ohio State University.