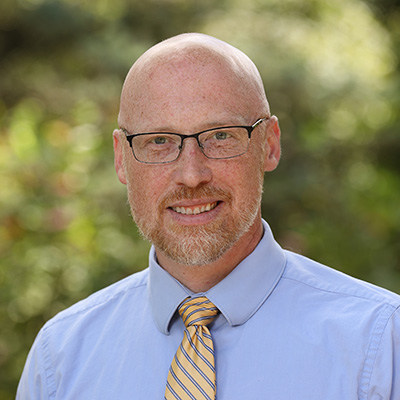 Michael C.
Brady
Senior Dean
Associate Director, Data Analytics
Biography
With over 20 years of experience in higher education, Dr. Mike Brady started at Denison in 2009 and is thrilled to currently serve students and the college as Denison's first Senior Class Dean. In all the roles I have held ranging from Admissions Counselor, Professor, student government advisor, to administrator, the common thread (and motivating passion) is always working with students to thrive and find success in their college careers. As Senior Dean I work and meet with individual seniors and groups to problem solve, make connections, develop programming, identify resources, mentor, help with post-grad plans, work on academic and personal concerns, and advise on nearly anything related to the senior experience on campus. I encourage any senior to schedule a one-on-one meeting, ask me to attend a group gathering, drop by office hours, invite me to events/meetings, join me for coffee, or simply just chat and wave as we cross paths at all the many things happening on campus. Mostly, I'm excited to listen to, learn from, and facilitate opportunities for Denison Seniors to make the most of their last year on "The Hill", prepare to launch into the life of the alumni, and ideally work together to continue to make Denison the place we are all proud to be a part of.
Prior to taking on the Senior Dean role in the summer of 2022, I was part of the interdisciplinary team of faculty that designed Denison's Data Analytics Program, and served as its Associate Director since 2017. In that role I helped build and manage the program, develop and teach within the curriculum, manage the summer internship experience, develop community and business partnerships,cultivate job and internship opportunities for students, advise students on academic issues, and especially work with majors to find success in their academic and post-graduate plans. Originally, I joined the Denison community as a faculty member in the political science department teaching courses and conducting research focused on American politics, including Congress, polarization, elections, and political psychology).. I still love politics and the process of discovery that is central to data analytics because both involve creative problem solving. While I will miss teaching courses, the Dean role really combines my passion for problem solving, discovery, and education in a new exciting way.
Both before and during my time at Denison I've had a variety of experiences that I know will inform my work as Dean and shape my views on Denison and higher education more broadly. At Denison I served as an advisor to its student government for 6 years learning a lot about student issues and social concerns. I've also served on multiple governance committees (Finance, chaired Student Enrollment and Retention, and chaired Information Technology) providing a breadth of exposure to the university's operations and resources.
In my first 10 years at Denison I lived in Granville near the senior apartments, before moving to Newark where I live with my daughter Mirabelle (whom you are also likely to see with me on campus!). I enjoy games, trivia, (badly) playing sports, and the outdoors. Ask me to play racquetball sometime, there's a good chance you'll win. The child of a high school English teacher, I went to a large public high school in my hometown outside of Tampa, FL. So I do enjoy football, and love playing fantasy in the fall. I did my doctoral work at Duke University, but more importantly, am a proud graduate of Davidson College where I was a political science major and math minor. Having spent so much time in North Carolina I traded college football for basketball and am always up for a bit of March Madness.
Truly, it was my time at Davidson, followed by a 2 year stint in its admissions office, that solidified my passion for the liberal arts in a small residential community. I look forward to working with Denison seniors to help cap an experience that I hope leaves a similarly strong impression for their careers.
Degree(s)
B.A., Davidson College; M.A., Ph.D., Duke University
Learning & Teaching
Courses
Intro to Data Analytics
Practicum in Data Analytics
Data Analytics Colloquium
Ethics of Data
Foundations of Quantitative Reasoning
Introduction to American Politics
Analyzing Politics
Politics of Congress
Campaigns & Elections
Constitutional Law
Senior Seminars focused on Political Psychology, Voting, & Behavior
Works
Publications
Selected Publications and other works:
Lee, Daniel J. and Michael C. Brady. 2020. "Coordination and Party Change in the United States." American Politics Research. 48(6): 807-821. https://doi.org/10.1177%2F1532673X20921370.
Brady, Michael C. 2020. "Adventures in Data Analytics and the Liberal Arts: Context, Challenges, Lessons." Presented at 2020 Academic Data Science Leadership Summit.
Lott, Greg, Michael C. Brady, and Sena Dahlin. 2019. "Adaptation of the Coaching Efficacy Scale to a New Context." Presented at 2019 ICCE Global Coach Conference in Tokyo, Japan.
Neiheisel, Jacob R. and Michael C. Brady. 2017. "Congressional Lettermarks, Ideology, and Member Receipt of Stimulus Awards from the U.S. Department of Labor." Research and Politics. July-September:1-6
Brady, Michael C. and Paul A. Djupe. 2016. "Assessing citizen views of interest group alliances." Interest Groups & Advocacy. 5(3): 301-326. doi: 10.1057/s41309-016-0001-x. 
Brady, Michael C. and Daniel J. Lee. 2014. "Another tool in the party toolbox? Tracing the strategic expansion of committee size in the US House 1947-2010." Party Politics. OnlineFirst: 1-13. 
Aldrich, John, Michael C. Brady, Scott de Marchi, Ian McDonald, Brendan Nyhan, David Rohde, and Michael Tofias. 2008. "Party and Constituency in the U.S. Senate, 1933-2004" in Why Not Parties? Nathan W. Monroe, Jason M. Roberts, and David Rohde, eds., Chicago: University of Chicago Press.
Brady, Michael C. 2009. "A Party in the Conference Room: Partisan Politics and the Modern Conference Committee" Dissertation. Duke University.
Other
Student Collaborations
"Denison Food Pantry Usage Analysis" by Paneri Patel and Claire Powell. Research and summary report conducted at the request of Denison Senior Staff in 2021-22.
"The effects of Immigration and changing Foreign-Born demographics on US income Inequality, 2000-2010" by Erich Brandstetter as 2019 summer scholar
"Party Defection in U.S. Presidential Elections (1948-2016)" by Hanora Lucey as 2017 summer scholar.
"Congress Has a Major PR Problem: The Causes and Consequences of Discontent with the U.S. Congress" by Katie Elia, 2016 summer scholar.
"Who's Represented at the Polls? Investigating the Role of Personal Economics in Voting and Public Opinion" by Gabe Murray as 2015 summer scholar.
"Social Media and Voting: How Voting is Impacted in the Age of Technology" by Brittany Bower. 2015.
"Scheduling for the Election: Strategic Agenda Setting by House Majority Leaders" by Meghan Pearce, 2014-15 Fellow for the Center for the Study of Presidency and Congress.
"Nationalized Elections and their Consequences: Understanding the Role of Party Spending in Midterm Loss" by Ian Shapiro. 2013.
"Profiles in Courage and Circumstance: The party switches of Senators Harry Byrd Jr. and Jim Jeffords to Independence" by Sydni Franks, 2012-13 Fellow for the Center for the Study of Presidency and Congress.
"Motivating Corporations to do Good: The Role of Governmental Pressure in the Adoption of CSR" by Maggie Burnside. 2012.
"Conditions for Environmental Reform: Committee Cases from the U.S. House, 1981-2010" by Nicki Jimenez. 2012.
"From Grassroots to the Chamber Floor: The Tea Party's Effect on the U.S. House of Representatives" by Sam Fleuter, 2012 summer scholar.
"Combating Party Polarization" by Christina Bazak, 2011-12 Fellow for the Center for the Study of Presidency and Congress.