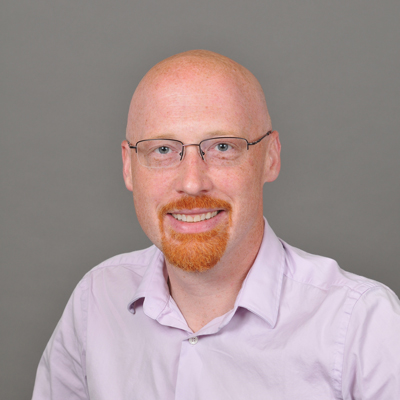 Michael C.
Brady
Associate Director, Data Analytics
Biography
As part of the team of faculty that proposed and designed Denison's new Data Analytics Program, Mike currently helps build and manage the program, its curriculum, the summer internship experience, develop community and business partnerships. Michael originally joined the Denison community as a faculty member in the political science department in the fall of 2009. Prior to moving to Granville, where he lives with his daughter Mirabelle, he was a political science major and math minor at Davidson College, a former admissions counselor, doctoral student at Duke University.
Mike has taught a variety of courses in American Politics and Data Analytics. In the Data Analytics Program, Mike teaches an introductory course as well as the Junior Practicum where students learn through a semester-long collaboration with real-world clients. In political science, Mike's courses included: Introduction to American Politics, Politics of Congress, Constitutional Law, Research Methods, Campaigns & Elections, and Political Psychology. An active academic advisor and mentor, Mike regularly advises student's in independent research as summer scholars, senior researchers, and academic fellows.
Mike's political science research in American politics and political institutions focuses on the contemporary U.S. Congress and the factors that influence member behavior, coalitions of legislators, and legislative outcomes. Much of this work relates to furthering our understanding of the role parties, leaders, polarization, committees, and electoral forces play in congressional politics. His work also engages broader issues of how elites, parties, and groups strategize, represent, and wield power as well as the causes, consequences, and future directions of polarization and effective representation in the U.S.
In addition to his teaching and research and Data Analytics work, Mike served for 6 years as the faculty advisor to Denison's student government association (DCGA), student senate, and executive committee. He is a past member and chair of the Selection, Enrollment, and Retention Committee (SERC) and Information Technology Committees (ITAC). Mike was also the faculty coordinator of the Babcock Lecture Series for the last 8 years.
Degree(s)
B.A., Davidson College; M.A., Ph.D., Duke University
Learning & Teaching
Courses
Intro to Data Analytics (DA 101)
Practicum in Data Analytics (DA 301)
Introduction to American Politics (POSC 110)
Analyzing Politics (POSC 201)
Politics of Congress (POSC 307)
Campaigns & Elections (POSC 309)
Constitutional Law (POSC 374)
Senior Seminars — currently focused on Political Psychology (POSC 491)
Works
Publications
Selected Publications:
Neiheisel, Jacob R. and Michael C. Brady. 2017. "Congressional Lettermarks, Ideology, and Member Receipt of Stimulus Awards from the U.S. Department of Labor." Research and Politics. July-September:1-6
Brady, Michael C. and Paul A. Djupe. 2016. "Assessing citizen views of interest group alliances." Interest Groups & Advocacy. 5(3): 301-326. doi: 10.1057/s41309-016-0001-x. (gated link) 
Brady, Michael C. and Daniel J. Lee. 2014. "Another tool in the party toolbox? Tracing the strategic expansion of committee size in the US House 1947-2010." Party Politics. OnlineFirst: 1-13. (gated link)
Aldrich, John, Michael C. Brady, Scott de Marchi, Ian McDonald, Brendan Nyhan, David Rohde, and Michael Tofias. 2008. "Party and Constituency in the U.S. Senate, 1933-2004" in Why Not Parties? Nathan W. Monroe, Jason M. Roberts, and David Rohde, eds., Chicago: University of Chicago Press.
Other
Student Collaborations
Recent collaborations:
"Motivating Corporations to do Good: The Role of Governmental Pressure in the Adoption of CSR" by Maggie Burnside. 2012.
"Conditions for Environmental Reform: Committee Cases from the U.S. House, 1981-2010" by Nicki Jimenez. 2012.
"Nationalized Elections and their Consequences: Understanding the Role of Party Spending in Midterm Loss" by Ian Shapiro. 2013.
"Social Media and Voting: How Voting is Impacted in the Age of Technology" by Brittany Bower. 2015.
"From Grassroots to the Chamber Floor: The Tea Party's Effect on the U.S. House of Representatives" by Sam Fleuter, 2012 summer scholar.
"Combating Party Polarization" by Christina Bazak, 2011-12 Fellow for the Center for the Study of Presidency and Congress.
"Profiles in Courage and Circumstance: The party switches of Senators Harry Byrd Jr. and Jim Jeffords to Independence" by Sydni Franks, 2012-13 Fellow for the Center for the Study of Presidency and Congress.
"Scheduling for the Election: Strategic Agenda Setting by House Majority Leaders" by Meghan Pearce, 2014-15 Fellow for the Center for the Study of Presidency and Congress.
"Who's Represented at the Polls? Investigating the Role of Personal Economics in Voting and Public Opinion" by Gabe Murray as 2015 summer scholar.
"Congress Has a Major PR Problem: The Causes and Consequences of Discontent with the U.S. Congress" by Katie Elia, 2016 summer scholar.
"Party Defection in U.S. Presidential Elections (1948-2016)" by Hanora Lucey as 2017 summer scholar (in process for upcoming chapter in an untitled volume on party voting and the 2016 election)