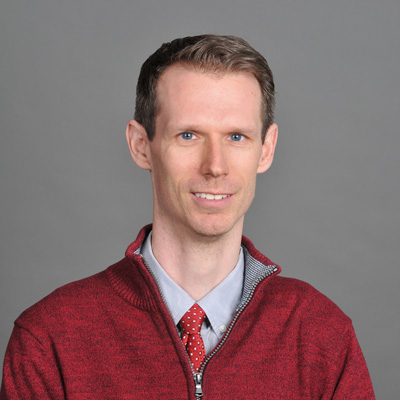 Matthew W.
Slaboch
Visiting Assistant Professor
Degree(s)
B.A., University of Illinois; M.A., University of Kansas; Ph.D., Indiana University
Learning & Teaching
Courses
POSC 120 Politics in Democratic States
POSC 180 Introduction to Political Theory
POSC 181 The Rise and Fall of Nations, Empires, and Civilizations
POSC 322 Politics of Russia and the Post-Soviet States
POSC 339 Nationalism
POSC 339 Politics Through Film
POSC 346 The European Union
POSC 359 Central and East European Politics
POSC 382 Modern Political Theory
POSC 389 Comparative Political Theory
Academic Positions
Visiting Assistant Professor of Political Science, Denison University, 2018-present
Postdoctoral Fellow at the James Madison Program in the Department of Politics, Princeton University, 2017-2018
Visiting Assistant Professor of Political Science, Denison University, 2016-2017
Adjunct Instructor in Global and Historical Studies, Butler University, 2013-2015
Research
I have interests in political theory/philosophy and comparative politics (i.e., the domestic politics of foreign countries), and my work draws from both fields.
Details
My book, A Road to Nowhere, begins with a simple observation: slogans from several recent American presidential campaigns share an important feature in that, if taken seriously, each asks us to consider the nature and trajectory of historical change. Ronald Reagan's "Morning in America" theme had an optimistic ring to it, focused particularly on American national improvement. Barack Obama's campaign of "hope" was no less optimistic, but it did not explicitly exclude countries other than the United States from participating in positive "change." And Donald Trump's imploration to "Make America Great Again" combines pessimism about current national affairs with nostalgia for some unspecified past and optimism about the future. Which vision holds closest to the way change unfolds? Is progress a purely national affair? Or is it universal? And is it linear? Or does it follow a jagged path? Perhaps we have no reason to expect future progress at all – maybe there is no inevitable march toward the "right side of history." Questions like these are of the sort with which I deal in my book. For answers, I look not to politicians, but to an eclectic mix of historians, philosophers, and novelists. Cross-national in scope, my book examines not only American writers, but German and Russian authors, too. I focus especially on criticisms of the idea of historical progress, which I suggest political theorists have unduly marginalized. I argue that, at a time of worldwide uncertainty about the future, we have good reason to study critics of the idea of progress: whether we are ultimately persuaded by their ideas or not, we should consider what they have to offer.
Works
Publications
Book
A Road to Nowhere: The Idea of Progress and Its Critics, University of Pennsylvania Press (2018)
Article
" 'Eadem, Sed Aliter': Arthur Schopenhauer as a Critic of 'Progress,'" History of European Ideas, Vol. 41, no. 7 (Oct. 2015), 931-947
Chapter
"Tocqueville's Philosophy of History: Its Meaning and Significance for Russia and Central and Eastern Europe," in P. Boettke and A. Martin (Eds.) Exploring the Social and Political Economy of Alexis de Tocqueville, Palgrave Macmillan (2020), 83-99
Review
Review of Vanessa Rampton, Liberal Ideas in Tsarist Russia: From Catherine the Great to the Russian Revolution, Cambridge University Press (2020), Global Intellectual History (published online August 18, 2020)
Service
Professional Memberships
Copyeditor, Comparative Political Theory
Editorial Board Member, Človek a spoločnosť [Individual and Society]
Reader, AP Comparative Government