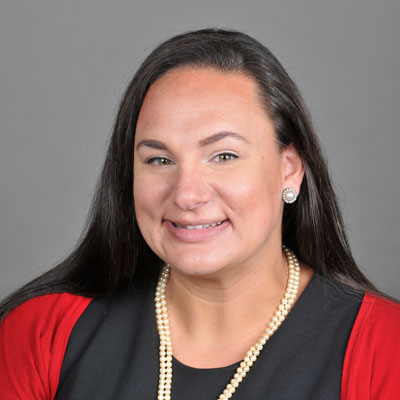 Léna
Crain
Associate Dean of Students
Director, Community Values & Conflict Resolution
Biography
Denisonians are intellectually curious, thoughtfully express questions and ideas, and are attuned to movements from the campus to a global level. That's me as an educator, too. Being a student in a residential liberal arts environment shaped my life trajectory. I had a professor who used to say, "Life is a cumulative exam," an idea I think about often; each person's seemingly unrelated experiences and choices uniquely equip us for our roles and relationships. In my case, that role is as an educator, which I deeply enjoy.
Many of us chose Denison for its sense of community. Community means developing rapport and dialogue through difference, so we can connect to one another and to resources – and challenges – in the world, and work on making progress together. In the Office of Community Values and Conflict Resolution, we help students improve community by working through complex interpersonal and organizational challenges. There is a cultural aversion to healthy conflict, but with it, we can answer complex questions: How does one resolve dissonance with fairness and compassion? How can we understand, forgive, and restore? How might we build a community where all members feel recognized and valued? Part of community also means navigating discomfort, seeing it as an occasional and healthy experience through which we grow, and even working through mistakes. OCVCR supports those important journeys.
I'm always happy to connect about a wild idea, favorite read, dream destination, or future goal. You can find me at many Denison fine arts, athletic, and cultural events, or connect with me in Slayter Hall or Huffman Center.
Degree(s)
B.A., Baldwin-Wallace College; M.S., Oklahoma State University; Ph.D., University of Maryland
Learning & Teaching
Courses
Culture, Conflict, and Environment