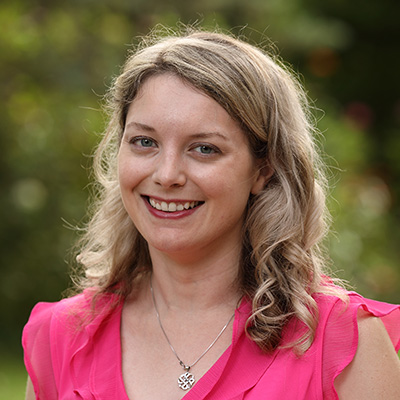 Kelsey
Jones
M.A., LPCC
Biography
My career path into college counseling is an example of the impact of a liberal arts education. I received my undergraduate degree from Miami University, where I majored in Communication and Comparative Religion and minored in Family Relationships. Each of these areas of study allowed me to explore significant questions – how and why we communicate; how we view the world and our place in it; and how we function as individuals and as parts of a system. The more I studied these questions, the more I was committed to meld these areas of interest into a cohesive career focus, which I ultimately found in clinical counseling.
Later, I received my master's degree in Clinical Counseling from The Ohio State University. During my graduate training, I worked at Ohio Dominican University and provided mental health services to students through individual counseling and outreach programming. This internship helped spark my enthusiasm in assisting young adults as they navigate the exciting yet often challenging college experience. Since arriving at Denison University in 2016, I have worked with students through one-on-one counseling, group sessions, and psychoeducational programs. In the 2018-19 school year, I served in the role of First-Year Care Coordinator, where I provided clinical and outreach services specifically to the first-year class.
I approach therapy through a wellness-focused, strengths-based lens, which involves incorporating clients' interests and abilities into a plan to help them achieve their goals. My clinical approach integrates aspects of CBT, ACT, Reality Therapy, and Motivational Interviewing. I have received additional training and continue to explore professional development opportunities around grief and trauma-informed approaches. Additionally, I am very interested in using creative interventions in sessions to help make counseling more meaningful and impactful to clients.
Degree(s)
M.A. - Clinical Counseling
Service
Professional Memberships
American College Counseling Association (ACCA) - Member