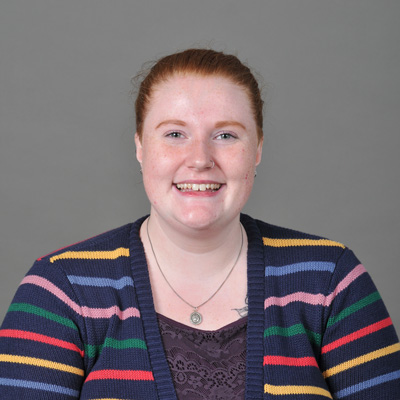 Juliana E.
Burch
Biography
Before coming to Denison, I had never been to Ohio! I was born in Minot, North Dakota but grew up in Hancock, Maine. I graduated from the University of Maine at Farmington in 2019 with an B.A. in English Literature and a minor in International and Global Studies.
At UMF, I worked in Student Life, or Residential Communities, as a Community Assistant for three years. I also worked as a Learning Assistant with the University Library, and as a Mentor and Teacher's Assistant with the Humanities department.
During that time, I found that I loved helping students transition into and maneuver their way through college. I also learned how essential self-care is to an individual, especially a student, and worked to better my understanding of mental health and the resources that were available to the students I was working with. As this dedication to assisting students grew, and my graduation date drew closer, I found that I wanted to continue working in Residential Life, and in Higher Education.
Denison has everything I want in a university, as it combines the community and charm of a small college, with the educational opportunities of a large scale university. The passion of the students and attentiveness of the faculty and staff is reflected in every aspect of Denison, and I am so excited to be a part of it.
I work with sophomore and junior students in Huffman Hall, Shaw Hall, East Hall, and Gilpatrick House of the East Quad. I will also be working with Wellness Education as a liaison between Whisler Center for Student Wellness and Residential Communities. You're welcome to stop by my office in Huffman Hall and say 'Hi!' I look forward to meeting you and hearing what brought you to Denison!
Degree(s)
B.A. in English Literature with a minor in International and Global Studies