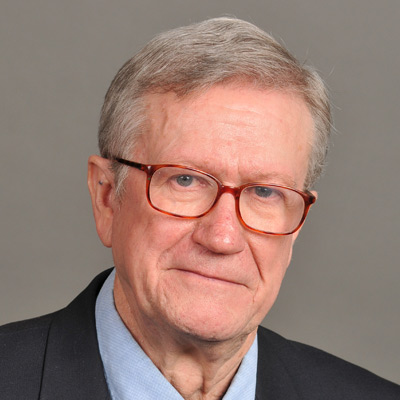 Don
Bonar
Biography
When Don Bonar wrapped up the final class of his 50-year teaching career at Denison, his students stood and "clapped him out." It was a memorable moment, one that left the gentle, unassuming mathematics and computer science professor in tears. His has been an incredible run at Denison — complete with two books, scores of articles and presentations, and a nomination in 2013 as a national "Teacher of the Year" by the Denison chapter of Kappa Alpha Theta.
Don and Marty are eager to enjoy their 640-acre farm that borders the beautiful Ohio River, with his daughter, Mary (a 2001 Denison graduate), Mary's husband, and Bonar's two grandchildren. They often take a rest (aka a "boat break" or "train break") to watch the tow boats and trains as they pass by the farm. Bonar has been in the classroom, on one side or the other of the teacher's desk for 73 consecutive years, having started in a one room school in West Virginia with one teacher, eight grades, one pot-bellied stove, one bucket of water, one dipper, and two outhouses.
From that small schoolhouse, Bonar would go on to earn a B.S. in chemical engineering and an M.S. in mathematics from West Virginia University, and a Ph.D. in mathematics from Ohio State.
Bonar started his teaching career at Denison in 1965, taking a brief hiatus to join a world-renowned mathematician at Wayne State University before realizing that mathematician had just embarked on a two-year leave, leaving the country-loving Bonar to face a post-riot Detroit. He stayed nine months before realizing that Denison again had an opening. It was offered to him, and he asked for two days to think it over. His wife, however, said, "You say 'yes.' Right now." He did.
At Denison, he served as chair of the Mathematical Sciences Department for more than six years, served on the President's Advisory Board, received the prestigious R.C. Good Fellowship, was named the first holder of the George R. Stibitz Distinguished Professorship in Mathematics and Computer Science, and received several awards for teaching excellence.
Throughout his career at Denison, Bonar also has been a big part of the Granville community, serving on the school board from 1973 to 1980, taking on the vice presidency for three years and the presidency for one. During that time, he served on the board of the Licking County Joint Vocational (now C-TEC) school board. And he volunteered as the Denison representative to the Granville Foundation.
But teaching always has been at his core. "I often think of the students and their parents. The parents have given their very best in those formative years of zero to 18," says Bonar. "They rightfully should expect much caring and nurturing from professors as their young adults move ahead with life. I welcome that type of obligation and challenge."
When Don Bonar was leaving Denison for that hiatus at Wayne State back in the '60s, he says he remembers driving down the main drag, thinking he was leaving some place special. As he leaves today, Denison can't help but think he made it even more so during the last 50 years.
At Denison's 175th Commencement exercises on May 14, 2016, Bonar was conferred with emeritus status.
Degree(s)
B.S.Ch.E., M.S., West Virginia University; Ph.D., Ohio State University
Research
I have four manuscripts in various stages of completion that support the teaching of 1) mainstream calculus, 2) advanced calculus, 3) linear algebra, 4) complex analysis. Each small book is not a textbook but is a book (approximately 100 pages) that I believe will be useful to students, teachers, and professors.
Works
Publications
Real Infinite Series (with Michael J. Khoury '03) in Mathematical Association of America (MAA). 2006.
On Annular Functions Daniel D. Bonar, 1971.