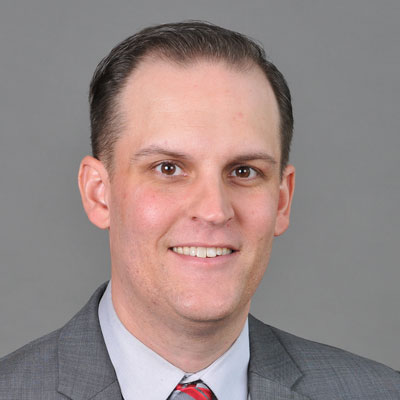 Craig
Hicks
Assistant Athletic Director for Athletics Communications
Biography
Craig Hicks has served as the Sports Information Director at Denison University since 2002. Hicks coordinates the day-to-day publicity of Denison's 23 varsity sports while serving as the primary media contact for Denison athletics. Since his arrival he has guided the department through three complete website redesigns. In addition, Hicks has assisted Denison in hosting numerous North Coast Athletic Conference and NCAA Championship events as well as the publicity surrounding Denison's men's swimming and diving national championship in 2011 and 2012.
In 2008 Hicks oversaw the creation of the Denison Sports Network, organizing an training a team of student broadcasters to provide live audio and video play-by-play over the Denison athletics website.   Hicks has also had the opportunity to promote numerous Capital One Academic All-Americans and NCAA Postgraduate Scholars since 2002-03, helping Denison rank among the national leaders in these two prestigious categories. In 2011 he led a committee that developed a visual identity guide for the athletic department. The development of social media has also been a focal point under Hicks, as Denison's twitter and facebook pages have gained popularity among fans since its inception in 2009.
A native of Sugarcreek, Ohio, Hicks came to Denison after spending two years as the Graduate Assistant in Sports Information at Ashland University. As an assistant at Ashland, Hicks was involved in the daily operation of the Eagles' 20-sport Division II athletic program. Hicks received his Bachelor of Science from Ashland University in 1999 and graduated with majors in Journalism/English and Sports Communication. In May of 2002 he received his Master of Science in Sports Education, also from Ashland University.
In between his undergraduate and graduate years, Hicks spent 1999-2000 as an intern in the athletic ticketing office at the University of Notre Dame. He has also served internships with the Cleveland Indians AA affiliate, Akron Aeros (1998), and the Ashland University Public Relations office (1999).
He is an active member of CoSIDA (College Sports Information Directors of America) serving as a District Coordinator on the Capital One Academic All-America committee, in addition to his role as a New Media Coordinator for the Capital One Academic All-America program.
Degree(s)
B.S., M.S.Ed., Ashland U.