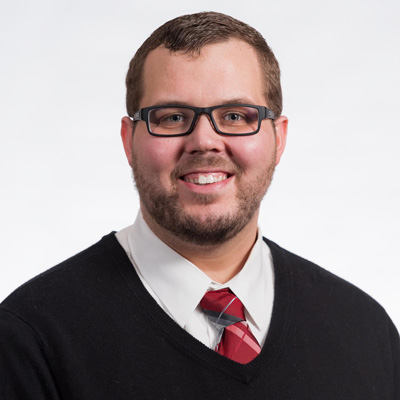 Christopher
Wood
Assistant Director of Residential Communities
Biography
Chris began working at Denison in July 2018 as the Assistant Director of Residential Communities. In Chris' role, he oversees East Quad including supervision of Community Coordinators, the full-time professional staff members that manage the day-to-day operations of the residence halls. Chris realized early in his college career that he wanted to work in education, but did not want to work in a traditional classroom. Through active involvement as an undergraduate student, Chris learned about the profession of Student Affairs.
In May 2013, Chris graduated from Otterbein University with a Bachelor of Arts degree in Speech Communication and a minor in Music. Chris then went onto graduate school at The Ohio State University where, in May 2015, he earned a Master of Arts degree in Higher Education and Student Affairs. Chris' first professional role took him to Maine, where he worked for a year as an Area Coordinator (similar to a Community Coordinator) at the University of New England. Following this role, Chris worked for two years at American University in Washington, D.C. as a Community Director.
Chris was excited to return to his home state of Ohio for this role at Denison as family is very important to him. As an only child growing up in Mendon, a small town in northwest Ohio, Chris has always cared deeply about individual relationships and making meaningful connections with those around him. Outside of Denison, Chris is very connected to his family and loves spending time with his pug, Stella.
Degree(s)
M.A. Higher Education and Student Affairs from The Ohio State University, B.A. Speech Communication from Otterbein University