Seeds of Terror:
How Heroin is Bankrolling the Taliban and al Qaeda
by Gretchen Peters
An investigative breakdown of how the heroin trade funds the al Qaeda in Afghanistan. As Afghanistan becomes the primary battleground in the war on terror, this book gives an inside look at the different challenges the U.S. faces there–challenges not often shown on the evening news.
Turtle Island
by Gary Snyder
A book of poems that was published more than 30 years ago, but continues to haunt me. Snyder's words describing nature are quiet, simple, and command attention. These poems help me understand ecology through a nonscientific lens, which can be very good for a scientist!
Asian American Dreams:
The Emergence of an American People
by Helen Zia
This book details personal and political issues that surround Asian-American women. It is historical and undercover–most of the depicted events are not well known, but they are brought to light here with clarity, passion, and intelligence. Asian American Dreams illuminates the strength of making the political personal and, sometimes, the personal political.
Still Alice
by Lisa Genova
Alice Howland, a cognitive psychologist at Harvard, is diagnosed with early-onset Alzheimer's disease. This graceful and candid book reveals the two years of Alice's life (and that of her family) immediately following her diagnosis.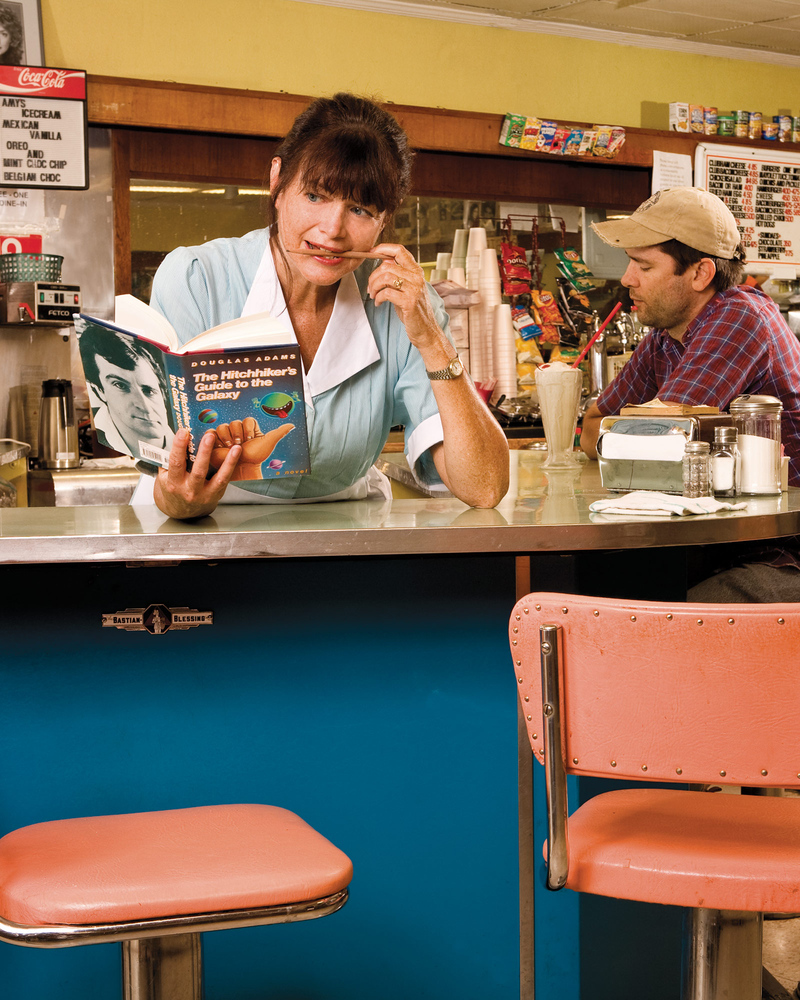 The Hitchhiker's Guide to the Galaxy
by Douglas Adams
The Hitchhiker's Guide trilogy is all you ever wanted to know about everything that ever existed in the history of existence, and it's delivered in the most excellent style of Douglas Adams. He's witty. He's insightful. He's British. Enough said.
Some of It Was Fun: Working with RFK and LBJ
by Nicholas de Bellevile Katzenbach
Katzenbach was the product of a prominent family, attending Princeton, Oxford University (as a Rhodes Scholar), and Yale Law. He exemplifies the "Establishment." In 1961, he was selected as legal counsel to the Department of Justice, under Bobby Kennedy. Among his many tasks was to play key roles in opening Ole Miss and the University of Alabama to black Americans. Upon JFK's death, Katzenbach became Attorney General of the United States under Lyndon Johnson. His book provides fascinating insights into the 1960s and the evolution of American politics–some points have a strong message for the contemporary scene.
Dune
by Frank Herbert
Academics tend to knock science fiction for its lack of literary content. Frank Herbert's masterpiece has more content than any sci-fi book I've ever read, including a delicious allegory to our current dependency on foreign oil.
Straight Man
by Richard Russo
If you really want to know what college life is like on the other side of the desk, read Straight Man. It's so accurate (it's fiction, but Russo is a college professor), that I try to re-read it every other August right before classes start, just to get me in the right frame of mind.
Atlas Shrugged
by Ayn Rand
This masterpiece is a must-read for anyone with a vested interest in freedom and living a just, moral life. Rand paints the picture of the ideal man, and the events of this amazing novel eerily mirror those of our lives today as government control continues to expand and freedom is eroded.
Whatever It Takes:
Geoffrey Canada's Quest to Change Harlem and America
by Paul Tough
Whatever It Takes describes Canada's efforts to create an education system for Harlem that would effectively move children through a sound development process toward their participation in higher education. But that makes it sound like a dry read. It's great non-fiction: incisive history, touching profiles of both people who struggle against the odds and people who struggle to change the odds, inspiration, and a thoughtful reporting of research on a program that appears to be working.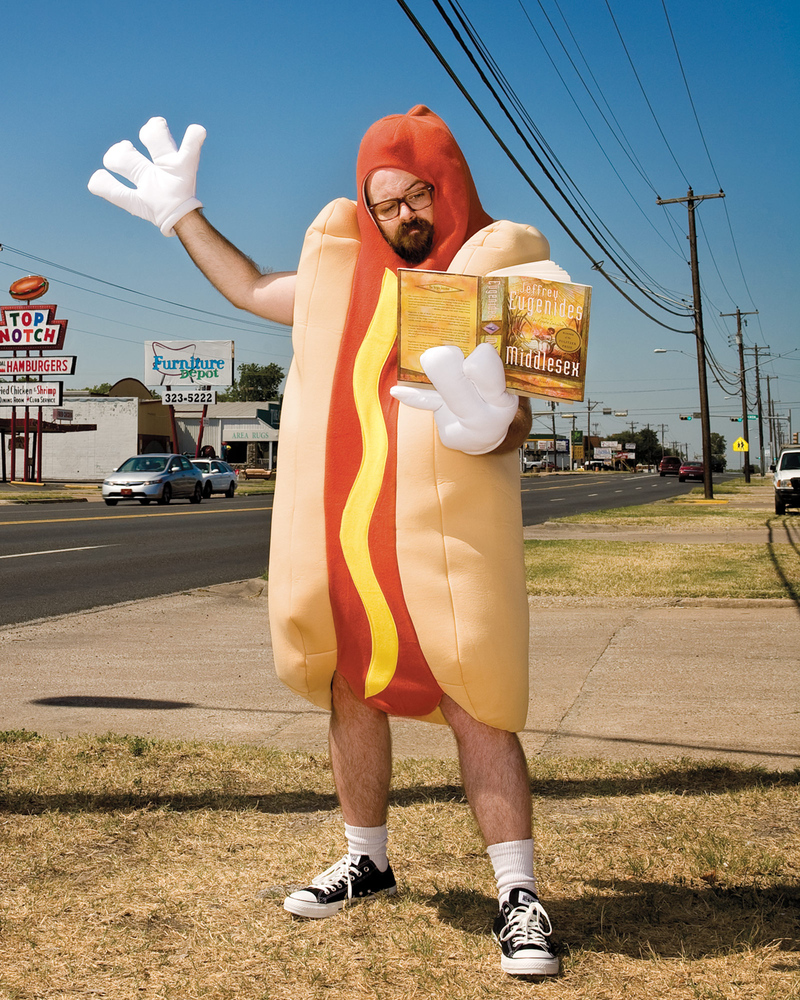 Middlesex
by Jeffrey Eugenides
The story of a Greek family, as narrated by Cal, the grandchild afflicted with sexual dimorphism, a condition that would define his adult life. The story deals with immigration in the early 20th century, the automobile assembly line, prohibition, the Detroit riots, a pilgrimage to San Francisco, and the connections and secrets of a family through it all.
Hot, Flat, and Crowded:
Why We Need a Green Revolution–and How it Can Renew America
by Thomas L. Friedman
This book is timely because of the urgent global and environmental challenges it deals with, and Friedman is an incisive and entertaining writer.
Three Cups of Tea:
One Man's Mission to Promote Peace... One School at a Time
by Greg Mortenson and David Oliver Relin
Mortenson was a mountain climber who happened upon a rural Pakistani village called Korphe. He promised the Korphe people that he would return and build them a school. An incredibly inspirational book about Mortenson's commitment to literacy in Pakistan.
Predictably Irrational: The Hidden Forces That Shape Our Decisions
by Dan Ariely
Written by an MIT behavioral economist, this book is not "about your grandfather's dismal science," as noted in The New York Times Book Review. Rather, it is filled with examples of how consistently our economic choices belie the iconography of rational behavior. That is, it explains why "people tend to behave irrationally in a predictable fashion." Read this book and you will be extra wary the next time you either make a significant financial expenditure or go shopping for the most insignificant item.
Breath: A Novel
by Tim Winton
Winton has crafted a compact and powerful coming-of-age tale centered around surfing. Breath explores how risking death ultimately pales in comparison to confronting the vicissitudes of one's life, even the apparent monotony of taking the next breath. Although Winton has long been acknowledged as Australia's foremost novelist, Breath distills his gifts: compelling yet lyrical prose, an abiding interest in plumbing the depths of the human condition, and an almost spiritual engagement with the untamed nature of western Australia.
The Pillars of the Earth and World Without End
by Ken Follett
I have gazed and wondered at some of the world's great cathedrals and thought about the "how" of them, but I had never considered the "why." Follett addresses the subject masterfully in his historical novels, The Pillars of the Earth and World Without End. Although he is a fiction writer, Follett offers a fantastic glimpse into life in the Middle Ages and both books are full of characters you will miss when you are through reading. Think life is a challenge right now? A whiff of the 12th century will cure that.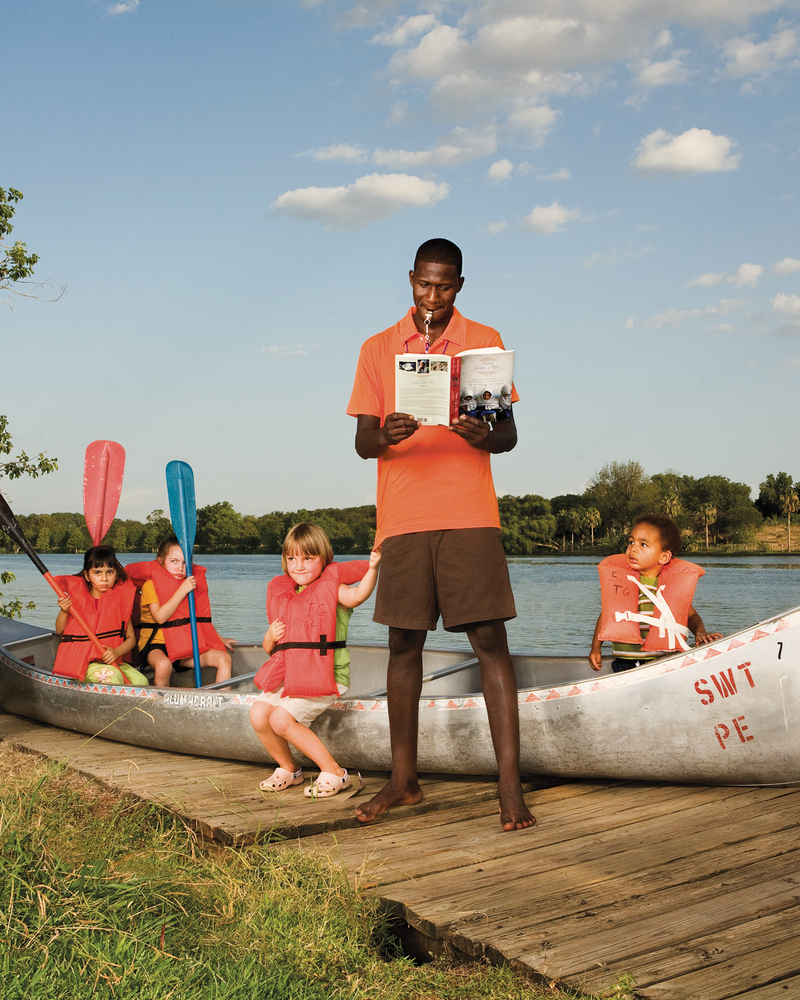 And if you plow through these in one week at the beach, you can try these...
Ceremony, by Leslie Marmon Silko
I have read few books that treat their characters, themes, and words so carefully as this. Ceremony is filled with important ideas and inspirational perseverance. –Sean Walt '11
The Alchemist, by Paulo Coelho
A poetic transformation story about the beauty and power in staying true to ourselves and following our dreams. –Vianna Alcantara '09
The World Without Us, by Alan Weisman
A non-fiction book that explores what would happen to the world if suddenly there were no humans left. Weisman incorporates themes of ecology, evolution, environmentalism, and history in order to imaginatively report on how–or if–the world could recover once our civilization has gone. –Samantha Rumschlag '10
The Devil Wears Prada, by Lauren Weisberger
The book is slightly different than the film and worth a read. I actually got the audio book from my library and listened to it last summer in the car over a period of a week or two. It was great because it was something to listen to without hearing the same songs on the radio, but it's not a book that requires all your attention either. Plus it's an entertaining break from the serious books we read during the academic year. –Nick Reshan '12
Atlas Shrugged, by Ayn Rand
Though written in the 1950s, today's sales of Atlas Shrugged are surging as the book is eerily relevant to current economic circumstances. Even if one doesn't agree with Rand's philosophy of Objectivism, it's becoming increasingly important to learn about the potential perils of ever-growing government. –Lauren Meyer '10
One Bullet Away, by Nathaniel Fick
Generation Kill: Devil Dogs, Iceman, Captain America and The New Face of American War, by Evan Wright
Both books are about United States Marines in Iraq and what young, college-aged men do for our country. Generation Kill is an excellent, holistic critique on our generation from a social perspective. Both would contribute incontestably to the liberal arts background because they cover the modern concepts of patriotism, sacrifice, and modern war; concepts that are unfortunately viewed as politically incorrect, or ignored and not spoken of for other illegitimate reasons, like politics etc. –Will Minor '09
The Curious Incident of the Dog in the Night-Time, by Mark Haddon
This mystery novel is from the first-hand perspective of a teenager with Asperger syndrome. It's a fantastic way to learn about Autism Spectrum Disorder–the fastest-growing developmental disorder that touches everyone's life in some way–in a fun, lighthearted way. –Lauren Meyer '10
Metamorphosis, by Franz Kafka
An evocative story about a young man's changes both physically and mentally. A fun read for summer that will keep you thinking. –Laura Masters '10
The Twilight Series, by Stephenie Meyer
These books aren't the most challenging reads, but they are fun, suspenseful, and entertaining–a completely different take on vampires and good for a light summer read! –Marla Kramer '09
The Bridge at the Edge of the World, by James Gustave Speth
A book about the current issues in the global environment. It provides a critique of developed nations and neoliberalist mentalities regarding environmental preservation. –Sam Keenan '10
Pride and Prejudice, by Jane Austin
A classic that's still relevant today. The story is compelling from start to finish. –Kathryn King Douglass '11
The Beautiful and Damned, by F. Scott Fitzgerald
I love the plot and the time period in which this book is set. Fitzgerald's writing is enchanting and one can easily become engrossed in his novels. The Beautiful and Damned is a classic, and most certainly, a must-read. –Kelsey Kerr '11
Into the Wild, by Jon Krakauer
Hearts in Atlantis, by Stephen King
Two must-read summer books. Both are surrounded in themes of the relaxing summer months, and remind readers to enjoy the gifts of nature and youth. Into the Wild is particularly poignant, as it follows a recent graduate of Emory University as he embarks on his goal of self-sufficient living in the Alaskan wilderness. Although I am not moving to Fairbanks anytime soon, I will certainly be re-reading these classic novels! –Kat Lenhart '09
The Giving Tree, by Shel Silverstein
Everyone wishes they had a special relationship with something grounded that would hold them up. This lucky boy has found that in a tree, rooted in the ground with limbs for him to climb. A seriously good classic, this book will never go out of style. –Laura Masters '10
Open Veins of Latin America: Five Centuries of the Pillage of a Continent by Eduardo Galeano
Galeano's intriguing account of Latin American exploitation from its colonial "discovery" to present day, sparked controversy when Venezuelan President Hugo Chavez presented it to Barack Obama at the Summit of the Americas. It's a must-read for understanding politics and social realities in Latin America. –Kimberly Lewis '10
A Summer of Hummingbirds, by Christopher Benfy
Benfry is a regular critic in Slate Magazine (www.slate.com) and a professor at Mount Holyoke College. Last year he published A Summer of Hummingbirds, a very literary, narrative look at one summer, but really the era around 1882, and the interconnections of Thomas Higginson, his postal protégé Emily Dickinson, the later life of Harriet Beecher Stowe as her fame from "Uncle Tom's Cabin" melts into the chaos of her Beecher family (plus asides from Mark Twain, George Sand, and Henry Flagler.)  Somehow, it all hangs together, but almost like a half-awake dream in a summer hammock. Well worth a couple of summer afternoons, and years of musing after A Summer of Hummingbirds has lodged in your thoughts. –Jeff Gill, freelance writer for Denison Magazine
The Anglo Files, A Field Guide to the British, by Sarah Lyall
I've been to England a couple of times, and I know what a popular destination it is for studying abroad. The book was hilarious and informative, and explained some stereotypes that I found to be absolutely true. –Erica Hughes '10
Lust in Translation: The Rules of Infidelity from Tokyo to Tennessee, by Pamela Druckerman
Considering the roles that family values and sexuality play in the modern media and politics, this smoothly-written, well-researched book on what couples do during and after cheating is fascinating. Its chapters range from the African AIDS crisis to Japanese prostitutes to Indonesian polygamy. –Erica Hughes '10
Rules for Radicals, by Saul Alinsky
College campuses are becoming increasingly occupied by politically motivated students.  Alinsky's book frames how populations without formalized power can still act politically despite their marginal social positions.  This book is a great read for people who are passionate about social equality and political representation but do not yet know how to best display their agendas or begin their movement. –Mark Heckmann '11
Tomorrow's Table: Organic Farming, Genetics and the Future of Food, by Pamela Ronald and Raoul Adamchak
Popular food writer Michael Pollan, who will visit Denison next year as part of the MacGregor Connections Initiative's theme of "consumption," says: "Whether you ultimately agree with it or not, Tomorrow's Table brings a fresh approach to the debate over transgenic crops." As this debate, among others, will perhaps enter the Denison conversation this year, others might want to begin to turn their attention to our nation's addiction to cheap food that is ultimately unhealthy for the soil, the crop, the farmer, the environment and the consumer. –Evelyn Frolking, visiting instructor
of English and first-year programs
The Phantom Tollbooth, by Norman Juster
Summer (amplified by the current times) calls us back to childhood. This wonderfully "punny" book captures the struggle with, and victory over, culturally-supported ignorance.  –Steve Doty, associate professor of physics
Dark Tower Series, by Stephen King
If you are a Stephen King fan, you don't know him until you read this series of seven books.  This is not just a specific tale, it also references many of King's other works and will provide insight into what was behind some of these other stories. Read them all in order as a marathon and you won't need to look for anything else this summer. –David Selby, support services manager, Information Sciences and Technology
The Coronary Garden, by Ann Townsend
The Pale of Settlement, by Margot Singer
Why not start summer reading right here with two of Denison's faculty writers? The Coronary Garden is rich, lyrical, full of motherhood, gardening, and the complex songs of the human heart. Margot Singer's award-winning book of short stories, meshes the politics of religion and culture with the complexities of family and personal identity. –David Baker, professor of English.
Game On, by Tom Farrey
My summer reading suggestion for anyone with children or anyone remotely interested in the youth of America would be Game On. Here is an excerpt: "Youth sports isn't just orange slices and all-star trophies anymore. It's 14-year-olds who enter high school with a decade of football experience, 9-year-olds competing for national baseball championships, 5-year-old golfers who shoot par, and toddlers made from sperm donated (for a fee) by elite college athletes. It's a year-round "travel team" in every community–and parents who fear that not making the cut in grade school will cost their kid the chance to play in high school. In short, a landscape in which performance matters more than participation all the way down to peewee basketball." –Mark Watts, assistant football and strength conditioning coach
Reverence: A Forgotten Virtue, by Paul Woodruff
The best book I have read in 10 years. The paperback by a professor of philosophy, who specializes on ancient Greece, compares the fundamental virtue behind human civility in the classical West with the comparable virtue in ancient China. –Barry Keenan, professor of history
Housekeeping, by Marilyn Robinson
A small treasure of spare and evocative writing. –Brenda Boyle, assistant professor, English
Crossing to Safety, by Wallace Stenger
One of the best books I've read in a long time.  It is a moving and exquisitely written story of a lifelong friendship between two couples who meet as young faculty members. –Bobbie Falquet, senior development officer in the Office of Major and Planned Giving
Moneyball, by Michael Lewis
 It's about the summer game, for one thing, which makes it appropriate summer reading. But it's also a great book even for those who don't care about baseball, since it is really about how we think about and measure success (on the field, in the office, and in life). –Bill Kirkpatrick, Communication
On Writing, by Stephen King
 Summer is when a lot of us do our writing, and this book encourages us to think about the craft of writing in both technical and spiritual ways, from one of the masters.  Although a lot of it pertains to writing fiction, even academic writers will benefit from his insights into the process and mentality that creates spaces for great prose. –Bill Kirkpatrick, visiting assistant professor, communication
Dandelion Wine, by Ray Bradbury
I read Dandelion Wine at the beginning of every summer.  It always gets me in the mood to take advantage of the warm weather. –Christopher Bennett
Tortilla Curtain by T.C. Boyle
A provocative tale of a clash of cultures that makes the reader question one's own beliefs. "How would I react?" is the question that kept popping into my head as I read the story. He is a great storyteller and writer. The conclusion is startling and leaves the reader with more questions than answers. –Bobbie Falquet, senior development officer in the Office of Major and Planned Giving
The Great War At Sea 1914–1918, by Richard Hough
At this point in history, I believe naval warfare is approaching a major transition, just as it did around the turn of the last century. This book is an excellent case study in how naval strategy has transitioned in the past. –James Burger
The Know-It-All, by A.J. Jacobs
This is a must-read for anyone with a strong love of learning about anything and everything. A comical narrative of one man's journey to read the entire Encyclopedia Britannica in one year, The Know-It-All is a hilarious adventure through the world of information–the serious and not-so-serious. –Michelle Kailey '10
The Great Gatsby, by F. Scott Fitzgerald
A true classic and a favorite from high school.  Complete with a look into the lives of the rich and privileged, murder and deception, this 1920s classic reads like a modern day soap opera. –Steve Crawford, director, Office of Alumni Relations
Liberty and Tyranny, by Mark R. Levin
Any responsible, politically active, or curious American should read Liberty and Tyranny. The book highlights the founding of this great nation, the principles that have and do govern it, and contemplates the future of the nation. –Robert Steele '10
1491: New Revelations of the Americas Before Columbus, by Charles C. Mann
The parts of history we never covered in class … Well written and interesting, it might open your eyes to a whole new world. –Emily Anderson '10
The Lost Art of Listening: How Learning to Listen Can Improve Relationships, by Dr. Michael P. Nichols
A fantastic book. I have noticed that the average American lacks what is a basic knowledge of listening. If this is a direct result of the competitiveness of capitalism, I do not know, but few things are more important than understanding our peers and the people with whom we interact. –Johan Heurlin '10, international student from Sweden
For twist-and-turn, complex and exciting, can't-put-down reads, anything by Ludlum or Clancy will do nicely. For pick-up/put-down mystery fun try Clive Cussler, Robert Parker, or Dick Francis. For science fiction go to Christopher Paolini (Eragon, Eldest, and Brisinger... these are every bit at good as any Harry Potter book, people!) or Christian fiction writer Ted Dekker (Black, White, Red–these will make you think). And for some of the best writing I have ever enjoyed–books good for the whole family and for reading to children a chapter at a time, pick up James Herriott books. Nothing better under the sun. You can smell the heather, feel the wind on your face in the hills, hear the dogs bark. –Laura Bracken, staff assistant, student affairs
A Long Way Down, by Nick Hornby
A story of a few people who all go up to a roof to jump, for a variety of suicidal reasons, and instead form a unique bond. It's the story of what happens when they all decide not to die. –Julie Dean '10
Quiet in the Garden, by Aliki
If you have very young children, I'd recommend Quiet in the Garden. This is a story about a boy who notices all of the tiny critters in his backyard upon sitting quietly for a few minutes.  He learns to appreciate their simple beauty and the extent to which they are connected to one another in the "circle of life."  It has beautiful illustrations in which our 3-year-old enjoys searching for every last bug! –Laura Romano, assistant professor, biology
Published August 2009