New Staff in Student Life
Announcements & Updates
Join us in welcoming the new staff in the Division of Student Life and get to know more about them here.
Nicole M. Ausmer, PhD
My work: I am one of two Associate Vice-Presidents/Dean of Student Life—I get the privilege to develop and interpret policies that govern student engagement outside the classroom including student conduct, community standards and values, residential and event policies and procedures, and policies defining the relationship of student organizations to the University.
Office Location: Slayter 409
Hometown: Lorain
Favorite Quote: "If at first a task begun, never leave it until it is done. Be the labor great or small, do it well or not at all." -Germaine Jackson
Degree(s): B.A. Psychology; MEd. Educational Foundations; PhD Educational Studies
Grayson Blythe
My work: Community Coordinator for North Quad; which includes the Senior Apartments and North Loop.
Office Location: Taylor House 100
Hometown: Wooster, Ohio
Favorite Quote: "Find out who you are and do it on purpose." - Dolly Parton
Degree(s):  M.Ed., Westminster College; B.A. English, Davis & Elkins College
Mara Cannon
My work: Administrative Assistant for the Alford Community and Involvement Center/ Supervisor of CLICker Student Employees
Office Location: Slayter 310
Hometown: Mount Vernon
Favorite Quote: "Progress is impossible without change, and those who cannot change their minds cannot change anything."- George Bernard Shaw, Writer
Jade Croucher
My work: As the Social Life Coordinator, I work collaboratively to build and foster meaningful, vibrant opportunities for Denison students to connect with each other. I work directly with the Bandersnatch, Moon Hall, and late night programming on-campus with student organizations.
Office Location: Slayter 315
Hometown: Caldwell, OH
Favorite Quote: "Find out who you are and do it on purpose." -Dolly Parton
Degree(s):  B.S. Human Development & Family Sciences, The Ohio State University; M. Ed. College Student Personnel, Ohio University (Spring 2022)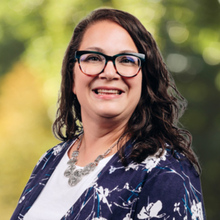 Tami Johnson
My work: Residential Communities and Housing Administrative Assistant
Office Location: Curtis Community Center
Hometown: That's a tough question. I currently live in Pataskala, OH. I was born in San Diego CA, raised in Detroit, MI, Carmel, IN, and Crystal Lake, IL.
Favorite Quote: "Do not go gentle into that good night, Old age should burn and rave at close of day; Rage, rage against the dying of the light. - Dylan Thomas"
Degree(s):  B.A. in Communications, Southern New Hampshire University (expected Fall 2022)
Mary Kate Kennedy
My work: As the Director of Community Values and Student Conduct (OCVSC), I work to ensure students are aware of the expectations related to being a Denison University student and help facilitate the student conduct process when expectations may not have been met. My hope in this work is that we can be proactive in helping students craft decisions based on a value set that will carry on with them when they graduate from the university. Additionally, through the work OCVSC does on campus, we are hoping current and prospective students, faculty, and staff feel welcomed and safe in this environment.
Office Location: Huffman Hall
Hometown: Cleveland, Ohio
Favorite Quote: "Stay afraid, but do it anyway. What's important is the action. You don't have to wait to be confident. Just do it and eventually the confidence will follow." - Carrie Fisher
Degree(s):  B.A. Broadcasting/Mass Communications, Baldwin Wallace University; M.Ed Student Affairs in Higher Education; PhD Higher Education, Ohio University (present doctoral student)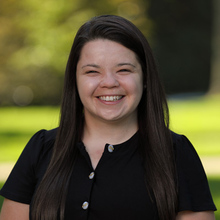 Klaire Mathews
My work: As a Community Coordinator, I supervise a select number of Community Advisors in Residential Communities & Housing. I am also responsible for building community in my assigned area alongside my Community Advisors, and managing the overall wellness of my buildings and the residents that fall in my designated area on campus.
Office Location: Shorney
Hometown: Columbus, OH
Degree(s): B.A. Theology and Religious Studies, John Carroll University; M.Ed Higher Education Administration, Kent State University
Stephanie McLemore
My work: I serve as the University Chaplain and Director of Religious Life. I provide resources to various religious and spiritual student groups and offer pastoral care to the wider community.
Office Location: The Open House
Hometown: South Bend, IN
Favorite Quote: "And the day came when the risk to remain tight in a bud was more painful than the risk it took to blossom." ― Anais Nin
Degree(s):  B.A., Kalamazoo College; M.Div, University of Chicago
Russell Morrow
My work: I support the academic, social, career, and personal development of students from racially, ethnically, and culturally diverse backgrounds. I also provide inclusion, diversity, and equity training and education to the student community.
Office Location: Slayter 404
Hometown: Martin, Tennessee
Favorite Quote: "If you wanna make the world a better place, take a look at yourself and then make that change" - Michael Jackson
Degree(s):  B.S. Communications and Media Arts, Ohio University; M.Ed College Student Personnel, Ohio University; Ed.D Educational Administration, Ohio State University
Adam Wood
My work: I work directly with the Community Coordinators and with the Community Advisors, in our shared efforts to help cultivate inclusive communities, where students feel connected, safe, and that they belong on-campus.
Office Location: Silverstein Hall C105
Hometown: Meshoppen, PA
Favorite Quote: "Find out who you are and do it on purpose." - Dolly Parton
Degree(s):  B.S. Organizational Communication, Mansfield University of Pennsylvania; M.Ed. Higher Education Administration, Kent State University
Posted Date
Wednesday, April 20, 2022