President's Speeches & Writings
Denison's Partnership with the Posse Foundation
December 10, 2019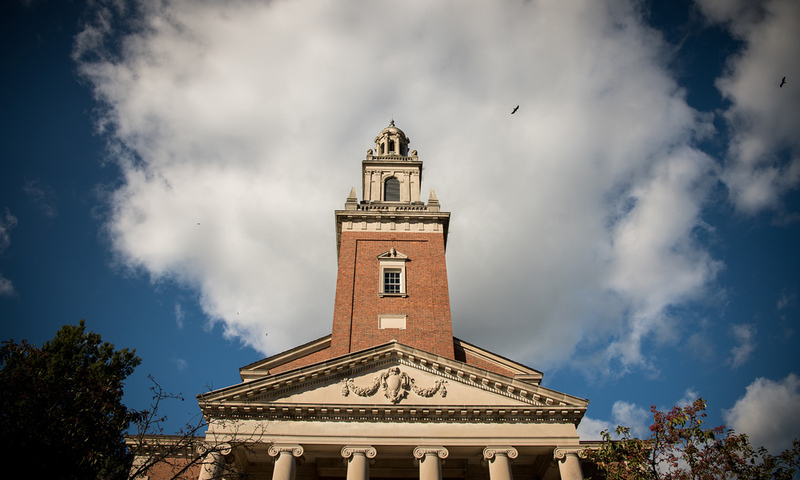 Dear Campus Community: 
Denison has a long-standing commitment to increasing diversity and to ensuring our campus is a place where all students thrive in a welcoming and supportive environment. We have invested deeply in a wide range of efforts in support of that commitment and we have made notable progress. Recently, we've been evaluating how to best continue this important work, while also expanding our efforts to best meet the needs of students and the university today.
That review has led us to make some decisions about our path forward, including a change to our partnership with the Posse Foundation. When we started working with Posse in 2001, Denison was not a diverse community. Over the past 18 years, Posse has helped us build a more diverse applicant pool and develop ways to support our students once on campus. Through Posse, we receive 40 applications each year from students in Chicago and Boston. Denison awards Posse Scholarships to 20 of these incredible students for whom we then provide mentorship and other support.
As we have worked with Posse over the years, we also have focused on building the recruiting capacity of our own admission team. We have established relationships with other community-based mentoring organizations, have expanded our mentoring capability, and broadened the resources, programs and support we provide to our diverse student population. With Posse, and through these other efforts, we have become a more diverse Denison. In 2001, 467 students of color applied to Denison. Last year, 2,500 applied.
Recruiting a diverse student community continues to be a top priority for the college. As we evolve, we are focused on a range of opportunities to enhance our work on diversity and inclusion, including how to better support students throughout their four years at Denison, how to help launch students into careers, and how to make Denison more financially affordable. With these additional areas of focus in mind, we have decided to transition away from the Posse partnership, a process that will occur over the next four years, so that we can provide more financial resources and support for students from diverse backgrounds and invest more in our own staff and programs that contribute to these goals. What does this mean?
First, I want to be clear that it does not mean we are walking away from our focus on increasing racial and ethnic diversity on campus. As mentioned previously, we have built a strong recruitment foundation within our own admission team and through other community-based mentoring organizations. That work will continue.
Second, nothing changes in our support for current and incoming Posse Scholars. We are extremely proud of all of our Posse students and will continue to support them through graduation and beyond in exactly the same way. Denison will continue to partner with Posse as all current and incoming students move through their Denison education. It does mean that the group of Posse Scholars graduating in 2024 will be our last cohort. 
Posse has been an important partner to us. Now, as we work to become a more diverse and inclusive campus, we want to invest in more and different ways to meet our current needs and challenges. We are going to focus on and devote more resources to the following areas:
First, continue to expand recruitment of, and award scholarships to, students from diverse backgrounds through partnerships with a wide range of mentoring organizations: Our admission team will use the scholarship funds currently committed through the Posse Program to support students applying to Denison through more than a dozen mentoring organizations and charter school networks, with whom we've begun to partner over the last decade, including: A Better Chance, A Call to College, Chicago Scholars, College Now, College Promise, I Know I Can, KIPP, New Jersey SEEDS, Noble Network, Say Yes to Education, Schuler Scholars, Sutton Trust, and Yes Prep. This will allow us to continue to recruit students from our Posse cities of Boston and Chicago while extending more deeply into Columbus and broadening our geographical diversity into cities like Cleveland, Buffalo, Houston, Denver, New York and San Francisco.  
Second, enhance mentoring and career support for students: We will take what we have learned through our work with Posse and other mentoring organizations and make changes to better support all of our students. This includes incorporating the distinctive needs of diverse students as we embark on a reimagination of the first-year experience at Denison. You will hear more about this next semester from Dean of First-Year Students Mark Moller. We also will continue to put more resources toward helping students from diverse backgrounds launch successfully into jobs and graduate programs through support from the Knowlton Center. To guide this work, we have added a full-time staff member to focus on first-generation college students and students who come from diverse backgrounds. We also have enhanced program budgets to make sure every student can afford to do internships and other career exploration related programs.
Third, increase resources focused on creating an inclusive campus: Denison is a more diverse and supportive college than it was 20 years ago. We have an Office of Multicultural Student Affairs, a more diverse faculty and staff, and more staff and programs focused on diversity and inclusion. And we still have lots of work in front of us. One expression of this ongoing work will be the addition of an Assistant Director to work in the Office of Multicultural Student Affairs and support C3 organizations. We also must continue to focus on hiring faculty, staff, and administrators who represent the diversity of our community. To do this work, we will continue to refine our hiring and retention processes.
Fourth, make sure we do everything we can to make Denison financially affordable to students: In 2015, Denison awarded $21 million in need-based financial aid. Last year we awarded $45 million, an increase of more than 100%. Financial aid is our current top fundraising priority and will remain so. As part of this effort, Denison is now one of only a few colleges that meet the full demonstrated financial need of every student we admit. In addition, we will continue to invest in closing the financial gaps that occur once students are on campus. This recent article outlines this important and ongoing work. 
We have an ambitious set of goals. We want to recruit a diverse array of students to Denison. We want to keep the college as affordable as possible, ensure that students have a good four-year experience, and then successfully launch students into careers and lives they desire.
The obvious question will be: why we can't do this work with Posse? The Posse model is designed to work with a wide range of colleges and universities, but is not specific to the needs and priorities of any particular college. The model worked well for Denison when we were in the earlier phases of our work. The model works less well for Denison as we focus on the areas above in ways that are specific to the opportunities and challenges of Denison. The time has come for us to celebrate what we have accomplished with Posse and turn our attention to developing forms of support that are specific to Denison, and that support all of our students coming from diverse backgrounds. This means shifting how we structure programs for incoming students and investing more in our own staff and initiatives. 
We are excited to deepen our work supporting our students. As we make these shifts, we will continue to support every Posse Scholar through graduation and beyond in exactly the same way we always have, including through scholarships, financial aid, and campus mentoring services.
Adam S. Weinberg
President
Denison University