President's Speeches & Writings
The Future of Residential Life at Denison
February 4, 2019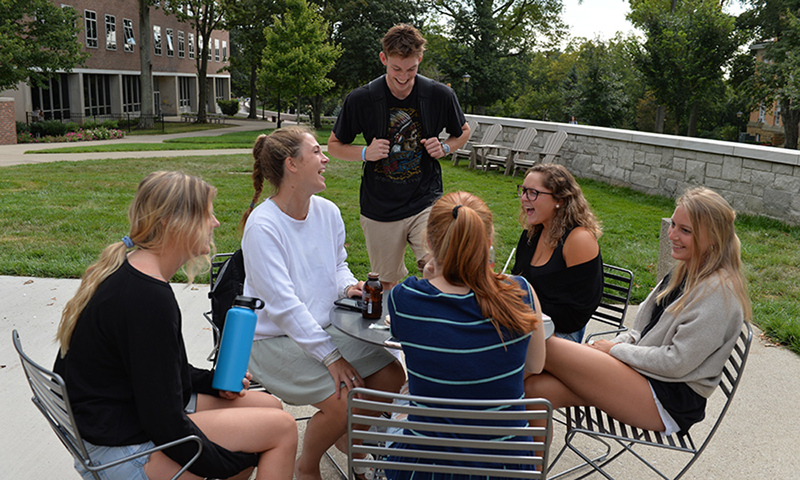 Dear Students:
We are writing to share good news about the future of residential life at Denison.
As you know, we have had extensive and ongoing conversations with students about different elements of living at Denison. Throughout the fall, those conversations have focused on renovations to residential halls and the design of a new apartment building, designing and renovating social spaces, and planning a new wellness center. This fall, we tried several new ways of bringing people together across differences to imagine and design the future of residential life in all its forms.
We are writing about four important and exciting decisions made by the Board of Trustees at their meeting last week.
1. New Social Spaces: As Dean Farley wrote to you on Sunday, the Board approved funding to construct social lodges on the Brownstone lot behind the Sunnies. This will give us 4 new spaces that can each hold up to 75-100 students, with a great outdoor green space in between. The interior spaces can be combined to hold 150-200 students for larger events. We are moving quickly to learn more from students on a few final design details, so that we can open this space by next fall.
In addition, construction is well along on a new social space on the lower level of Chamberlin Hall, which will work well with up to 85 people. This space will be for alcohol-free events and should be ready to open in February.
These spaces complement Lamson Lodge, Sunset House Lodge, Good Hall Lounge, the Nest and Knobel Hall, totaling ten spaces that accommodate different sizes of gathering and different kinds of atmosphere.
2. New Senior Apartments: With generous support from Denison alumnus Jonathan Silverstein (Class of 1989) and funding approved by the Board, we will construct a new set of apartments for Seniors. The sidewalk that currently takes you past the Brownstones and through the Sunnies will extend past Myers and Brown to the new apartments, which will be built over part of the Sunnies parking lot. In addition to providing additional apartments for seniors, the buildings will provide a new gathering space. Students have suggested using this for a coffee kiosk, a bar, a convenience store, or some combination of these. A goal in the design of this space is to create a venue that anchors the senior apartment community as a distinctive place, something seniors have said they want.
With the Silverstein project, we will have enough apartments for all seniors to live in this community (without using Stone and Taylor for seniors). Construction will start around Spring Break so that the buildings can open for Fall 2020.
3. Renovating every residential hall: The Board approved funds to allow us to renovate every residential hall at Denison over the next few years. This will come in phases, and it will allow us to do a range of exciting things that students have suggested. Changes include updating furniture with pieces that better suit the ways students use their rooms, re-doing bathrooms, and creating more lounges and study spaces. The firm we hired to lead the design work has done a lot of concept testing with students about how particular halls can be reconfigured to better serve student interests and needs for individual rooms, common spaces, green spaces outside. We're also studying how to improve parking availability. Developing plans that improve in all these areas simultaneously has benefitted from lots of student engagement, and we're grateful for everyone's willingness to contribute thoughts and ideas. And there are more questions coming! We need students to be co-designers. This is the only way we'll get this right, so thank you in advance for your involvement and partnership as we continue this work.
4. New Wellness Center: The Board approved the basic design for a new wellness center to replace Whisler. The new center is to be built into the bowl of the stadium hill, just below Slayter and the Campus Commons, next to the stairs that take you down to Piper Stadium. The center, which is not yet named, will look out over the trees on the hillside and will offer confidential clinical services on the lower level and space for wellness programs and supports on the upper level, like a yoga and movement studio, rooms for alternative therapies, and a teaching kitchen. The center will allow us for the first time to fully integrate health and counseling services and to provide a forward-looking model of wellness. We anticipate starting construction in Fall 2020, after the new apartment building is completed.
As we are doing this work, we are being guided by a few principles:
First, we are making sure students have spaces to create a robust and vibrant life on campus. As a fully residential college, we know that students are heavily dependent on campus facilities. By renovating current spaces and adding important new ones, we hope to offer spaces that meet the needs and interests you have described. We'll need your continuing partnership to get this right.
Second, we want to be responsive to the diversity of students on campus, who bring wide-ranging needs and interests. The fact that Denisonians have such a wide array of experiences, interests and ways of being is what makes our campus interesting and dynamic. It also means that students want to live and socialize in different ways. And, we also need spaces that bring us together across our differences so we can learn from each other.
Third, developing habits of wellness is part of a liberal arts experience. As a college, our goal is to offer a liberal arts education that unlocks your potential to be the architect of your life. This means inviting you to consider what personal, professional and civic success will look like for you, and what habits of wellness will help you achieve that life. The designs for all of these spaces (the new wellness center, but also the residential renovations and the new social spaces) reflect personal, interpersonal and community wellness considerations.
There is a lot more detail to share about each of these projects and a lot of work left to do on design. We are excited that these projects are moving forward and wanted to share the good news. We invite you to work with Student Development staff, architects and others to be co-creators of these new spaces as the work continues to move forward.
Finally, a huge thank you. The Board approved funding because they were impressed by the work we did together this fall. Many of you contributed time and thought to these projects. We also want to acknowledge RED Corps, whose members who have worked very hard to engage students on these projects.
Please stay involved and help drive this process forward. Throughout the semester, you will receive emails inviting you to be a partner in this continuing process. If you have a particular interest, please be in touch with Laurel Kennedy (kennedy@denison.edu), who will make sure you are connected.
We are appreciative of the Board's support. We are grateful for all the ways students and staff have worked together on these projects. And we are excited to continue the conversations needed as we complete the design and construction of these important initiatives.
You are a great generation of Denisonians. Thank you for helping us shape the future of the College.
Sincerely,
Adam Weinberg
President
Laurel Kennedy
VP for Student Development