President's Speeches & Writings
Letter to Denison Parents Spring 2018
February 4, 2018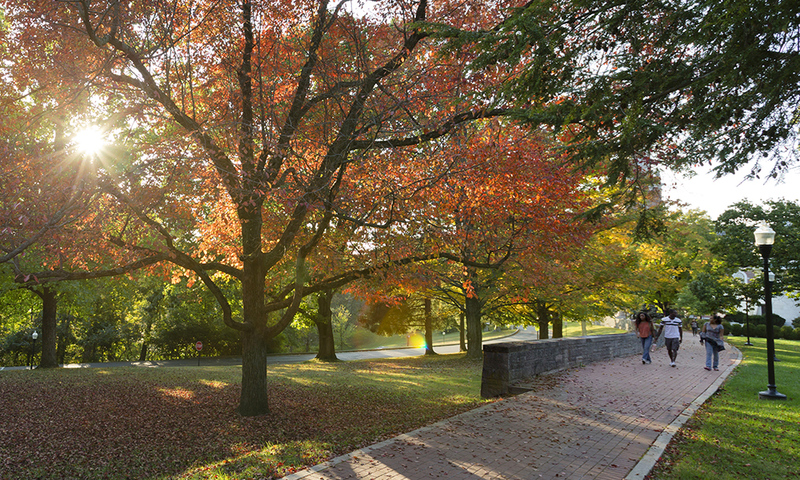 Dear Parents:
Every year, I send a letter to Denison families to update you on the college. I want to start this year's letter with a thank you and an observation. Thank you for supporting your children here at Denison. Our current students are a fantastic generation of Denisonians. I feel honored to work with them.
It's an interesting time for colleges and universities, as there is a lot of concern and anxiety about higher education. One of the biggest concerns revolves around cost and impact. From my perspective, higher education continues to be a great investment, but colleges also need to adapt to a changing world. Take two sets of data from the Gallup organization:
A recent report by Gallup and Strada Education Network found that only 34 percent of students are confident that they will graduate with the know-how to succeed in the job market, and only 36 percent believe they have the skills and knowledge to be successful in their jobs. Most troubling, nearly 40 percent of students never visit their career center.
The Gallup-Purdue study has consistently found that connections with faculty and mentors are among the factors that matter the most for colleges to launch students into lives of success. Yet, nationally, many students never connect with a faculty member, and only 22 percent of college students across the country report having a mentor.
Denison is taking a fresh and effective approach to these issues. As I outline in this letter, Denison is in the third year of implementing a strategic plan that is focused on mentorship, career exploration, and taking advantage of our location, all as a way to create a liberal arts education with a slightly more pragmatic orientation. These strategic shifts serve our students well, keep the college healthy, and challenge many other colleges to emulate what we are doing.
Our work on campus falls into three areas:
First, providing a world-class liberal arts education. We are offering students the kind of education that unlocks their potential to be the architects of their own lives. Our goal is not to teach students what to think, but how to think. Our intent is not to prescribe a life for our students, but rather to immerse them in the liberal arts in ways that help them start to imagine the life they want to lead, and equip them with the skills, values, habits, networks, and experiences to get them started down the path of building that life.
A liberal arts education prepares our students to think critically, understand profoundly, and connect broadly. The clearest statement on the liberal arts remains William Cronon's classic piece "Only Connect," which you can find online. It was captured beautifully by Denison alumnus and former Princeton University President Bill Bowen, who said the purpose of college is to educate students with an "openness to new ideas and new friendships, respect for both evidence and the beauty of language, appreciation of 'difference' and an ever deeper awareness of the pure joy of learning."
Across the college, we are doing work to ensure that we continue to offer our students a great liberal arts education. In particular, I want to note the deep commitment of our faculty to the liberal arts. Academic departments are constantly working on the curriculum (as I write more about below). We also have launched two new centers to support the work of our faculty. The Center for Learning and Teaching is engaging our faculty in ongoing conversations about this generation of students and effective learning and teaching, while the Lisska Center is working to enhance intellectual life on campus. And a number of our faculty have been recognized for their scholarly work.
Five years into my tenure at Denison, I am inspired by our faculty who are world-class educators, mentors, and scholars. As one example, our faculty recently were recognized by The Council on Undergraduate Research with their prestigious national award for the work we are doing with our students on undergraduate research. The liberal arts are at the foundation of everything we do. We take it seriously, and we are deeply committed to it.
Second, we are implementing a strategic plan that has a pragmatic bent. Our strategic priorities fall into the following areas:
Mentorship. We are putting great emphasis on relationships and mentorship at Denison. Colleges are bundles of people (students, faculty, staff, alumni, parents, and others), and education is formed as people come together in different ways and learn from one another. In other words, relationships matter, and Denison is a highly relational college. I deeply value the way our professors, staff, and coaches care, connect, and often catalyze one another in the best ways. We have expanded Advising Circles, which bring together a faculty member, an upper-level student, and 10 first-year students once a week to discuss the transition into Denison. Across the college, we are talking about mentorship, delving deeply into what it means for this generation of students. The Chronicle of Higher Education just published a nice piece on the work we are doing. You can find a link to it at denison.edu.

The other major focus is on lateral learning. Students learn a lot from each other, and one of Denison's great strengths is the quality and diversity of our student population. While our students form deep and lasting friendships, we also are pushing them to reach beyond their friendship group and get to know a wide range of students. Part of the Denison experience should be interacting with and learning from peers who have a different set of life experiences, perspectives, and life goals.

Expanding the curriculum. Examples include new academic majors in Global Commerce, Data Analytics, and Health, Exercise and Sports Studies, and concentrations in Financial Economics and Narrative Journalism. We also are expanding global programs. For example, we launched Denison Seminars, courses that are team-taught by two faculty members and often include a global experience. We have developed Denison travel seminars and more international internship opportunities.

We also are focusing on the arts, starting with the construction of the Michael D. Eisner Center for the Performing Arts. Due to open in the spring of 2019, the Center will co-locate Theatre, Music, and Dance in one space. It will house a proscenium theater, a black box theater, and multiple other performances and practice spaces. Most important, it is designed to build an artistic community that is engaged in making art. Denison always has had incredible strengths in the arts. This building will work with the Bryant Arts Center and other buildings and open spaces to help create a vibrant Arts Quad.

Career exploration. We have moved beyond "career services," which can be as simple as an office where a student can go their junior or senior year to find job leads and alumni connections. Instead, we are talking about career exploration, a process that entails helping students ask three interrelated questions: What kind of life do I want to lead? How do careers and professions fit into that life? How do I use my time in college to develop the skills, values, habits, experiences, and networks to get started?

The staff at the Knowlton Center for Career Exploration is focused on getting students engaged early in their time at Denison, connecting them with alumni and parents who can be coaches and guides; running programs both on- and off-campus that give students opportunities to explore a wide array of careers and professional paths; closing the skills gaps between what we teach in the curriculum and what students need to compete for top jobs and internships; placing students in internships and externships; and supporting students during their first five years post-Denison.

For the last three years, we have been collecting data on our alumni five years post-Denison. Five years out, 95 percent of our alumni report being in their desired field and/or on their way to achieving their professional goals; and 94 percent of our alumni are satisfied with how Denison prepared them for professional success. At the same time, the data helps us identify skills gaps and other shortfalls we need to close as we continue our commitment to be the college that gets the career piece right.

Innovating through the co-curriculum. At Denison, the campus always has been a design studio for students to develop and practice liberal arts skills, values, and habits. This has become more pronounced as Denison is now an even more diverse place, giving students opportunities to learn how to live and work across difference. We have launched the Red Frame Lab to expose students to design thinking as a way to support student-led, creative problem-solving across campus. This includes supporting student entrepreneurs with a recently hired entrepreneurship coach. We are taking a fresh look at residential living and the ways students learn civic skills, values, and habits throughout their four years living on campus. As part of this work, we are starting a four- to six-year process of renovating all of our residence halls.

And we have developed a new holistic, integrative approach to health through student-centered wellness programming. Our goal is to support students in moments of crisis, while also focusing on prevention. This means helping students understand the connections between daily life habits (e.g. nutrition, sleep, stress reduction) and health. As part of this conversation, we also will focus on facilities. We are in the process of either designing a major renovation to Whisler or constructing a new building.

Engaging our alumni, parents, and friends in the life and future of the college. We have launched the Office of Alumni & Family Engagement, whose mission is to engage alumni, parents, and friends in deeper and more relational ways. One early initiative is Denison Connecting, which is a series of new programs aimed at helping Denisonians support each other professionally as their careers unfold and change.
A footnote on Columbus: A lot of this work is leveraging our proximity to Columbus-one of the fastest growing and most vibrant cities in the country. This gives us access to a city that can deepen the student experience, including providing internships, externships, and career coaches; arts organizations that can contribute to our work across the arts; and medical professionals who can help us support students. Columbus also helps us recruit fantastic faculty and staff who are excited to live in and around a major metropolitan region.
Our third area of focus is the financial model. Higher education needs to evolve the financial model. This fall, we launched a fundraising campaign to support the strategic plan. Our goal is to make sure the strategic plan is paid for by fundraising, not by raising tuition. So far, we have raised $135 million, with a goal of $225 million by June 2020. In addition, the campaign will raise more funds for financial aid.
We also are focused on containing operating costs. We are working with the Ohio 5 (Denison, Kenyon, Oberlin, Ohio Wesleyan, and Wooster) to explore ways to use our joint purchasing power to lower costs. Internally, we also are taking a fresh look at our operating budgets to make sure we are using our resources efficiently and are focused on our students' education.
And we continue to move forward with financial aid. I am proud that the Princeton Review included Denison in its book of Colleges That Pay You Back. We are striving to be one of the most affordable and accessible of the more prestigious national liberal arts colleges. Next year, our tuition will increase 3 percent, which basically covers compensation increases for our faculty and staff, keeping up with benefits, and modest work to maintain our facilities. To support everything else, we will raise funds and/or support through our endowment.
Conclusion: It is an exciting time for Denison. Our students are thriving. Applications have surged over 60 percent since the launch of the strategic plan. This year, more than 8,000 students applied for admission for an incoming class of 610 students. Our students are doing well post-graduation. And we are on track to have the largest fundraising campaign in the college's history. We are doing the things that great liberal arts colleges need to do to ensure that this generation of students succeeds.
I continue to do a lot of writing about Denison and issues in higher education. Those articles can be found at denison.edu/campus/president/speeches. I welcome your insights and observations about Denison and/or higher education. I also have a twitter feed, @AdamAtDenison. Please send reflections and comments to me directly at president@denison.edu.
What can parents do to help? Encourage your children to do the following:
First, encourage them to dig deep into their academics. The night before this semester began, I wrote the following to students, "My hope and desire is that every student will use this semester to dive into your academics. As liberal arts students, you experience a form of education that every student deserves and far too few have the opportunity to receive. Take advantage of it by being academically engaged, getting to know your faculty, taking a wide range of courses, and diving deep into your coursework. Savor every class and maximize every reading, assignment, and lecture. You will look back on your life with gratitude or regret, based on how committed you were to your academics."
Second, encourage them to get involved outside the classroom, but go deep not wide. Part of the value of a residential college is getting involved. But students will get more from being highly involved in a few things that they commit to and learn to do well, as opposed to doing a lot of things but not at a high level. As part of this, encourage them to attend lectures, concerts, and other academic and intellectual events. Weekly we bring speakers and performers to campus who are world class. It would be great to see more students taking advantage of these opportunities, especially early in their time at Denison.
Our goal is for our students to make connections across their academic endeavors, campus leadership roles, community service activities, athletics, jobs, and internships. Faculty advisors, along with the Knowlton Center and the Lisska Center, are here to help students begin to make those connections and to articulate the value of their liberal arts education in its broadest sense.
Third, encourage them to take advantage of the Knowlton Center for Career Exploration. There is a lot of great work being done in the Center.
If you are looking for things to read, I continue to recommend a book by Dan Chambliss and Christopher Takacs, How College Works. I also really like a 2016 book by a Denison parent, Susan Lyon. The book is titled Launch Like A Rocket: Build the Soft Skills You Need for Your Career by Leveraging Your Entire College Experience.
Your children are a wonderful generation of Denisonians. Thank you for supporting this great college.
Sincerely,
Adam S. Weinberg
President
Denison University