Denison Museum exhibition: 'The Human Condition'
Exhibitions
Date
Monday, February 8, 2016 - Sunday, June 5, 2016
Building & Room/Office/Space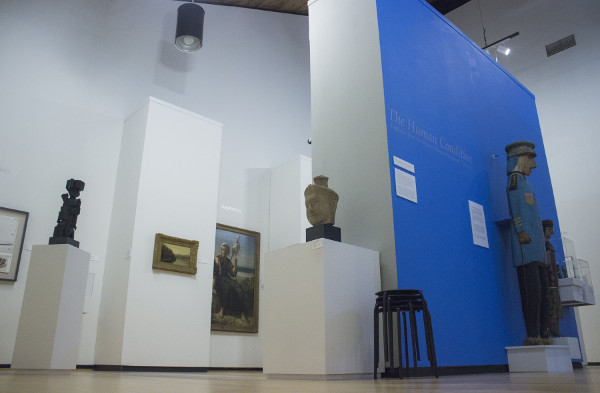 "The Denison Museum is proud announce the opening of a new permanent collection exhibition. The exhibition, "The Human Condition", presents more than 50 exceptional objects that span 4000 years of history exploring what it means to be human. The exhibition features reflections on morality, life and death, intellectual growth, aspiration, conflict, emotionality, and power.
The exhibition features highlights from the museum's permanent collection, prepared by Ariel Baez '16, Hannah Chen '17, Drew Jepson '16, and Charlotte Underhill '16. the exhibition is on view from Monday, Feb. 8, through Saturday, June 4. The museum is open Monday through Friday from noon to 5 p.m.
In the spring of 2016, four students put together The Human Condition, an exploration of human nature though historical cultural objects. Ariel Baez, Drew Jepson, and Charlotte Underhill all from the class of 2016 and Hannah Chen of the class of 2017 prepared the exhibit from the permanent collection. Over 50 objects spanning 4000 years of human history were featured, including textiles, statues, paintings, and other works. Together, the objects ask about the nature of humanity and the inevitability and plurality of human experience. The objects were sorted into categories - morality, life and death, intellect, aspiration, conflict, emotion, and power - inspired by Hannah Arendt's 1958 book of the same name. Each section explored one of these facets of the human experience, comparing and contrasting the way different cultures experience them.
The difference and similarities in these artifacts prompt powerful questions about the human experience. What do the consistencies in artifacts across time and culture say about our natural state? What can we glean from variation in the representations of our experience? What does it mean to be human? This exhibit dug at the core of who we are as human beings and how our experience of the inevitable is shaped by time and culture.
Posted Date
Monday, February 15, 2016