Honestly, food is important. It's how we bring energy to our day. It's a "time-out" with friends. It's a way to reconnect with who we are. It literally makes up every bit and part of you.
You don't need just one kind of food — and you'll find hundreds of tastes and food experiences on campus. We've got lots of options for you.
Curtis and Huffman dining halls and Slayter Market all serve fresh, local food, cooked right here by our Bon Appetit chefs. YUM. Catch a student performance and pick up a Snagle (a bagel topped with cream cheese, cinnamon and sugar - it's a Denison thing) at the student-run Bandersnatch coffeehouse in the lower level of Huffman Hall. Grab a snack and chill at the Nest on the third floor of Slayter. Sip a smoothie after your workout at the D-Fuse Bar in Mitchell.
And each of the 850,000 meals we make during the year is made with 38% local farm-to-fork food.
Curtis Café
Curtis Café offers a beautiful panoramic view of the campus and great healthy dining options. Dining options include a fresh made SEASONS with your favorite seasonal comfort foods, SIZZLE grilled items and favorites, fresh baked pizza with house-made pizza dough and sauce, FRESH salad selections, STACKS deli, KETTLES soups, and of course fresh fruit, sweets and a variety of hot and cold beverages. Every station will include vegetarian or vegan items and our PURE FARE area is for our guests who enjoy items that are made without gluten and vegan. You can be assured our menu items are made to be healthy by design since we use no Trans fats and only the highest quality ingredients prepared with minimal fat and sodium.
Hours of Operation:
Check out Curtis Dining Hall's eXpress, a high-quality "Grab-and-Go" restaurant!
Slayter Market
At Slayter Market you will find a wide variety of convenient portable dining options. Our cantina offers giant burritos, burrito bowls and salads served with house made ingredients. We marinate our chicken, carnitas and barbacoa so it's tender and flavorful. All of our salsas are made from scratch and uniquely enhance anything you add them to. We also offer market deli with premium meats and cheeses as well as fresh made salads and house made chips. Market grill offers a variety of chicken, burger, and black bean sandwiches served with healthier sides or traditional sea salted fries. And at Market Salad bar you can create your own salad with a wide variety of toppings and house made dressings.  You'll also find our Slayter Market convenient for stocking up on healthy snacks, beverages and staple items to make living on campus or commuting easier. Common grounds is the place for authentic barista made coffee beverages made with locally roasted One-Line coffee beans and a variety of cold drinks and fresh baked goods.
Hours of Operation:
In a hurry? Slayter Market is home to our eXpress program. A convenient meal solution targeted at customers that need a food fix in a hurry!
D-FUSE Mitchell Concessions
Stop by D-FUSE at Mitchell Concessions to pick up a blended to order Fruit Smoothie. You can choose from one of our delicious smoothie designs or create your own. We also offer grab and go sandwiches and fruit cups, protein bars or light snack items to be enjoyed between classes or after your work out.  You'll find an array of fruits, vegetables and even protein boosters.  If you don't have time for a smoothie, students can always just grab an apple from a local fruit farm. Hours of operation are Monday thru Thursday from 4-8 p.m. We hope to see you there, GO BIG RED!
Huffman Café
Experience the new Huffman Café with a major renovation that moves the food and action out of the kitchen and in front of the guest. More fresh ingredients, prepared to order, from sustainable sources. Our guests know exactly how their food is made and that it is prepared just for them! Our culinary team takes traditional stations to a higher level and uses creativity for all types of cooking techniques, adding more food variety in our menus. Vegetarian/Vegan offering are available at every station, every day.
Some of the new restaurant platforms at Huffman are; WILDWOOD OVENS pizza and baked casseroles, MAPLE STREET KITCHEN offering a variety of classic comfort items, BIG RED SPICE Mongolian inspired barbeque, GREENS salad creations and STACKS deli, KETTLES soups, BAKED house-made baked dessert and sweets, and breakfast items all day with cereal, waffles, bagels, local jams, Nutella, honey butter, flavored cream cheese and weekly features.
Hours of Operation:
The Nest
Read, talk, study, hang … and, after 9 p.m., eat.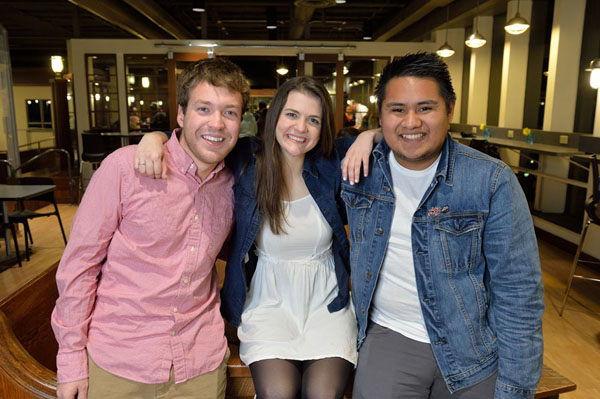 The newly renovated Nest, located on the third floor of Slayter Hall, has a new menu.
Its execution has been driven by student input at every step. Comfort food, with a healthier edge, is one way to describe it, from the ultimate manna — flatbreads, sandwiches, soup, vegetables, and desserts.
The Bandersnatch
Looking for that late-night pizza bagel fix? Maybe some live music? Ready for a little much-needed R & R? The Bandersnatch is where it's at.
You'll find the exceedingly frumious Bandersnatch, named after the Alice in Wonderland character, in the lower level of Huffman Hall. The student-run coffee house offers a variety of bagels — including Denison's own Snagel (a bagel with cream cheese and brown sugar) — plus other nibblies, fantastic milkshakes, and a great place to just to hang out with your friends. Student performers always welcome.
Hours:
Wednesday 9:00 PM-2:00 AM
Thursday 9:00 PM-2:00 AM
Friday 9:00 PM-2:00 AM
Saturday 9:00 PM-2:00 AM
Sunday 9:00 PM-11:30 PM
See what's cookin' on the Bandersnatch Instagram
Some fun history (folk-singer John Denver opened the Bandersnatch in 1968)
Curtis Café and Huffman Café Dining Prices for Non-Students
Denison faculty, staff, and other guests are always welcome to eat at Curtis Café and Huffman Café as well.
Dining Prices

| Meal | Student/Staff | General Public/Students not on meal plan |
| --- | --- | --- |
| Breakfast | $8 | $9 |
| Lunch | $9 | $10 |
| Dinner | $10 | $11 |
| Special | $11 | $12 |