Welcome and Charge to the Class by Adam Weinberg
"Celebrating the Great Denison Class of 2014"
President Adam S. Weinberg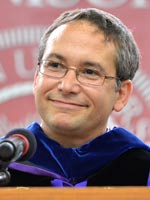 Welcome and congratulations to the Denison University class of 2014. This is a great college, and you are a fantastic class.
I find myself wistful today. I am excited for you and for all that you will accomplish. And I will miss you. I want to start by thanking you for being so welcoming to my family and me. And I want to express my respect and admiration for you, both as individuals and as a class.
Over the last few weeks, I have asked seniors for some memories from your four years here. The list I received is way too long to read, but I want to share a few highlights:
Let's start with the weather! Who can forget that. You had classes canceled because of snow and ice when you had a president from Texas, and classes were held despite minus 15-degree temperatures when your new president had just moved here from Vermont. Your first year, there were hundreds of tornado warnings. And during 2012, the Summer Scholars were asked to temporarily vacate campus after a giant windstorm knocked out power for more than a week.
On a more serious note, there have been successes on top of successes. Students were recognized by prestigious organizations as diverse as Fulbright, Posse, and Teach for America, to name a few. Academic papers were published and presented at national conferences. Amazing research and creative works were completed by students in close collaboration with faculty. Many of your completed senior research that rivalled that of master level students.
There have been athletic victories galore. Your class has helped to win 20 NCAC championships, three conference All-Sports Trophies, and two National Championships. Not to be outdone, today's graduates have made significant achievements across the arts, from V and P Monologues to a plethora of plays by DITA and the Women's Performance Group; amazing contemporary and African dance including performing with the Dayton Dance Company, original one-acts, and Blue Grass, a cappella groups, Improv comedy, student films, and everything in between.
Since you arrived in the fall of 2010, there has been campus construction, including the renovation of Huffman and a New Cabin at the Homestead with electricity. Ebaugh Laboratories were renovated and expanded. And we have a new state-of-the-art pool and fitness center.
There have been amazing speakers who challenged us, including Madeline Albright; Jimmy Wales; Paul Rusesabagina; John Huntsman; Diane Nash; and Denison's own Dr. Kelly Brown Douglas.
There have been events that brought the community together—the annual galas; the 2012 national election; Matt and Kim and Wale for D-Day; White Panda, Anchor Splash and many more events sponsored by other organizations; Outdoor Beach Season concerts; a Presidential inauguration and inaugural ball; even naked week; And there has been the tragic loss of three classmates. In those difficult moments you have supported one another and inspired those who watched you respond.
And finally, there has been a lot of fun, along with some odd stuff, including the Somewhere Else Bar; Mainstream Monday; the pizza truck that used to hang out by East Quad; the Pizza Hut cheese sticks, a deer jumping through a window into Slayter, and something called The Sizzler.
Of course this list is far from inclusive. But it makes the larger point that education is the sum total of its parts. Education is what happens at the intersection of the new, the challenging, the fun, the unexpected, the engaging, and the hard, the difficult and the tragic.
It also underscores the importance of community. Yesterday at the Baccalaureate ceremony, I stated that community at Denison is created by the strength of enduring relationships that are formed on this hill.
Many of those relationships are between students and faculty. Our students talk about our faculty with great admiration, and our faculty talk about our students with tremendous enthusiasm, commitment, and joy. The student-faculty relationship, which has always run deep at Denison, endures in remarkable ways.
Relationships run equally as deep between students. Our students come to Denison and forge friendships that last a lifetime and often transcend generations.
And relationships run deep between staff and students. In the true sense of community, our staff members build relationships with students that speak volumes about the values and culture of this college.
The intersection of these relationships gives Denison a special feel. And through these relationships, amazing people receive a world-class education. Last week, a senior faculty member described Denison's education as being anchored by three core values:
The first is self-determination. The relationships that form at Denison provide a foundation from which students find their voice, becoming the kind of autonomous thinkers the world so desperately needs. A graduating senior said to me, "the relationships gave me confidence, which allowed me to feel that it was okay to be vulnerable and to take chances." Another student said to me that forging relationships with such a wide array of individuals helped her understand that people think differently, and she had to learn to think for herself. Denison relationships help students come to know who they are, what they value, and the kinds of lives they want to lead.
The second is community. The relationships that form at Denison help students realize that life is a joint activity. Many of our joys come from our interactions with others. Much of the learning and success comes from support and engagement with others. And perhaps most importantly, we all have an obligation to others and to a larger world. When congratulating a student for being named to a high award for athletics participation, she wrote back to me, "The stats of a player are always a reflection of the team as a whole, and I am so proud to be a part of such a talented and hard-working group of student-athletes." This is a college that produces graduates who are committed to and capable of building and sustaining community in important ways. We produce graduates who lead great lives, but in service to things larger than themselves.
I like the way our Environmental Studies Fellows framed the Green Graduation Pledge so many of you have signed, which reads, "I pledge to explore and take into account the social and environmental consequences of the decisions I make in my personal life and actions I take in my professional career. I will strive to continually better my community and the global society in which I live."
The third is success. The relationships that are formed at Denison help students to develop the habit and the thrill of excellence. We push each other, and we are role models for one another. This is a college that expects excellence in all areas. We demand it in the classroom, strive for it on athletics fields, in the arts and other campus organizations, and embed it as a value to shape the life of the college and our graduates. This is a place that asks all members to "step up" and to always strive for excellence.
These are certainly not the only values that anchor Denison, but they are important ones that make the point about the multiplicity of ways relationships matter, and the ways those relationships lead to a fantastic education.
As you look forward, I charge you, our graduating seniors, with taking at least three sets of skills, values and habits from your Denison liberal arts education.
The first is being a lifelong learner. Produce and consume knowledge as part of your everyday life. Be a person who understands the value of asking good questions, collecting sound data, and forming views based on logic, reason, and sound thinking.
The second is being a person who connects. To quote the historian William Cronon, the liberal arts prepares students to draw connections. Be the person who connects seemingly disparate people, helping them find the commonalities and learning to love the differences. Be someone who connects ideas to find new ways of thinking. Be the person who connects ideas to actions, thereby making a difference in the world.
A faculty member wrote to me a few weeks ago, "Something that truly defines Denison is that this is a place for making connections – in so many senses of the word 'connections.' There are, of course, the quite literal neurological connections that are made when students and faculty learn new things or learn new ways to think about something. There are the (often deep) connections students and faculty make with each other, the connections students make with one another (many of which will last a lifetime!), the connections between various disciplines and classes, the Denison connection with our alumni network, and the many connections between faculty across disciplines."
The ability to connect is a gift we have given you; use it to anchor your life.
The third is to be a person who aspires to excellence in all that you do. To be a Denisonian is to do things well, with a never-ending quest for excellence in service of success.
This is a great college. You are a great Denison class. And this has been a magnificent year. Congratulations Denison class of 2014.
Senior Class Address by Josh Goldman '14
"What are you doing after graduation?"
Josh Simon Goldman '14
Hi. It is such a pleasure to get to speak with everyone today.
If you are like me, you don't like the question "What are you doing after graduation?" People say it with cute, apologetic smiles and then add, "I know this is probably a stressful question for you" – which of course, often, it is. In an hour or so, however, the question disappears from reasonable conversation like the phrase "current student" from a LinkedIn profile. People won't ask us what we're doing after graduation because graduation will be over. The question becomes, like some crazy, existential slap in the face, "What are you doing now?" Not, "What are you doing after you graduate?" but, "What are you going to do now?"
It's one of those terrifying, exciting and adventurous questions. "What am I doing now?" There's the straightforward answers: "I'm starting a job in education," or "I'm heading to grad school" or "I'm weeping hopelessly into the couch cushions, please pass me a tissue." (That's just a sampling of responses.)
Other questions, too—bigger questions—come from asking "What am I doing now?" I could be starting a job, sure. But am I caring for myself and others? Does what I'm doing matter? Should I be doing it at all? These are the questions I think about sometimes, these questions of purpose, ethics, and identity. They're scary, but we're prepared to deal with them. When we think about our place in the world and what we should be doing in it, we have the beginnings of a perspective, a way to start making sense of things.
For many of us, our perspective developed here on the Hill. If I consider my experience at Denison, the quote adorning hundreds of dorm walls comes to mind. "Life is what happens when you are busy making other plans." It's a famous John Lennon quote, but I think it applies here, too. Our education, however intentional or unintentional we were about our time here—the core of our education is what happened when we were busy making other plans.
If you want to be a world-class writer, you could choose to spend time in the English department, which will serve you so well. You could also benefit from a range of courses that come at writing in a different way. You could take a political science class, for instance, where you would need to argue persuasively, in text and in person, about presidential elections using survey data. The point is, we learned to write in a thousand ways other than taking a writing class. We learned to think in a thousand ways other than taking a "critical thinking" class. We gained most of the skills required for our professions of choice in classes, and on athletic fields, in office hours and past quiet hours, across campus. Our education happened in those sometimes-unexpected places, while, perhaps, we didn't even notice. We went to a school where we connected personally with wonderful peers and exceptional faculty. When we didn't get along, we tried our best to press forward, to understand each other a bit more, and to speak and listen with care. You were challenged in the classroom, pushed to examine or reexamine your closest-held ideas, and so was I. We walked to class on a campus far more diverse—socioeconomically, racially, ethnically—than most any other small liberal arts college you could have picked within 500 miles of this spot. We showed up on campus as first year students and were subsequently asked to show up, repeatedly, as the persons we wished, yearned, or wondered if we could be.
Still, unsure of what post-Denison life will really be like, sometimes we stumble into some unrelenting stress or doubt. I've talked with classmates about feeling inadequate while pretending to be okay; about worrying we're doing everything wrong. Sometimes we worry about ourselves, our friends, our families, our communities—everything up to and including our cats. Our conversation here today is not going to fix those concerns. In addition, some of us graduate wracked by persistent grief, understanding several friends will not be waiting for us in person at the end of this stage. From my seat on the ground, I imagine that Dave and Julia and Sarah watch us today, at peace, sitting together on a different stage.
I think we're coming into a world that's both sad and joyous. We worry, sure. It should be no small consolation, however, that we are better prepared and more experienced than we think. We're joining a community of over 30,000 Denison alumni who probably didn't think they could do it and then, much, much, much more often than not, did it, whatever it was.
So, when I ask myself "what am I going to do now, in this world of ours?" I will consider for a second how prepared I really am— everything that happened while I put my attention somewhere else. Then I'll make a plan for what happens next. Surprise—it's graduation day, and we're prepared to go out, with the support of all of us here, and continue to live our lives.
It's been a pleasure to spend time with you today, and over the past four years. It will be an honor, to cheer each other on as we answer this tough question in thousands of ways, starting in a few short minutes: "What are we going to do now?"
Remarks of Lawrence W. Sherman upon his receiving the degree of Doctor of Humane Letters
"Thou Shalt Not Commit...a Social Science"
Lawrence W. Sherman
On a day like this, in 1946, the Poet W.H. Auden delivered his Phi Beta Kappa poem to the graduating class at Harvard. The poem proposed a new Decalogue, an updated Ten Commandments for my father's generation of veterans who had just returned from World War II. It was outrageously tongue-in-cheek, like much English humor, but it may have been too dry for many people to get the joke. One line from the poem went viral, taken as a serious comment on what many of us have studied here at Denison: social science.
His exact words were these:
"Thou shalt not sit with statisticians, nor commit a social science."
The context of that line was the poem's lament that "truth" had been replaced by "useful knowledge" in order to win the war. Social science was a part of the problem; playful humanism was part of the solution, said Auden with a wink. Yet his meaning was clear: To commit the sin of social science was to help create a future with less liberty.
In that same year of 1946, an Auschwitz survivor named Viktor Frankel published a book called Man's Search for Meaning. Frankel was less concerned with liberty than with responsibility; he even called for the Statue of Liberty on the East Coast to be complemented by a Statue of Responsibility on the west coast. What he had learned in Auschwitz was that people who took responsibility for themselves and others were more likely to survive in that concentration camp than those who had lost any sense of meaning in their lives. Whether they were guards or prisoners, those who had taken responsibility had gained meaning, by which they saved their own lives.
Two decades after Auden's poem and Frankel's book, I sat in Dr. David Woodyard's freshman seminar here at Denison discussing Man's Search for Meaning. I will never forget what a revelation that discussion was for me. Had I read the Auden poem at the same time as Frankel's book, I would have used it to challenge Auden's new Commandment as missing the point about responsibility and the role of social science.
It was reading Frankel, not Auden, that prepared me for my first week in my first job after graduating from Denison, when the inmates of all five prisons in New York City seized control from their guards in a protest against months of waiting behind bars for their day in court. Some of the prisoners had been held in jail without bail for over two years, just as many are today in India and South America. When the New York police managed to retake all five prisons without a single life lost, my job was to help develop ways to prevent further riots. It was complicated. And it required a lot of social science, which I went on to study at Cambridge and Yale.
It was Frankel's book, and not Auden's poem, that I thought of over the next decade while watching police respond to hundreds of incidents of minor domestic violence, usually, like Paul Simon's recent case in Connecticut, without serious injury. I saw how many police officers had just given up on this widespread problem, because they did not believe they could make any difference in the future of abusive relationships. I sought my own meaning in their despair by designing an experiment to compare three different methods of police response. Our first experiment, in Minneapolis, found that an on-the-spot arrest was most effective at reducing repeat offending. That research result made headlines in 300 newspapers. Twenty-eight states even made arrests mandatory. Social science was lauded as heroic.
But good science, as I learned at Denison, requires that repeated experiments show the same result. That was when social science became the villain. Our second experiment, this time in Milwaukee, found that arrest had terribly backfired among men without jobs, causing their future domestic violence to double. Nobody liked that result. The get-tough solution was politically popular, and it stayed on the books, even when three more experiments showed the same bad result for unemployed offenders. But there was worse news to come.
This week, we published a 23-year follow-up of the Milwaukee experiment. It showed that when police were randomly assigned to make arrests for domestic violence, the victims of those they arrested became far more likely to die of heart attacks and stress-related illness. It seems that watching your spouse or partner be handcuffed and jailed can be a lethally traumatic experience.
But the reverse may also be true. When my Australian colleagues asked me to help test an ancient method of dealing with criminals now called "restorative justice," I saw Frankel's search for meaning all over that idea. When crime victims, and their criminals, and their families are given several hours to talk about the harm the crime has caused, the offenders find the experience far more traumatic than going to court. Many criminals are reduced to tears. Most apologize with a desperate plea for forgiveness. Many victims still don't forgive, but most victims feel much better. Our experiments in London showed robbery and burglary victims had a 40% reduction in their post-traumatic stress symptoms from the crime. Offenders are consistently less likely to commit future crimes if they meet with their victims this way than if they don't.
Last November, British law was changed to allow restorative justice to become an integral part of the sentencing process. Next Monday in Washington, a Capitol Hill Symposium will discuss whether domestic violence laws should be modified, based on the new evidence of the lethal effect they may have on victims. Social science does not have all the answers, but it can try to share the responsibility. So was Auden right? Would we all be better off with less "useful knowledge," and more of what Auden called "truth"? We can all agree on the truth that crime is harmful, and must be morally condemned. But how we do that remains the central question. For the past several Centuries, the ways in which we deal with crime have become more humane and better tested. Much good evidence shows that violence in the North Atlantic nations has been dramatically declining over that time period, Centuries when the beginnings of social science emerged as part of the Enlightenment, Centuries in which the thinking behind the United States Constitution was developed and taught to those who wrote it, many of them after studying at liberal arts colleges much like Denison would later become.
I am sure I committed a lot of sins in my time at Denison. Perhaps a few of you did as well. But one "sin" for which I shall never repent is one that can give meaning to all of us: thinking, scientifically, about social policies. It is not just the profession of social science that Auden condemned; it is the idea that we might all do better by thinking about human misery with a more rational, fact-driven framework. A core truth I believe in is the value of a liberal arts education—a Denison education—to help us all do what my late father said we should do: to just get along with each other.
Seventy-five years ago this month, my Dad, like you, graduated from Denison. As evidence to support that, I offer his freshman beanie, from the class of 1939. His name was Donald L. Sherman, and he would approve this message.