Bryan Blaskie '09 composing and directing music in L.A.
Alumni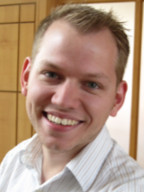 Bryan Blaskie '09 made the leap from Granville to Hollywood after graduation. And he's been in demand ever since - composing and directing music for award-winning shows. His show "Assistants, the Musical," was voted "Best Full-Length World-Premiere Musical" by The Hollywood Fringe Festival.
Blaskie just directed fellow alum James Leo Ryan '85 in a production of "The Secret Garden," for the Confidential Musical Theatre Project. The Confidential Musical Theatre stages a show in which the both the actors and the audience doesn't know who will be on stage- the actors don't rehearse together before the performance and the audience doesn't know what they will be seeing- thus the "confidential" description.
Blaskie also is the musical director for "Musical Madness," a compilation of music by Sondheim, Kander and Ebb, Stephen Schwartz, Marc Shaiman, Frank Loesser, and Irving Berlin.