Bluegrass on Main Street 2016
Performances
Bluegrass on Main Street, a day-long festival devoted to Bluegrass music, set just off the courthouse square in Newark, Ohio, will feature a number of great bands and many with Denison connections.
The event is Saturday, Sept. 24, starting at noon and going on into the evening.
Bluegrass on Main Street – Downtown Newark
Main Stage line up:
12:00 p.m. TNT Bluegrass
1:30 p.m. Denison Bluegrass Ensemble
2:30 p.m. Michael Cleveland and Flamekeeper
4:30 p.m. Joe Mullins & the Radio Ramblers
6:30 p.m. The Special Consensus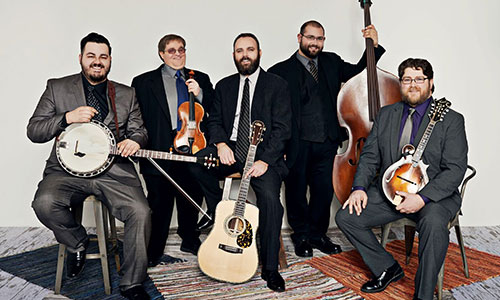 Michael Cleveland and Flamekeeper
The Atlanta Times gets down to the brass tacks of it; "Cleveland is as versatile as they come, but when it comes to straight-up bluegrass, whether it's a 'boot-stomper' or a high- and-lonesome lament, his peers are few and far between." Clearly, this fiery fiddler's story is just beginning and, as On Down the Line demonstrates, Michael Cleveland and Flamekeeper's future preserving and innovating the bluegrass tradition has never been brighter.
Three albums into their career as a band, Michael Cleveland and Flamekeeper have hit their stride with On Down the Line. At the core of Flamekeeper's approach is trying to find the balance between honoring bluegrass music's founding fathers while still breaking new ground. The band's desire to look outward for new ideas and songs while still staying rooted in bluegrass is readily apparent on the new project. The lead off track is a cover of Julian Lennon's song "Too Late For Goodbyes" and the jaw dropping instrumental trades and racing tempo make this such a perfect fit in bluegrass that it's hard to imagine the song had a life outside of the genre. As Michael says: "We do want to keep within the traditional way of doing things. But I don't want to be so traditional that you play only traditional licks. My feeling is that if you're jamming, and you think of something, no matter where it came from, you play it." Several original songs from guitarist Josh Richards found their way on to the project, most notably the neo-classic "Johnny Thompson." Additionally, the CD includes an imaginative reworking of Tex Logan's classic fiddle tune "Come Along, Jody" and the instantly appealing "Fiddlin' Joe" which Mark Brinkman penned especially for Michael. There is also a gorgeous solo fiddle rendition of "Jack of Diamonds" and, as a tip of the hat to Michael's initial inspiration for learning to play the fiddle, a blistering version of "Orange Blossom Special."
Accolades
10-time winner of IBMA Fiddler of the Year – Most Awarded in IBMA History
IBMA 4-Time Instrumental Group of the Year
Performed on Vince Gills CD "These Days" a Grammy Country Album of the Year
2002 IBMA Instrumental Album of the Year for Flame Keeper
2004 IBMA Instrumental Album of the Year for Tom Adams and Michael Cleveland Live at the Ragged Edge
2006 IBMA Instrumental Album of the Year for Let 'Er Go, Boys!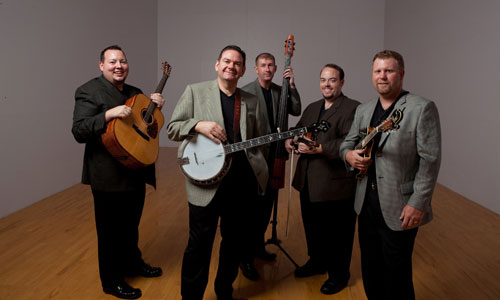 Joe Mullins & the Radio Ramblers
No matter the source, Joe Mullins and the Radio Ramblers always put their distinctive stamp on a song, making it at once their own and a part of the chain of tradition that lies at the heart of bluegrass. JMRR's professionalism and successful, heavily played recordings have kept them in demand with a national audience.
Celebrating their 10th year as a professional touring band, Joe Mullins & the Radio Ramblers have been seen by thousands of fans across the continent through performances at a vast array of venues including the National Folk Festival, Bluegrass Underground, Bluegrass Nights at the Ryman, and regular guest appearances on the Grand Ole Opry.
Currently they are enjoying the success of their latest Rebel Records project, Sacred Memories. The album's first single, "All Dressed Up" has reached #1 and is currently among the candidates for nomination in this year's International Bluegrass Music Association Awards.
Additionally, Mullins' is a favorite broadcaster in Bluegrass, on the radio over 30 years in the Midwest. He also host's "Front Porch Fellowship," syndicated on air each week in 30 states and Canada to nearly 200 radio stations and to thousands of internet listeners.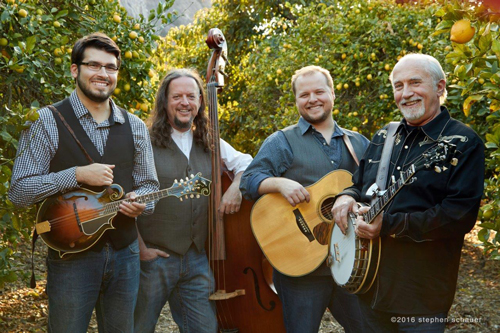 The Special Consensus
The Special Consensus Bluegrass Band proudly celebrated its 40th anniversary in 2015.
Band leader/banjo player Greg Cahill was awarded the IBMA Distinguished Achievement Award in 2011. Other band members include guitarist Rick Faris, bass player Dan Eubanks, and mandolin player Nick Dumas.
The 2012 band release Scratch Gravel Road (Compass Records) was GRAMMY nominated for Best Bluegrass Album. "Country Boy: A Bluegrass Tribute to John Denver" (Compass Records) was honored in October 2014 by the International Bluegrass Music Association for Instrumental Recorded Performance of the Year for "Thank God I'm A Country Boy" and Recorded Event of the Year for "Wild Montana Skies".