David Brion Davis to lecture
Lectures & Discussions
Date
Friday, April 11, 2014
— David Brion Davis, who is considered one of the foremost historians of the 20th century, will offer a conversation around the topic of "Slavery and History" at 3 p.m. on Friday, April 11, in the auditorium of Denison University's Higley Hall (100 Ridge Road). The discussion will be moderated by Mitchell Snay, professor of history. The event is sponsored by the Department of History and it is free and open to the public. To learn more, contact Debbie Legg at 740-587-6251.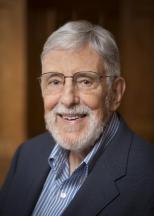 Davis is a winner of the Pulitzer Prize, the National Book Award, the Bancroft Prize, and nearly every award given by the historical profession. He is Sterling Professor of History Emeritus at Yale and Director Emeritus of Yale's Gilder Lehrman Center for the Study of Slavery, Resistance, and Abolition.
In his latest book, "The Problem of Slavery in the Age of Emancipation," Davis brings his ambitious, prizewinning trilogy on slavery in Western culture to a close. Davis offers original and penetrating insights into what slavery and emancipation meant to Americans.