Jonathan Taylor '17 plays at world-class golf course
Alumni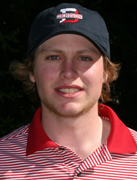 Perhaps he was exploring the psychology of the game, or maybe he was practicing for his upcoming season, but Jonathan Taylor '17 certainly enjoyed a day at Whistling Straits golf course along Lake Michigan.
The course was designed by famed course architect Pete Dye, who is said to create courses that play mind games with golfers. Whistling Straits is no exception to the trend. It is the designated course for the 2015 PGA Championships.
If so, Taylor, who is both a psychology major and a member of the Denison Golf team, was ready for an invigorating match.
A writer for a recent article in International Business Times caught up with Taylor on the course and asked him for his reaction.
"When I stepped on those grounds … It was honestly a surreal type of golf experience."