2015-2016 Departmental Fellows
Departmental Fellows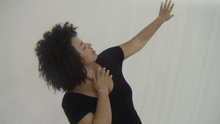 Graciella Maiolatesi '16
Major/Minor:
Dance and Black Studies Double Major
Hometown: Amherst, MA
African/Diasporan I, II, III
Text/Voice Based Composition
Modern/Postmodern II
Osborne Scholar 2014-2015
Laban Movement Analysis
Summer Research Scholar 2014
Cultural Studies
Dance As an Art Form
Dancing Gender and Sexuality
Senior Dance Practicum
Graciella Maiolatesi is a senior Dance Fellow with a double major in Dance and Black Studies who is returning to the department after a semester abroad in Ghana. Having begun her dance career during her junior year of high school, some may say that she arrived too late to the dance world, but she believes that she arrived just in time. Within the past three years in the department she has transformed from an insecure freshman that questioned her dancing ability, to a powerhouse senior who dares anyone to try and stop her from moving. When she dances she feels empowered physically, mentally, emotionally, and spiritually. The idea of "empowerment" is a central theme within Graciella's personal aesthetic, and she is currently exploring how dance can be used to revalidate the Black-Female-(Dancing)-Body. Along with being a Dance Fellow and a Denison Dance Department Summer Research Scholar, she has been involved in eight performances and twelve department courses. When not on stage or in rehearsal Graciella can be found elsewhere in the department rocking her fro, big hoops, and lipstick on the regular. Graciella loves to dance both inside and outside of the studio, but she recognizes that she would not be the unique dancer that she is today if it weren't for the Denison University Dance Department. To continuously be able to work with both professors and peers has been a truly humbling experience, one that she is so grateful for. What she has taken away from her experience—as a whole—is that you have to dare to be and always, always sweat your truth.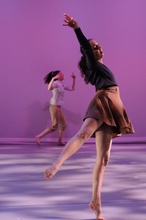 Hailey Bruce '16
Major/Minor:
Dance and English-Creative Writing Double Major
Hometown: St. Joseph, MI
African/Diasporan I, II
Modern/Postmodern I, II, III
Somatics, Labanotation
Laban Movement Analysis
Movement and Maps
Directed Study: Ballet History
Contact Improvisation
Vail Scholar 2014-2015 and 2015-2016
Senior Research
Marimac Scholar 2015-2016
I began dancing before I could walk. My dad would play Harry Belafonte's "Jump in the Line" and I would start to move one shoulder. Since then, I've never stopped. I began ballet and tap at the age of four, alongside other sports and music lessons, but every few years, I'd replace something with more dance. In middle school I attended Blue Lake Fine Arts Camp and realized dance wasn't just an after school activity for me anymore. Dance is what I do. It is my passion, my stress-relief, my source of happiness and friendships, and the thing I want to pursue. I decided this at the age of twelve, and have never questioned it. Since then I have studied ballet, pointe, tap, jazz, contemporary, modern, hip hop, improvisation, musical theatre, and African dance. I performed with the Blue Lake International Ballet Ensemble in the Summer of 2010, touring Germany, France, and Belgium. In high school, I performed with the Citadel Dance Company. I have also attended Jazz Dance World Congress in 2012, the America College Dance Festival Association in 2013, and the River North Winter Intensive and Parsons Dance Summer Intensive in 2015.
As a Dance and Creative Writing Double Major at Denison I have expanded my view of the dance world. I choreographed "Seussical" and "Cinderella" at Heath High School in and have performed in many works including "When Sunday Comes" during the residency of the Dayton Contemporary Dance Company. This year, I'm thrilled to be even more involved in the department as a Senior Fellow, a Vail Scholar, President of Ballet Club, and a tutor. I dance to breathe, and to love, and to share what I believe in. I dance because, in the words of Friedrich Nietzsche, "We should consider every day lost in which we have not danced at least once."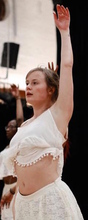 Leah Edwards '16
Major/Minor:
Spanish and International Studies Double Major, Dance Minor
Hometown: Spokane, WA
African II
Modern/Post Modern II
Somatics
Choreographic Investigations
I like to dance. I belonged strictly to the ballet world from the age of four until I began my time at Denison. And now I just belong to the world. Through classes I learned how to explore my own body and present it proudly to the audience. I also learned how to roll around a lot on the floor, twerk and throw myself into space. I learned fearlessness and a specific kind of determination required when walking up and down roughly one hundred steps at least once a day. During countless hours in rehearsals I learned how to laugh at myself and be aware of the affect my attitude has on myself and on others. I also learned to appreciate how hard dancers work to make something so unified and pure. The dedication I learned through this department enabled me to keep dancing when I went abroad to Ecuador and to further find myself as a dancer. When performing with the Dayton Contemporary Dance Company I discovered what it felt like to be so unbelievably moved by myself, my friends and movement. I also learned that sometimes you just have to cry and scream and then walk back into the studio ready to keep going. This department has so much to offer and all you have to do is walk into the studio and open yourself up to every possible opportunity. And if you need help with the twerking or Spanish homework hmu.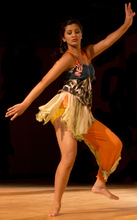 Tanvi Doshi '17
Major/Minor:
Dance Major, Economics Minor
Hometown: Calcutta, India
African/Diasporan I, II
Cultural Studies: The African/Diasporan Aesthetic
Seminar in Production
Directed Study: Dance Production and Administration
Choreographic Investigations
Movement Analysis
Osborne Scholar 2014-2015 and 2015-2016
Marimac Scholar 2015-2016
Before Denison, dance for me was confined to Indian Classical, specifically Bharatnatyam from the South of India. I performed in my Arangetram, a two-hour solo debut performance to live musicians the summer before my first-year at Denison. I got a glimpse of what it means to produce dance performances through my Arangetram.
Denison has expanded my definition of dance far beyond my imagination and each semester my passion for dance increases as I too grow, both as a dancer and as an individual. I was only ever interested in dance in its performance and kinesthetic aspects. The past two years I have increasingly become involved and engrossed in the back stage and production aspects of dance. My experience in these facets of dance are what led to my internships Summer '15 with Battery Dance Company and Doug Varone and Dancers in New York City.
I have even discovered that I have my own way of moving through the process of auditioning for the Fine Arts Scholarships, and by working with our resident professors and guest professors as cast in performance pieces.
I could not imagine my life on The Hill without the Dance Department and our little family within it. This Department has given me so much and I am honored with this opportunity to give something back.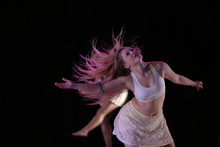 Hannah Zwemer '17
Major/Minor:
Dance Major, Education Minor
Hometown: Whitehall, MI
African/Diasporan II
Laban Movement Analysis
Intro to Music for Popular Dance
Body in Performance
Modern/Post-Modern II
Text/Voice Based Composition
Vail Scholar 2014-2015
McGaw Scholar 2015-2017
Dance has always been a huge part of my life. I began ballet and tap at the age of three and a half and my serious training started at age 13 in the seventh grade. Though I have experience in many forms, I have found that I am the most passionate about those that allow expression and the telling of a story. When I came to Denison in 2013, I immersed myself into the Denison Dance Department and met my second family. I found that I had surrounded myself with loving and encouraging peers and faculty members. Since my first year, I have noticed that my passions have grown stronger and my confidence has increased. Dance has allowed me to find myself and use a voice that I never knew existed. African/Diasporan II has expanded my cultural knowledge and taught me traditional dances from parts of Africa, Modern/Post-Modern has taught me how to gain better control of my body, Text/Voice Based Composition showed me that words paired with movement are incredibly powerful, I could go on and on. I've always considered myself a dancer and I'd always known that I would continue to dance in college—but I never knew it would be to the extent that it is and I couldn't be more grateful to the Dance Department.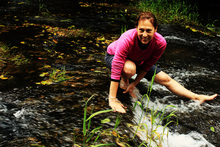 Kathleen Dean '1
Hometown: Granville, OH
Ballet II, III
Contemporary II, III
Japanese Dance
Capoeira
African/Diasporan
Experiential Anatomy/Kinesiology
Dance Improvisation and Composition
Women and the Arts
Movement Analysis
Seminar in Production
Seminar in Choreography
I am a resident of Granville, with a biology background and ballet training. I have a long-standing relationship with the Denison University Dance Department, where I expanded my ballet based movement vocabulary with coursework and performance experiences to strengthen my science/dance integrative education. Through my relationship with the Dance Department, I developed invaluable skills for somatic work within the community, including with the Central Ohio Youth Ballet, Hospice of Central Ohio, ministry for confidential care for people in difficult life situations, and at Denison, as adjunct instructor in the Dance Department. I am a graduate of The Centre for BodyMindMovement, Somatic Movement Educator program, and I offer class or individual sessions in body/mind movement integration. I am deeply honored to be a Life Fellow of the Dance Department. My relationships with faculty, staff and students at Denison University continue to greatly enrich my life.
Posted Date
Wednesday, October 7, 2015